5 Harvest Time Tracking Alternatives for Your Business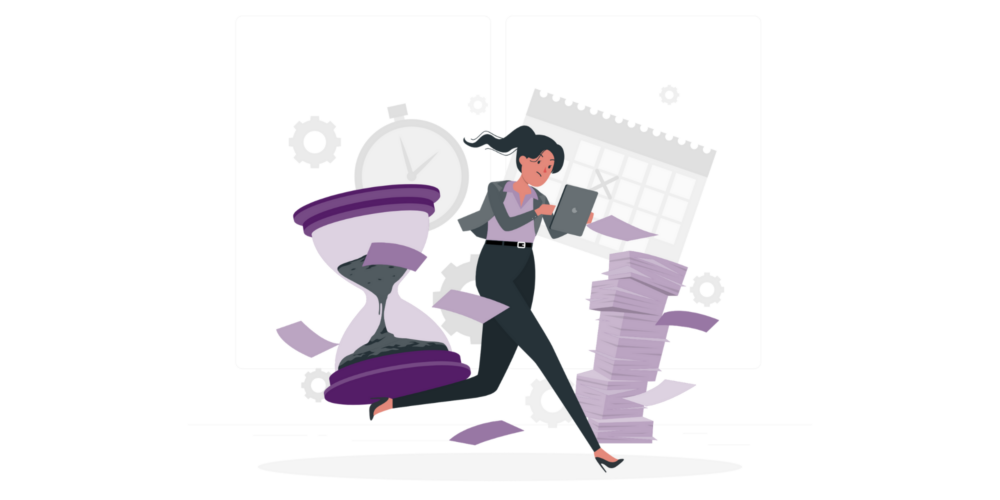 The way we work and live has changed quite a bit in the last few years. And while the pandemic is now hopefully behind us, it left many major consequences, including an increased interest in remote work. This in turn raised an interesting question – how do we make sure that our employees are doing the 8 hours they signed up to do every day? The answer is – time tracking.
Harvest has been one of the most popular time tracking apps for a while now, thanks to its range of features and use cases and affordable pricing. However, you may have tried and figured out that Harvest is not the ideal solution for your business.
No worries though! There are plenty of Harvest time tracking alternatives to consider, and today, we'll show you some of the very best.
But first, let's get some important things out of the way.
What is Harvest time tracking all about?
Harvest is one of the oldest companies out there, not in the time tracking niche, but also in the SaaS sphere in general. Launched in 2006 and built on Ruby on Rails, it's one of the pioneers of the software as a service model.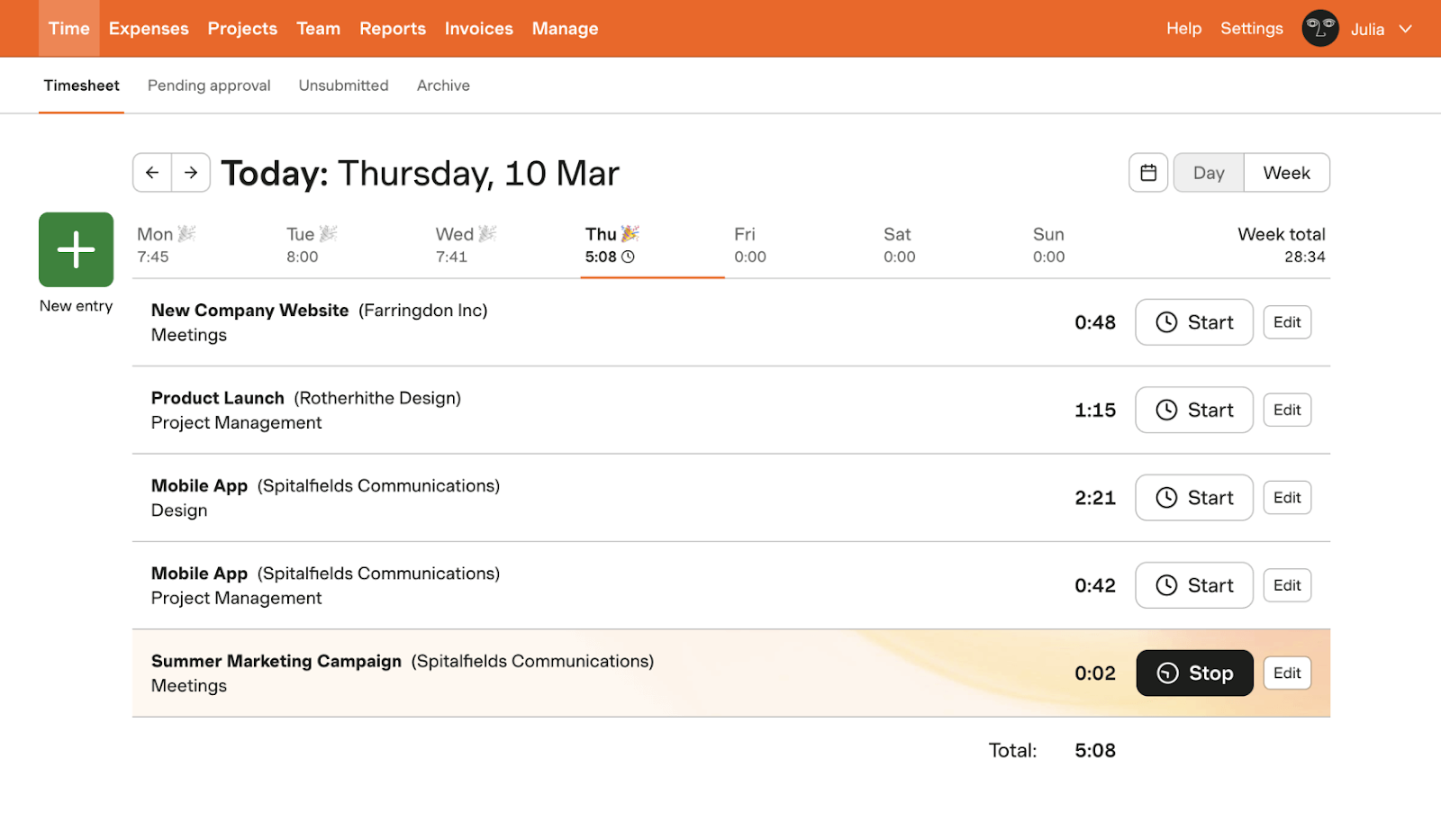 Like many of their customers today, the founders of Harvest worked in a web design agency. They needed a way to track time so they could more accurately determine how much they worked on a certain project and how much to bill their clients.
With just time tracking as the core feature, Harvest developed over time into a full-blown time tracking platform for businesses. It now has features such as timesheets, reporting and analysis, invoicing and payments, and much more.
It's now established itself as one of the most comprehensive time tracking apps out there. But as you're about to find out, Harvest is not ideal.
Reasons to look for Harvest time tracking alternatives
If you look at online reviews, you'll see that many customers have the same issues with Harvest. And despite being in the market for 16 years now, they still have some gaps in their offer. Here's what you should know.
Harvest is expensive. Sure, $12 per user doesn't sound like a lot, but even with a company of 5 people, it adds up to $720 per year. While most SaaS companies offer some discounts for paying annually, Harvest doesn't. All of this means that for large companies with hundreds of employee, Harvest can cost a pretty penny.
Harvest has an extensive list of features. You're probably wondering why this is a con, but the reality is that some customers just want to track time and get reports. While they can do that in Harvest, they also get lots of other functionalities which remain unused, but still have to be paid for. If you're looking for the very basics for time tracking, Harvest is a bit of an overkill. The real issue is that you can't choose the features you want without paying for those you don't need.
You can't (easily) track your own progress. Harvest was basically made for managers who want to make sure that their employees meet their goals and put in the work every day. If you want to use the app to tally up your own hours on a project (or for a set time period), you pretty much have to do it manually, adding up days to create a full time sheet.
In short, Harvest was made for a certain business model and if you don't want the exact features they offer in the way that Harvest has them set up, it's best to look elsewhere. The great thing is, we have some superb alternative choices for you.
Best Harvest time tracking alternatives
All of these entries differ in some way from Harvest, so look through them carefully to find one that suits your unique use case.
Sloneek
It's perhaps the new kid on the block, but Sloneek has a lot going for it. Built for simple time tracking for freelancers and individuals and large businesses at the same time, it covers a wide variety of features, so let's see the top picks.
Sloneek allows you to report your time in the most customized way possible – per team, per project or per customer. You can measure what you want, when you want, without going into complex time sheets and unveiling how much time your employee spent working on a specific task or client.
Not only can you track time in Sloneek, but you can also manage your entire team. At a single glance, you can see your entire organization time and absence, as Sloneek tracks time off, sick leave, public holidays and more. For larger companies, remote workplaces and HR teams that need a great way to manage time off, this can be a lifesaver.
You can manually approve each request for time off in Sloneek, which saves time for employees, managers and HR and just makes it much easier to know who's working and who isn't – and when. Also, employees can't just take time off without asking anyone in their chain of command.
Sloneek also syncs perfectly with Microsoft 365 and Google Calendar, allowing you to easily see when someone's working and isn't, just based on their time off requests.
You can grab Sloneek for 3EUR per active user per month with the basic plan or 5EUR per user per month in the Professional plan, if you want some extra workspace management features. But before you make up your mind about the plan you want to go for – sign up for a free trial! You'll see how much Sloneek can improve your working environment.
Hubstaff
One of the most popular time tracking apps out there, Hubstaff is also known for their Talent marketplace, where freelancers and businesses can come together and get work done. When performing any of this work, freelancers use Hubstaff.
This is not to say that Hubstaff was made with freelancers in mind. In fact, it's built for companies of all shapes and sizes, because it has all the features that you may need to run a company, remotely or from an office. Hubstaff blends time tracking, employee monitoring, workforce management (scheduling, payroll, invoices) and project management. That means it can be used in any industry, from running a marketing agency to managing construction projects.
Sounds like a lot? It really is, especially if you're looking just for a way to track your time. The one aspect of Hubstaff that shines is the ability to track time across mobile, desktop and web. Your employees can turn on time tracking on one platform and turn it off on the other. Timesheets are created automatically, saving quite a lot of time for your business and your clients.
Employees can clock in their time manually, should the need arise. With just a few clicks, you can get weekly or monthly time sheets and accurately report to clients on what you did in a month and how much time it took you.
One feature that you might find useful is employee monitoring. You can ask your employees to install Hubstaff and the app will track their behavior on their devices. With one click, you can see what websites they're browsing, how much time they're spending behind the keyboard and mouse and in general, whether they're working or not.
At Sloneek, we're against this use of time tracking but you may have a purpose for it. If that's the case, Hubstaff might be worth a shot. If you're willing to give it a go, plans start at $5.83 per user per month, just for the time tracking portion of the app. You can only pay yearly, so you'll have to spend $140 up front to use Hubstaff just for one person, which can be hard to justify. Luckily, you can try the free trial first.
Toggl Track
There's a good chance that you've heard of Toggl before because they have not one, but three SaaS applications. Toggl Track is what made the Estonian based company famous, after which they launched Toggl Plan (for project management) and Toggl Hire (for employee assessments during hiring).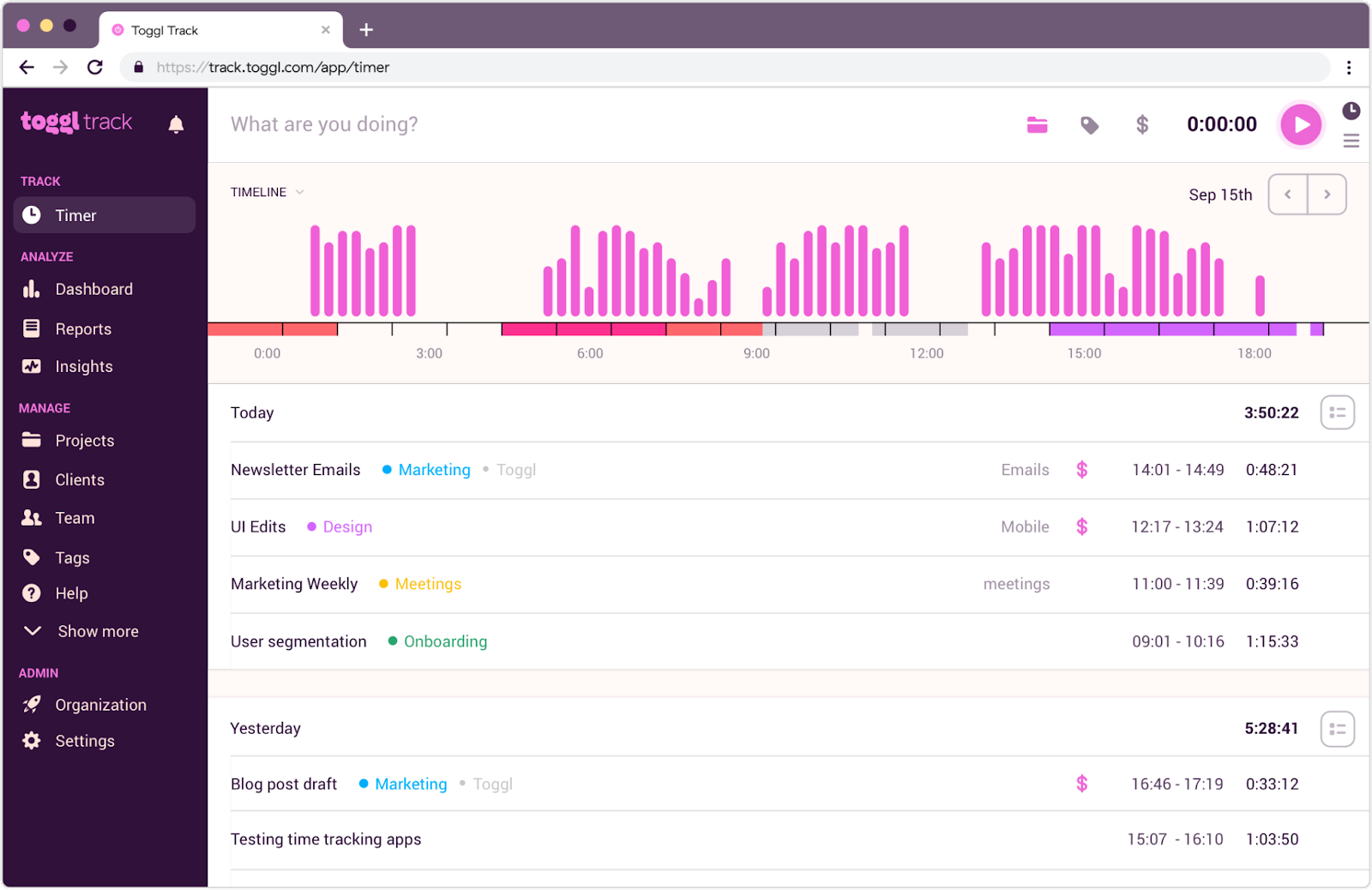 Toggl Track has a lot going for it. For one, it's used by more than 5 million people in the world, much of which is owed to their long-standing presence in the market. But there's another major upside – it integrates with over 100 different applications, so you can easily click a button in Asana, for example, and start tracking time. Handy and a great way to ease employees into tracking their time.
Like Hubstaff, it has a web, mobile and desktop version. Unlike Hubstaff, they openly state on their website that they're against employee surveillance and this is a statement that we applaud.
One thing where Toggl Track does not shine is that it's pretty expensive compared to the other entries on this list. There is a free trial, but the most affordable plan will set you back $9 per user per month. This includes billable rates, saved time reports, pre-populated project templates and more. You'll also have to get a paid plan to be able to integrate with a calendar app, which Sloneek does too… But at 30% of the price.
Overall, a great, albeit expensive option.
Time Doctor
Going with the motto of "employee friendly time tracking", you'd expect quite a lot from Time Doctor. The problem is, what they deliver is completely the opposite. In fact, the very next headline says that Time Doctor is "better for managers".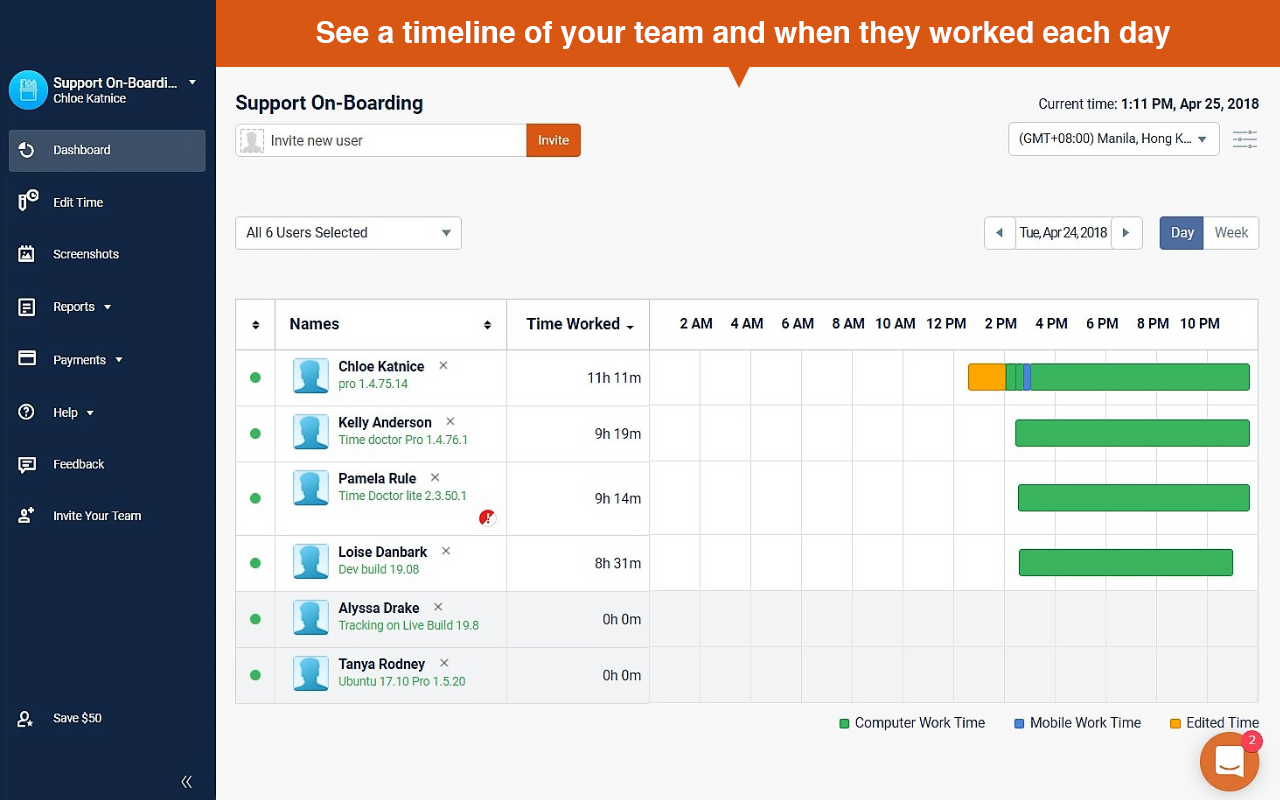 Employees can track the time they spend on their laptops, phones and desktops and easily switch between them. You can also create time sheets automatically on the level of an employee, task or project. But that's not what people mostly use Time Doctor for.
When it comes to employee monitoring, no app can beat Time Doctor. It can record your employees' screens and take screenshots, alert you when they're using "unproductive" websites and applications and even sent productivity alerts when an employee has been silent for too long or spends too much time on Facebook.
If you're a fan of spying on your employees, you'll have to spend $70 per employee per year to use Time Doctor. That's right, there are no monthly plans available. When you break it down into months, it's not a huge cost, but the fact that you have to pay upfront for a year and practically be stuck with an app you might not like is far from ideal.
Clockify
Similar to Sloneek, Clockify is one of the newer time tracking apps. However, it has managed to build a reputation in this world, just by being super easy to use. You can get started within minutes and track the time spent on work, as well as break it down on specific projects, tasks and websites.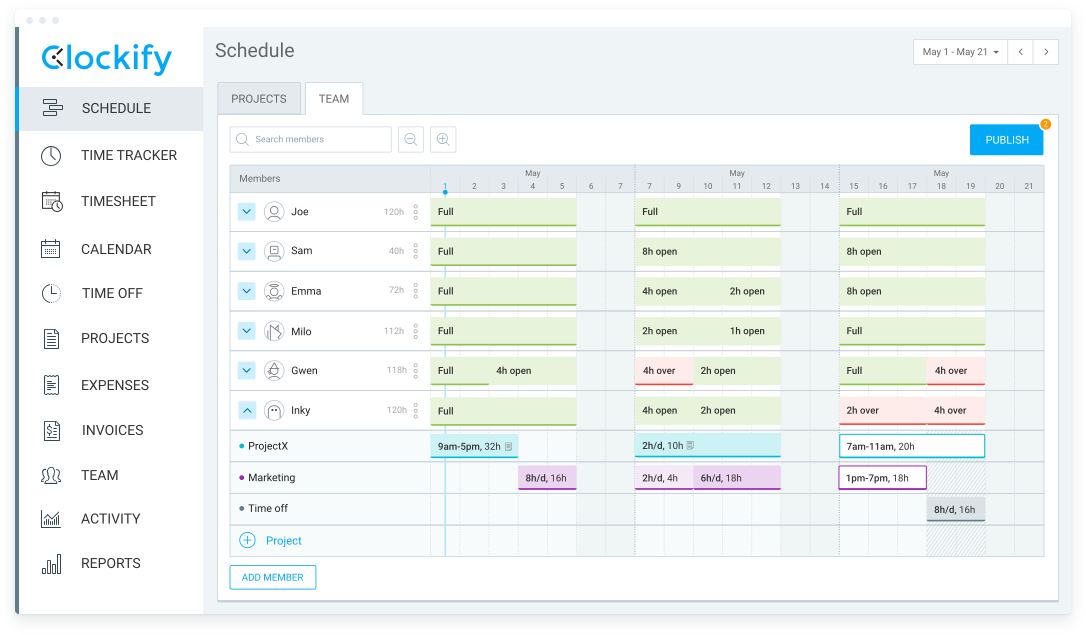 You can track time across different devices and platforms automatically, as well as add hours manually if you forgot something. Time sheets are easy to create and you can even add different types of activities in Clockify. Just choose "emails" for example, and you can easily attribute the time on that activity.
There's a calendar portion of the app where you can add tasks and log time spent on them. With a few clicks, you can connect it with Google Calendar or Outlook. If calendar is not your preferred view, you can also use the Clockify dashboard.
As for the pricing, prepare for a wild ride to figure out what's included in each plan. There's a free trial available and paid plans start at $3.99 per user per month, but it doesn't include time off, invoicing, billing and timesheets. Essentially, you have to spend $5.49 per month per use to get all the good features.
Wrapping up
Time tracking sounds like such a simple concept, but with so many competitors in this field, there's clearly more than meets the eye. There's a time tracking app out there for each use case and with a little bit of research, you can find your ideal time tracking app. But why look further when you can try Sloneek? You can easily track time, manage your employees, create time sheets, use electronic signatures, track and approve time off and more.
Sign up for a free trial today to get started!
Harvest Time Tracking: Frequently Asked Questions
#1 Does my business need time tracking?
The answer may seem obvious, but it's not always cut and dry. In majority of cases, tracking time can be helpful in understanding how your business is running and where improvements can be made. However, you should get prepared to implementing time tracking procedures in your company, as it doesn't happen overnight.
There are a few key indicators that can help you decide whether time tracking is right for your business:
Are you having difficulty meeting deadlines?
Do you feel like you're always behind schedule?
Do you need more visibility into how employees are spending their time?
Do you want to improve employee productivity?
Do you want to better understand your business's workflows?
If you answered yes to any of the above questions, then time tracking may be a good solution for you.
#2 What are the benefits of time tracking systems?
Implementing a time tracking system can help you get a handle on deadlines, improve productivity, and get a better understanding of your business' workflows. To get the most out of your time tracking system, make sure to:
Choose the right system for your business.
Set up the system properly.
Enforce the use of the system.
Monitor and adjust as needed.
By following these steps, you can ensure that time tracking is a valuable asset to your business.
#3 How to choose the best time tracking platform for my company?
When it comes to choosing a time tracking platform, there are a few things you should keep in mind:
What are your needs?
What is your budget?
How many employees will be using the system?
What type of features do you need?
Answering these questions can help you narrow down your options and choose the best time tracking platform for your business. Time tracking can be a valuable asset to your business, but only if it's used correctly.