Key benefits of HR software to help you make the right decision
Discover the Sloneeksolution for your business
1.
Saves time and costs
Automate and digitize previously manual processes.
2.
Helps make strategic decisions
Make effective, data-driven decisions and grow your business in the right direction.
3.
Build company culture and trust
Employees' first impression is often the last one. Impress them from day one with easily accessible information and a safe space where they can find answers to all their questions.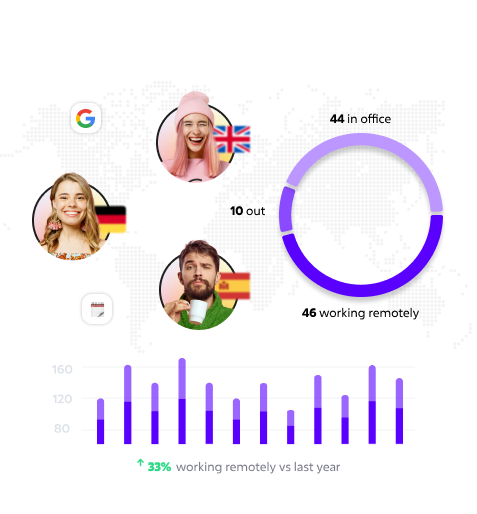 Overview of functionalities
How does Sloneek make your life easier?
Clear reports

Work equipment management

Summary of leave and absences

Fast commissioning

Reasonable price
What do our customers say about us?
Join more than 2,000 satisfied customers
"Sloneek has been beneficial for me personally in that it has simplified my work when I am preparing payroll documents. I use the monthly attendance reports. In the integrated calendar I can see the overlap between attendance and HO. Overall, Sloneek fits perfectly into the overall digitalization of our school."
Lucie Smetanová
HR manager | Montessori Andílek
"Sloneek has become part of the team. We can see who is doing what, when, and we can easily work and plan with him."
Aleš KOZÁK
Director of the Institute for Monuments and Culture
Sloneek has brought order and clarity to our work."
Lukáš Hejna
Fundraising Director of the Via Foundation
"Finally we have all our documents in one online database! What I appreciate most about the app is that it is really user friendly, the customer support is really exceptional, always fast and helpful. I am very pleased that most of the features are clear to me, and if not, there is a chat and a person ready to help!"
Jitka Zmítková
Head of HR | Loono
"Thanks to Sloneek, everyone has a real-time overview of colleagues' movements and plans. The system is also flexible enough to keep track of the work of interns and volunteers, without whom our activities cannot do without."
Pavla Gomba
Executive Director | Czech Committee for UNICEF
"Sloneek has helped us to quickly bring clarity and order to the HR administration of our rapidly growing company. When we didn't know what to do, the Sloneeksupport team was quick and helpful. We also appreciate the continuous improvement of the application to better and more flexibly respond to the demands of the very dynamic changes we are experiencing:)"
Josef Šakhta
CEO & co-founder | Sharry
Interested in learning more about Sloneek?
Our experts Václav, Adam, Richard and Sebastian will be happy to introduce you to the Sloneek HR system and answer all your questions.
guide you through the features of the app
will answer all your questions
prepare a presentation and a tailor-made offer
provide top onboarding