Trust box
Promote employee confidence in your company and create a better working environment. You don't need to implement any additional software,with Sloneekyou get a simple and fully integrated online solution directly in our application.
14 days free
No credit card required
Are you ready for whistleblowing?
EU countries have introduced an obligation for employers to provide their employees with a tool to report crimes and suspicious or unethical practices observed within the company.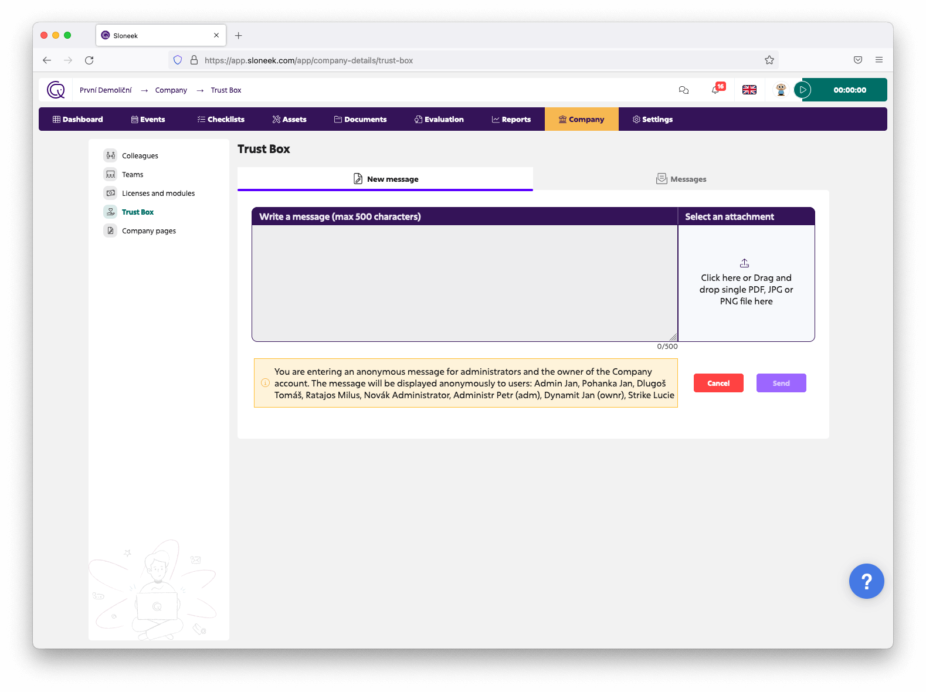 Trust box
A tool for anonymous reporting of incidents covered by whistleblowing legislation. You get a simple solution that protects your company from neglecting negative phenomena while guaranteeing anonymity to whistleblowing employees.

Inserting text messages

Inserting image attachments

The notifier can see who is the recipient of the message

Notification of new message insertion

Integration with the corporate structure
Interested in learning more about Sloneek?
Meet Sloneek! Our experts Jack, Adam, Emily and Sebastian will guide you through our solution and answer all your questions.
guide you through the features of the app
will answer all your questions
prepare a presentation and a tailor-made offer
provide top onboarding




Sloneek Europe
33 Queen St, London EC4R 1AP, GB
London