Security
High standard of data security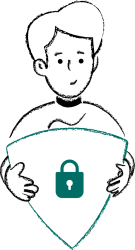 At Sloneek, we take great care to ensure that all user data is stored in accordance with the latest security standards. We use the highest quality cloud infrastructure available from AWS (Amazon Web Services), which guarantees data leak resistance and exceptional service availability.
AWS cloud infrastructure with servers in Frankfurt (Germany)
AWS certification: ISO 27001, SOC 2, SOC 3, EU Data Protection – Directive 95/46/EC
For video calls we use Contabo Bare Metal servers (Germany)
Service availability 99.999%
24/7 Availability Monitoring
Daily data backups
Transmission security using HTTPS/SSL 256 bit
Secure payments with 3D secure (Stripe.com)
GDPR Compatibility
Sloneek is fully compliant with Regulation (EU) 2016/679 of the European Parliament and of the Council of 27. April 2016 on the protection of natural persons with regard to the processing of personal data and on the free movement of such data.
Within the application, we, the operators of the application, are the Processor of personal data within the meaning of the Czech Act No. 110/2019 Coll. Companies using Sloneekfor their HR agenda act as Administrators in the spirit of the same law.
Ordinary users of Sloneek, i.e. mostly employees, have the possibility to view all data stored in the system. They can change them or request that they be changed, deleted and forgotten. All users have access to the audit log, which contains all records of information associated with them.