How to Make Employee Journey Mapping a Breeze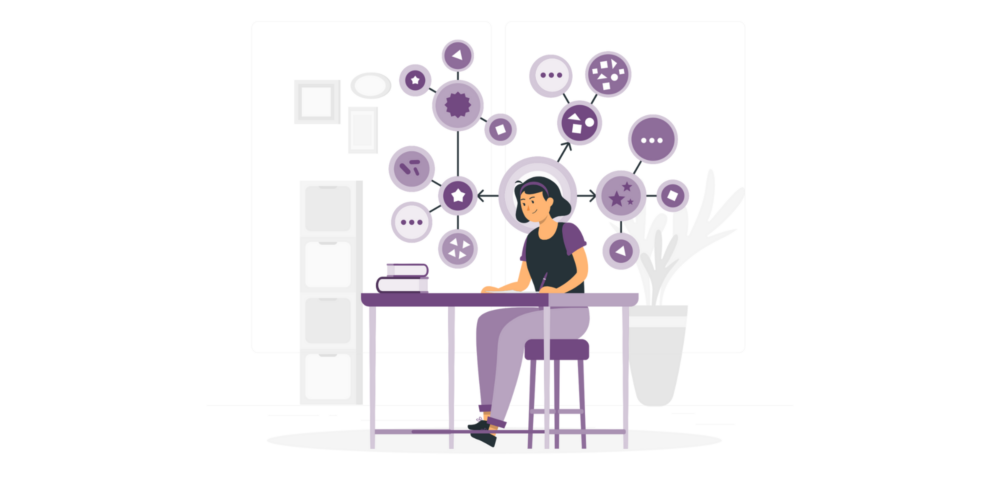 Almost all HR professionals strive to improve their department's efficiency in new, innovative ways. Creating a journey map for your current and future employees is one way to accomplish this.
However, more often than not, an employee journey map is associated with something extremely difficult and challenging to create. Perhaps that's why over 60% of organizations don't offer any type of personalized digital employee experience.
Today, we'd like to put an end to this stereotype. We do this by showing you how to make the process of creating your employee journey map smooth and easy.
So if you're ready to change the way you think about employee experience journey mapping and making it great, sit comfortably and enjoy this article with us.
But First…What Is Employee Experience?
In short, employee experience is workers' perceptions about their journey through all the touchpoints at a certain company, starting with job candidacy, all the way up to leaving a company.
It's a term that was introduced to the world of work in the past decade or so.
The concept is about making sure that employees are happy and engaged at work. It's also about creating a culture where people feel valued, respected, and challenged on a daily basis.
Employee experiences may include or concern areas like:
commuting,
online and offline recruitment,
workplace policies,
decision processes,
onboarding experience,
first job interview,
company social networks,
business leaders on team,
performance management strategies,
major events like a career fair
and so on.
In today's competitive job market, it's not enough to just have good pay and benefits.
Employees want to know they are making an impact on their organization through their employee experiences.
They want to be able to connect with their coworkers, and they want their employer to care about them as much as they care about their company.
To help with that, there is a process called employee journey mapping.
What Is Employee Journey Map?
It's possible you've heard of customer journey mapping or a customer journey map, but what about the employee's journey?
To improve employee experience, there are strategies out there like the employee journey mapping process.
Employee journey mapping is the process of visualizing the timeline of the entire employee experience.
Such a timeline starts the moment people consider applying for a position at a company and lasts until they leave the company.
Everything that happens during this period can be considered as part of employee experience and should be taken into account in the process of employee experience journey mapping.
Each stage of the employee lifecycle should be included in your employee journey map, and you should be able to evaluate these touchpoints quickly just by looking at it.
Also worth checking out: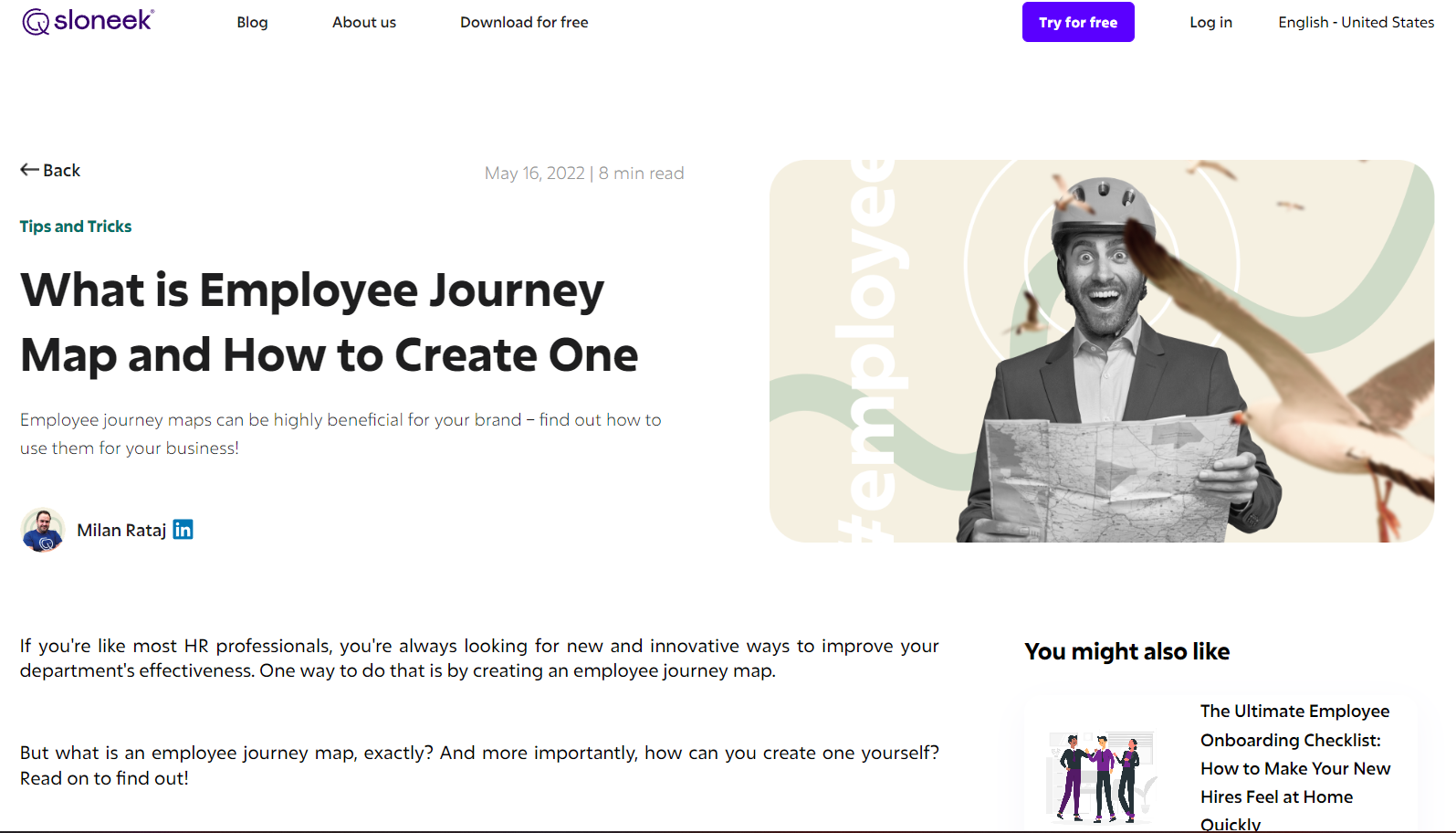 Why Bother With Employee Journey Maps?
Providing your workers with a great experience at your company can bring some great benefits.
When you do so, you gain a better understanding of the moments that matter most, as well as how they impact employee journey.
What's more, you can improve metrics like attrition, engagement and productivity at each stage.
However, possibly one of the key benefits of an employee journey map is the power of insights you get from the mapping process.
This allows you to design and execute better experiences: for both the employee and your sides.
5 Steps To Create An Employee Experience Journey Map
So the question is, how can you create a journey for your employees they will never forget, in a positive sense of course?
We suggest 5 key elements you should include. Read on to find out what they are.
Everything starts with research
Analyze your current employee experience journey.
It is possible that you already have some quantitative workforce data such as:
turnover rates,
exit interview details,
employee's tenure statistics,
which can serve as a great starting point.
Do make use of them as they're a great repository of valuable employee experience knowledge.
Next, we suggest that you talk to your employees to get information on their:
needs,
expectations
goals,
perspectives and
issues.
Be sure to get in touch with employees from across the business and from different organizational levels.
This way you'll get an overview of the whole organization and not just one part of it.
Other examples of knowledge sources might include:
Employee experience feedback: as a HR representative, chances are you have a lot of data already on hand – don't miss it
Interviews with new employees: your employees have much more to say than you think so take advantage of this
Interviews with managers: those who observe employees will give you a whole different perspective on things so remember to speak to them
Polls and surveys: this is perfect quantitative data, and it's even better when it anonymous – chances are you'll get more insightful details
Create your employee personas
After finding out all the important details right at the source, your next task is about creating employee personas.
Once you've done the research, you should know things like:
what your employees like and dislike,
how your engaged employees vs unengaged employees like their jobs,
what areas or your business need changing, e.g. mandatory meetings on Fridays,
what you're doing great, e.g. your weekly team building events,
how you can make your employee experience even better.
Based on this knowledge, you need to develop profiles of various types of people in your company and create macro-environments that will suit their needs perfectly.
Be mindful of one thing though.
Not all employees have the same experiences or expectations.
For example, a direct manager will have different goals and needs than accounting staff. An entry level candidate will have different expectations than a senior employer and so on.
Having identified these segments, develop a clear profile of every persona.
Each should include things like their goals, challenges and expectations, as well as measures of success.
Focus on areas that matter the most
An employment lifecycle consists of various steps. They can usually include:
recruiting and job interview,
hiring process,
onboarding process,
payroll and benefits policies,
ongoing engagement,
volunteer opportunities,
learning and career advancement opportunities,
performance reviews and management,
advancement, rewards and finally
leaving the company.
These are the employee experience elements that you should take care of and focus on the most. While it's natural that some matter more than others, it's vital that you pay attention to them.
Failing to correctly design even one element can have a negative impact on your employee journey.
Develop a storyboard or map
Storyboards and maps are great tools to help you visualize things from a different perspective. A perspective that you may not necessarily see – that of your employees.
It's easy to miss some details when you're only looking at things from your angle. To avoid doing this, be sure to take advantage of storyboards and maps.
Such visualizations could include details about:
employee's experience
turnover and employee quits,
employees opinions,
exit interviews,
employee surveys,
other discussions about goals and expectations.
Implement your plan
Having done all of the above, it's time for the most exciting part of your employee journey map – implementation.
As "failing to prepare is preparing to fail", like Benjamin Franklin said, it's vital that you plan everything in advance before you begin any type of implementation.
Only once you put all your hard work and research into practice will you be able to really test out what you've built.
Here we have some tips for you:
keep your eyes open for potential bumps in need to smooth out,
be open to criticism and feedback,
write down metrics and monitor the process every step of the way,
look for points where employees might be confused
If you're into some extra help and guaranteed success, you can also use people management software to help you with the whole process. More on that later on in the article.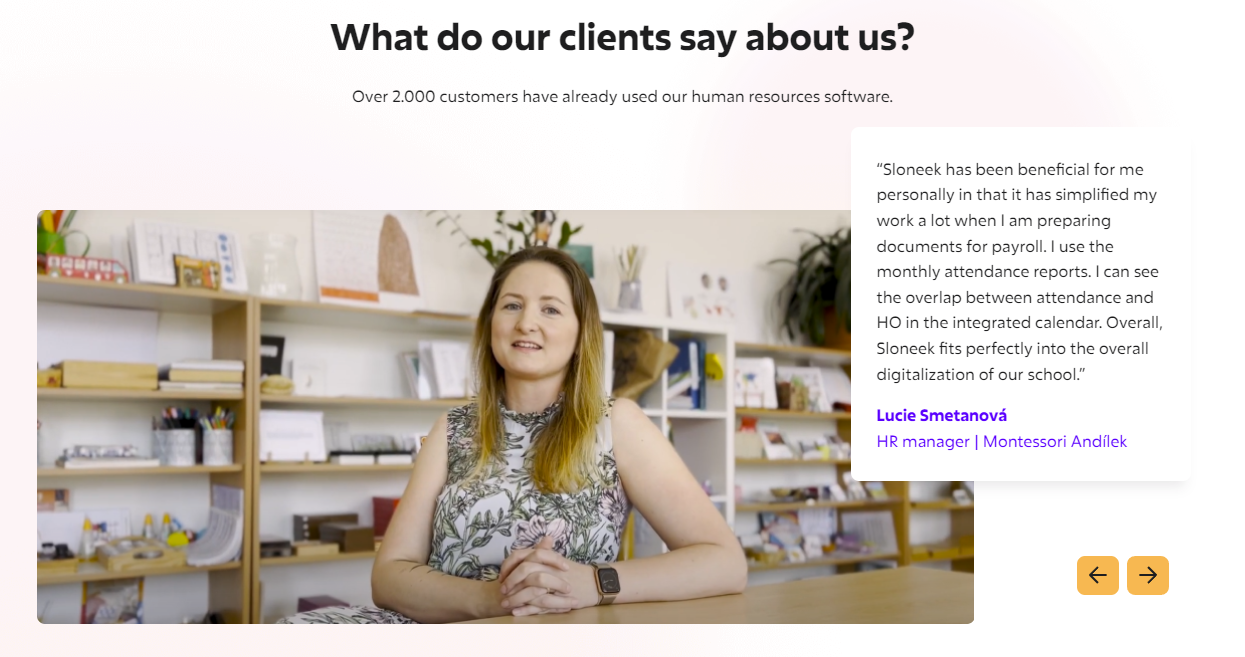 Employee journey mapping: do's and don'ts 
Here's a checklist with the things you should and shouldn't do when mapping your employee journey:
Do: Look at each phase from multiple angles
Don't: Limit your way of thinking to your perspective only
Do: Have intentions behind every move
Don't: Make rushed decisions without prior preparation
Do: Focus on key groups within your company
Don't: Take a 'one size fits all' approach
Do: Make observations constantly and be open to feedback and changes
Don't: Allow your journey map to stagnate and become outdated
How Can You Measure The Effectiveness of Your Employee Journey Map?
Developing an employee journey map is one thing, but making it work in practice flawlessly is a completely different story.
To find out whether or not your current employee journey map is correctly designed, you should measure its effectiveness.
To do it, we recommend collecting data from interested parties – your employees, their managers and so on.
Some ways of doing it include:
asking employees how they feel about the employee experience,
conducting employee engagement surveys using tools like YouEngage,
sending emails to gauge employee sentiments.
Once you collect this data, it's vital that you then analyze it against different key performance indicators, such as:
offer acceptance rates,
productivity,
turnover,
absences and
engagement
to name a few examples.
Based on the data collected from feedback, as well as your analysis results, you'll be able to evaluate your current strategy. What's more, you'll be able to see whether any changes are needed and in what areas. That's a win-win.
How Modern Software Can Enhance Your Employee Experience Journey Map
To help you with your employee journey map, there are technologies out there made specifically for that. Much like you can take control of customer relationships with a CRM platform, there are similar tools available for managing employees.
Their role is to make your job easier when it comes to correctly mapping your employees' journey at your company.
By using human resource (HR) management software, like Sloneek for example, you can:
automate and manage employee life cycles,
create a more positive employee experience,
give employees quick and easy self-service access to company benefits and other resources
make everyday employee tasks easier and less daunting thanks to automation,
get valuable insights for your finance and management departments.
Additionally, HR management systems can keep you updated on new trends and practices, as well as track key performance indicators, such as training time, productivity and turnover.
How Can Sloneek Help You With Employee Journey Mapping?
As mentioned, Sloneek is one of the HR software systems available out there that can provide you with lots of benefits for your employee journey mapping.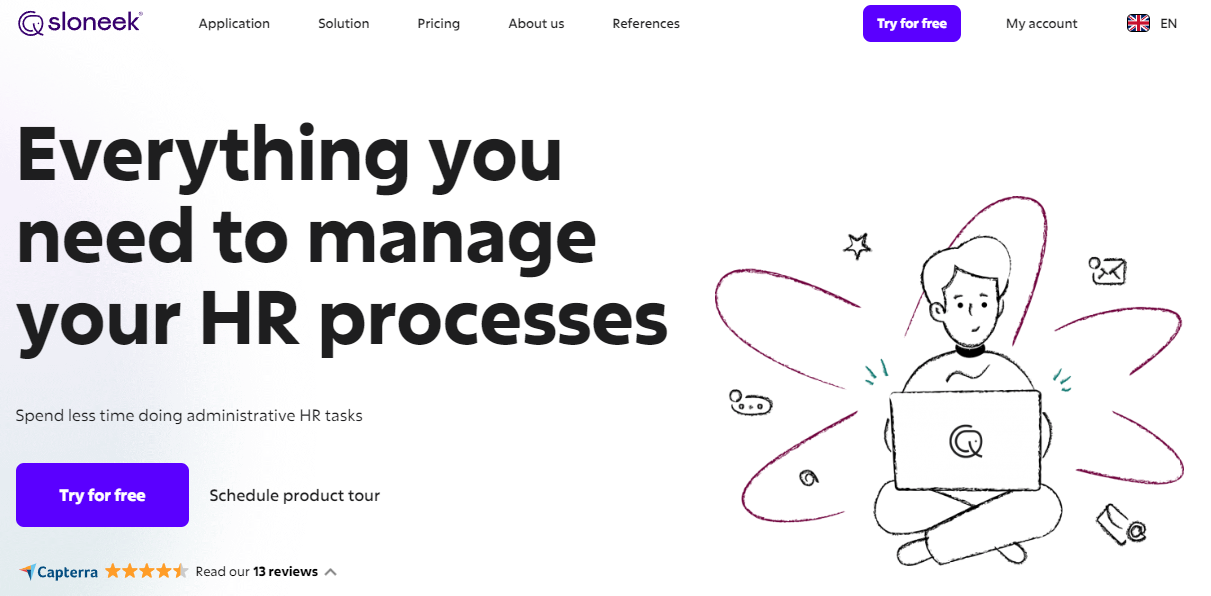 It allows you to manage the HR process effectively and stay on top of the employees' status at all times.
Some of its best features include:
Employee folder,
smart attendance system,
absence management,
eIDAS ready document sign & management,
planning & timesheets,
assets management,

onboarding

process,
video conferencing and
competency modeler.
So if you're looking for a reliable, yet affordable and user-friendly solution – give Sloneek a try today. We're certain you won't regret it.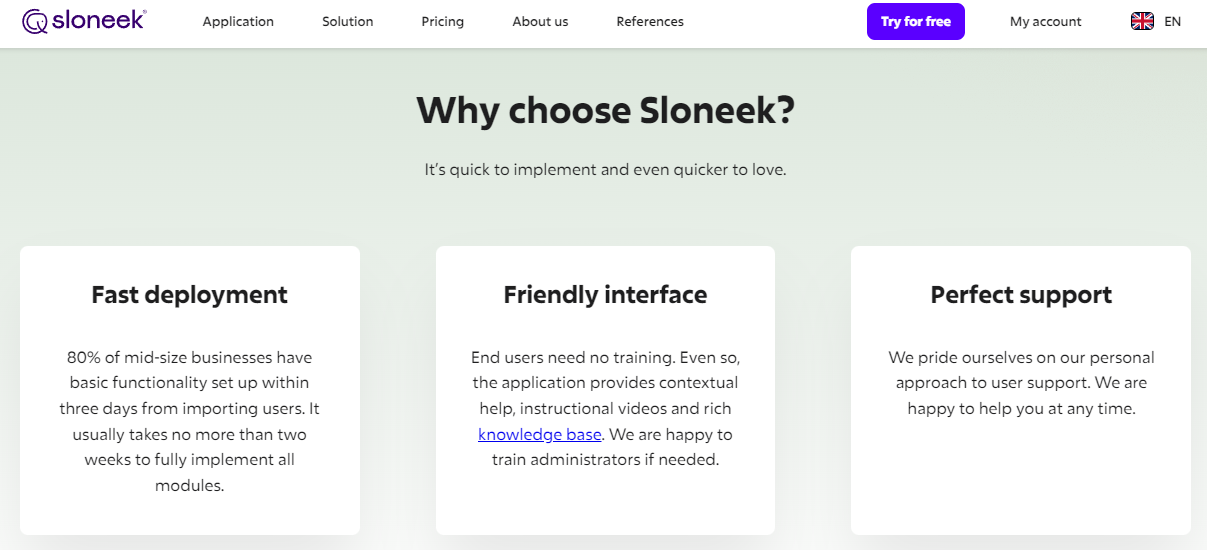 Make Employee Journey Mapping A Breeze
Creating a positive employee experience journey is an ongoing learning process.
Luckily, articles like ours are here to help you and guide you through the, not so challenging as you can see, process.
We hope that the concepts of employee experience and employee journey maps are now crystal clear to you.
Using our pieces of advice, you will be able to quickly boost your HR efforts. What's more, we're certain they'll help you create a great environment for your employees to work in.
And if you like the idea of Sloneek – be sure to check it out during a completely free trial period. We can't wait to show you what we're all about – fast deployment, friendly interface and perfect support for your journey maps.
Other than that, don't hesitate to check our social media profiles like Facebook or YouTube, as well as blog site for more content on human resource management and more.
Many thanks for reading and hopefully see you again sometime soon!
FAQs
What is employee journey mapping?
Employee journey mapping is the process of visualizing the timeline of the entire employee experience.
Such a timeline starts the moment people consider applying for a position at a company and lasts until they leave the company.
What is employee experience?
Employee experience is a person's perceptions about their journey through all the touchpoints at a certain company, starting with job candidacy, all the way up to leaving a company.
Why is employee journey mapping beneficial?
Employee journey mapping is beneficial because it helps you gain a better understanding of the moments that matter most, as well as how they impact employee experience.
What's more, you can improve metrics like attrition, employee engagement and productivity at each stage.
How to create employee journey maps?
Do research.
Create employee personas.
Focus on key areas.
Develop maps and storyboards.
Implement and measure your journey maps.