Effective HR Management Strategy for Small Business in 5 Steps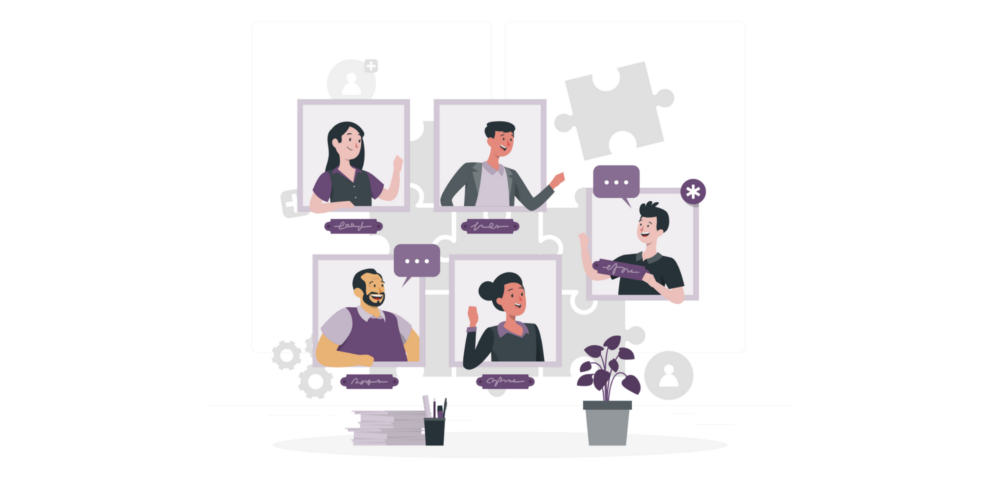 In 2022, the working landscape is getting completely revolutionized by small businesses which have a lot of potential.
Many of the current small companies are utilizing this fact to their advantage. For example, they're creating modern working environments promoting a more relaxed and friendly work environment.
However, small businesses also have some limitations. Due to their limited financial resources, they are not always able to set up advanced teleconferencing systems, host large parties, or create games rooms for employees.
Because of this, the development of efficient human resource strategies becomes even more important. All so that companies can boost their employee retention rate and keep on growing instead of making changes to their workforce way too often.
The key to do it is to create successful HR strategies. So today, we reveal the secrets to doing it effectively.
What Is A HR Management Strategy?
A human resources management strategy is a set of plans and procedures that an organization has to manage its human resources. It is a company's plan for implementing all policies, programs, and practices that it decides are best suited to its needs.
Successful HR Strategies can include many different aspects of the employer-employee relationship. Examples are:
recruitment,
selection,
training and development,
performance appraisals and management,
compensation and benefits administration,
employee relations programs,
basic HR policy,
employee communications programs such as those involving diversity or sexual harassment prevention,
organizational design such as the establishment of work teams,
or other forms of organizational goals.
Why Do Small Businesses Need A HR Strategy?
Small businesses are not exempt from the need for a HR strategy.
They need to have a plan in place that will help them grow and maintain an efficient workforce.
A strategic HR plan can make hiring, training, and retaining employees much easier.
The owners of small businesses must remember that employees will always have a better opportunity waiting for them at bigger companies, just around the corner.
So to minimize the risk of employees wanting to leave you for a company with better/more benefits, you need to present your company as a place made by people and for the people.
You need this competitive advantage over others.
This can be done with the help of effective human resource management strategies.
What should such a strategy include?
HR Strategy For Your Small Business – 6 steps to success
There are various elements that make up for an effective HR strategy for small businesses like yours.
While it's rather impossible (and pointless) to implement countless complex procedures, there are certain elements that are simply essential to have.
Here's what they are:
Mastering your hiring process
Everything starts with the first impression. The hiring process is the very beginning of a (hopefully great) employee experience and employee engagement in your company. Things like:
what job roles descriptions look like,
how job interviews are conducted,
how you go about your

onboarding process

,
whether you care about the new hires orientation,
can make or break your employees' perception of the entire culture of your company. As a small business owner, you must pay extra attention to how you treat and interact with your employees.
Practical tips:
establish a strong employer brand,
utilize employee referrals,
make job offers mobile-friendly,
provide answers to candidate FAQs,
improve your job descriptions,
make use of social media for recruiting,
take advantage of digital trends and social media.
Ensuring employee satisfaction
In order for your HR strategy to be successful, it is important that you have a plan for how to keep your employees satisfied with each of the following:
Recruiting and hiring
Training and development
Performance review
Compensation and benefits
Are you curious to find out how to do it?
Practical tips:
Find out what excites job applicants about the hiring process and implement it. For example, it could be creating a less formal environment for the job interview to take place, at the same time lowering stress levels of a candidate.
If your employees like to constantly upskill themselves, make it possible for them. You could either regularly invest in employee training and development, or give your employees more time-off to take additional classes.
It's important that you regularly review the business performance of your current workforce. To make it more employee-friendly, find out how they'd like you to go about it. The less stress you cause during moments like this, the more satisfied your workforce will be. What's more, your employee engagement will increase.
During a review like this, you may ask them about the things like the company culture, talent management, their current role, how they get on with current employees, what's their long-term plan in the company and more.
Compensation and benefits
Another way of making your employees satisfied is by giving them attractive salaries and benefits for the work they're doing.
Firstly, do not underpay your staff. Have an idea of the competitive salaries for the positions you have in your company and adjust your employees' salaries accordingly.
Secondly, don't underestimate the power of non-monetary benefits and a rewards package such as gym memberships and private healthcare. These can significantly improve the satisfaction of your employees, resulting in boosting your HR management strategy. Not to mention how employee engagement will change.
Investing in training and development
An effective human resources strategy is not just about hiring and letting your employees work, hoping for organizational success.
It is also about providing constant training and development for your existing workforce, at the same time allowing for company growth.
This can be done through or with the use of:
company-sponsored training,
workshops,
seminars,
conferences,
outsourcing to a professional training organization.
If you give your employees a chance to grow, your small business will grow with them, resulting in great business outcomes.
Practical tips:
As a small business, your budget probably isn't very high. So instead of paying loads for overpriced courses, try these free ones*: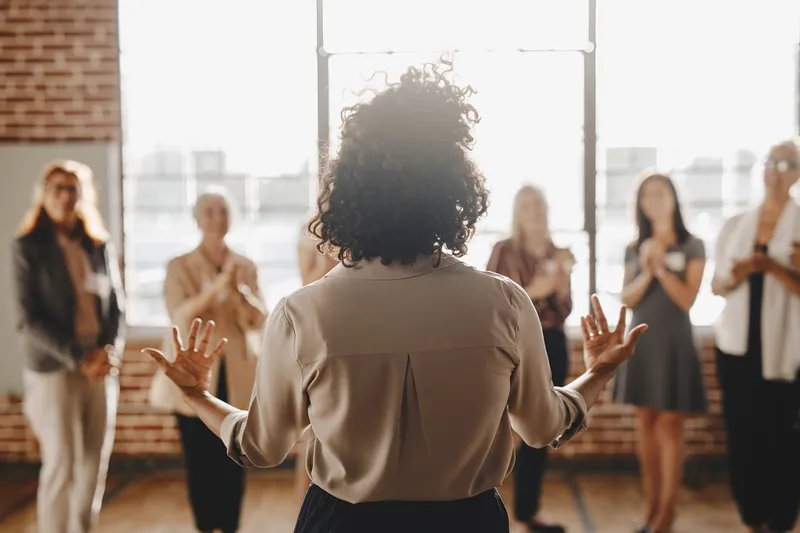 *terms and conditions apply
Taking care of the legal side of things
All too often, small business owners overlook the legal aspects of their business. This is a mistake because it can lead to many problems, especially financial ones.
A sound HR strategy for your small business should include taking care of the legal side of things. You need to make sure that you are complying with all relevant laws and regulations in your industry.
The following are some of the key areas of emphasis looking at the legal matters needed to be taken into account in your small business HR strategy:
employee leave,
privacy issues,
sexual harassment,
employment contracts (implied and expressed),
wrongful termination,
employment discrimination,
wage and salary issues, and
workplace violence.
The sooner you take care of them, the sooner your business can start operating without any worries of breaking the law.
Accepting feedback and adjusting
Moving on, let's shift our focus to feedback and its importance.
You may create the most solid HR strategy for your small business in your eyes, but the reality will verify whether it's actually that great.
That reality is the feedback you receive from the people that HR strategy is designed for: your employees.
It's absolutely crucial that you:
firstly, collect feedback on your HR strategy,
and secondly, adjust the strategy according to the feedback you receive.
Now since your company isn't big, you have the advantage of being able to gather more detailed feedback from your employees. So don't miss this chance to get a deeper understanding of your efforts.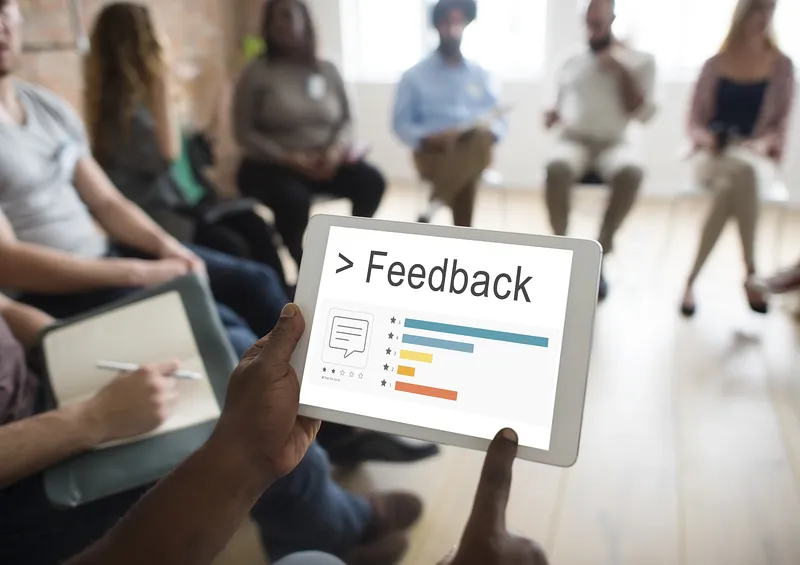 Getting the right tools
Last but not least, you need something that will help you stay on top of everything we've just shared: hiring process, caring about employee satisfaction, training and development, legal matters, and feedback collection.
As you probably suspect, designing an effective HR management strategy may be challenging. So to make your job easier, you should definitely take advantage of the solutions that are there to support you.
These solutions are various tools and software. While there are many to choose from, we'd like to recommend you one that you need the most out of them all: Sloneek.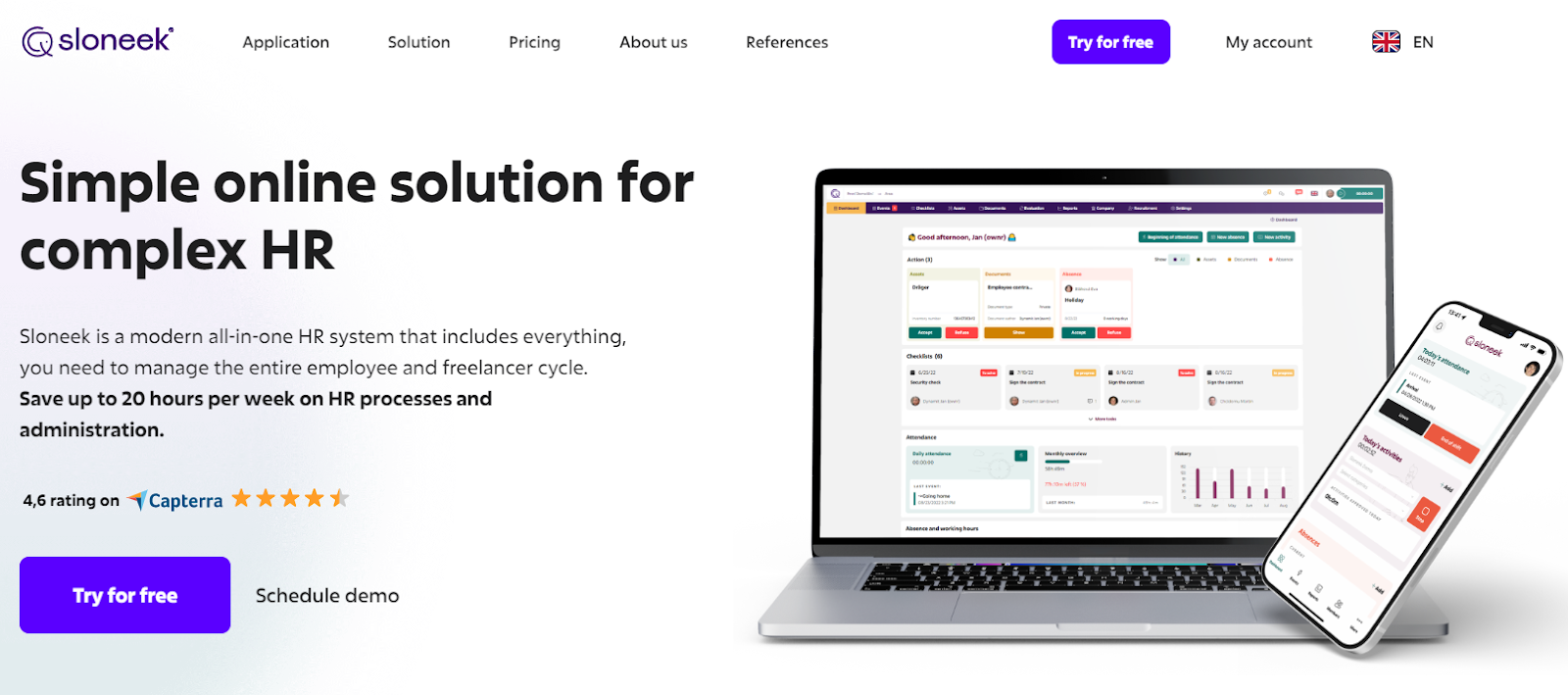 How Sloneek can boost the HR strategy of your small business:
Sloneek is a HR management system made for small businesses like yours. Thanks to this intelligent solution, you:
can create room for employee development,
can standardize HR processes in your company,
get an overview of your all employees in one place,
manage your

team remotely

from any place in the world, without the need to come into the office,
give your colleagues flexibility,
and more.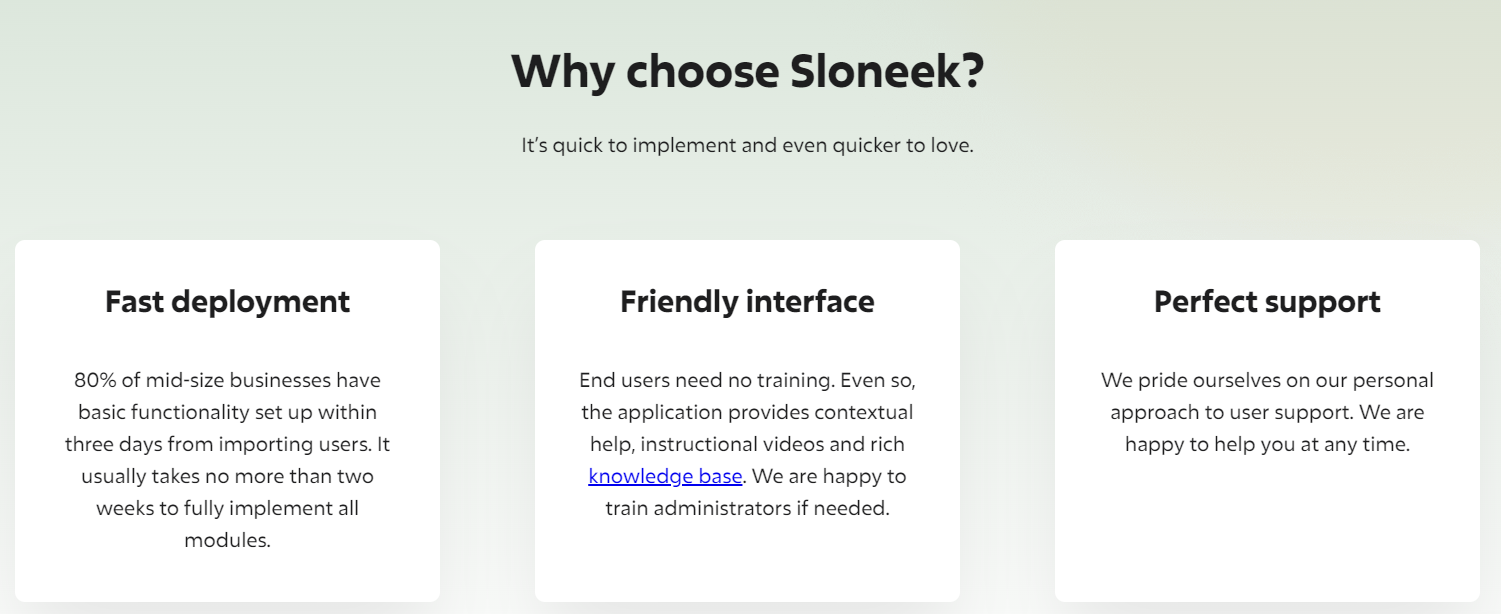 What's more, with Sloneek you never need to worry about the budget. You can get our richest in features plan for just 5 euro every month per active user. So try our free trial today and create your best HR management strategy ever.
Not sure your boss will want to invest in a HR system? Here's how to convince them to do it.
See also:
10 most common issues that HR systems can solve
Step Up Your HR Strategy With Sloneek
And that's a wrap!
Despite small businesses often coming across limitations like a small budget or lack of resources, it doesn't mean they can't have spot-on HR management strategies implemented into their business strategy.
By implementing the tips we've just shared with you, you'll quickly take your current strategy from 0 to 100.
We hope you enjoyed this article. And if you did – don't hesitate to come back for more. We write about all things HR-related, so there's much more insightful content waiting for you out there.
Other than that, reach out if you have any questions and we'd love to see you try Sloneek out.
Good luck!
Effective HR Management Strategy – Checklist
master your hiring process
ensure employee satisfaction
take care of the legal side of things
accept feedback and adjust
get the right tools to make your job easier
FAQ
Now, it's time to get some of the most commonly asked questions about HR management strategies for small businesses answered. Enjoy!
Q: What is a HR management strategy?
A: A human resources management strategy is a set of plans and procedures that an organization has to manage its human resources. It is a company's plan for implementing all policies, programs, and practices that it decides are best suited to its needs.
Q: Why does my small business need a HR management strategy?
A: This is because it will help you in long-term planning and developing your company. It can also make getting the best out of your employees and ensuring that they are satisfied with their work and are committed to their jobs easier for you thanks to a solid plan.
Q: How can I create a HR management strategy for my small business?
A: The best way you could approach it is by: thinking of the organization goals and business strategy, planning and then executing as the last step. First, think of what you want the strategy to be like. Then, plan what you'll need to achieve it. In the end, simply execute it by implementing all the elements you first thought of and then planned.
Q: What are the key elements that a HR management strategy for small businesses should include?
A: All HRM strategies for small businesses should consist of: mastering your hiring process, ensuring employee satisfaction, investing in training and development, taking care of the legal aspect, accepting feedback and adjusting the strategy based on it, and getting the right tools.
Q: What tools can help me with mastering my small business HR management strategy?
A: There are many tools available for small businesses that can help out with HR management. Examples include Sloneek, YouEngage, Slack, Asana, Google Sheets and more. Small businesses' key focus should be on these tools' pricing as they often have small budgets.