Talent pool is a place or database where HR managers and recruiters store the best and most promising talents for individual positions. The talent pool can include not only candidates who have applied for the job themselves, but also referrals or self-selected candidates. The talent pool therefore covers a wide range of candidates from different sources.
Why have a talent pool?
When you're opening a new position, you undoubtedly want to filter out the best candidates from the less interesting ones. Working systematically with a talent pool makes it very easy. Just look at the updated list and select from the talents you have saved. Thanks to the talent pool so:
you will always have immediate access to the best people
reduce recruitment time
reduce recruitment costs
improve the overall quality of recruitment
So having all your promising candidates in one place is definitely a great investment that will make your life easier and the recruitment process more efficient in many ways.
How to create a talent pool in Sloneek?
Creating your own talent pool is not difficult. In Sloneek, it is automatically built into the ATS module, so you can start taking advantage of its benefits immediately.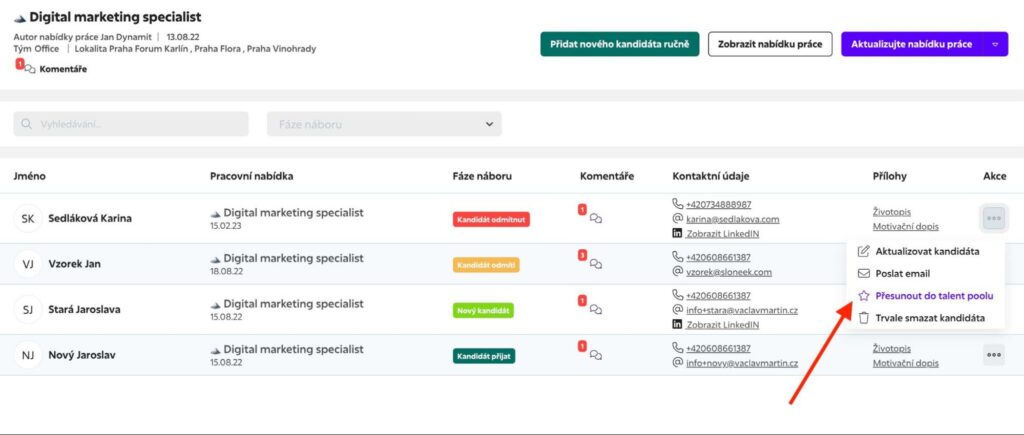 There are two ways to add candidates to the talent pool. The first is the classic case where you create and share a new job posting and candidates start applying for it. In addition to being able to move them between recruitment phases that you prepare in advance, you also have the option to move them directly into the talent pool. Typically, this is a situation where you can't hire the candidate now, but you want to keep their contact.
The second way is to add candidates to the talent pool manually. Did you get a referral? Take him to the Elephant Man! 🐘When you open a new position in the future, there's nothing easier than going back to the saved candidates in the talent pool and reaching out to them with an offer to collaborate.
Try our recruitment process for free and worry-free for 14 days and see for yourself how intuitive and effective a talent pool tool it is.
Interested in learning more about Sloneek?
Our experts Václav, Adam, Richard and Sebastian will be happy to introduce you to the Sloneek HR system and answer all your questions.
guide you through the features of the app
will answer all your questions
prepare a presentation and a tailor-made offer
provide top onboarding