Most likely you have already come across the term timetracking. But do you know what lies beneath?
Timetracking is a process or tool that can be used to effectively record time spent on work activities and projects. In practice, it is a great help for companies to reward employees accurately and fairly. It is also very popular when working with freelancers or freelancers.
The principle of time tracking
The moment an employee starts working on a project or a specific work activity, they start their time. Just as easily, time stops again when the work is finished. The resulting number is added to the employees' other tracked activities and serves the employer not only to keep track of their workload but also as a basis for payment for work performed.
What is needed for time tracking?
So you don't have to measure your work on a manual stopwatch,
it is a good idea to use some of the software available on the market for this purpose. Sloneek has an advanced and automated model for timetracking that makes everything as easy as possible.
You can create different types of work activities and their categories in the app, as well as define the clients and projects your people work on. Thanks to this, the reports provide a perfect overview of all the work done, which is also divided into logical units.
Is there any difference between activity planning and time tracking?
Quick answer: yes. Activity planning is usually handled through calendars in which employees and managers write down (plan) work activities, shifts or business trips. These events can be recorded in Sloneek both in the future and retrospectively. In contrast, timetracking refers to the current day and time. In other words, it can only be run in the present moment.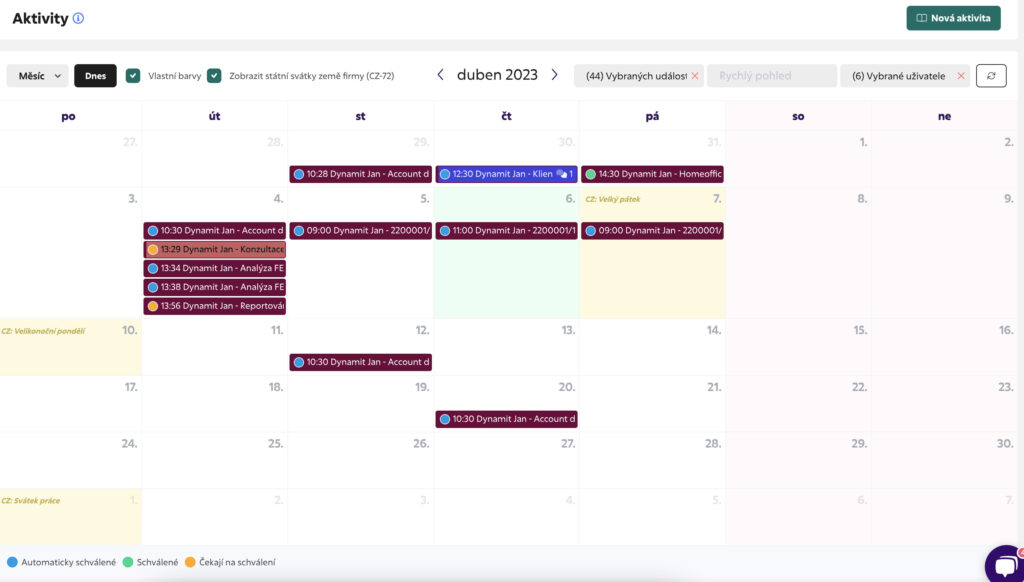 In both cases, however, all users can at any time in timesheet activities timesheet, they can easily check which activities they spent how much time on each day of the month.
Interested in learning more about Sloneek?
Our experts Václav, Adam, Richard and Sebastian will be happy to introduce you to the Sloneek HR system and answer all your questions.
guide you through the features of the app
will answer all your questions
prepare a presentation and a tailor-made offer
provide top onboarding