Overview of every minute of work and free time
Keep track of your people's time. This set of functionalities allows you to keep track of exactly what and how long your people are doing, as well as when they are off.
Absence, Attendance, Time Tracking, Advanced Reporting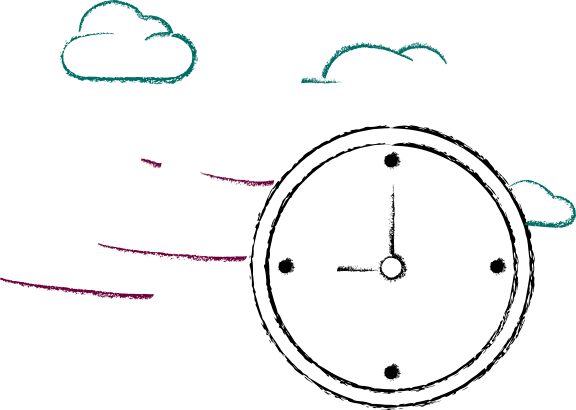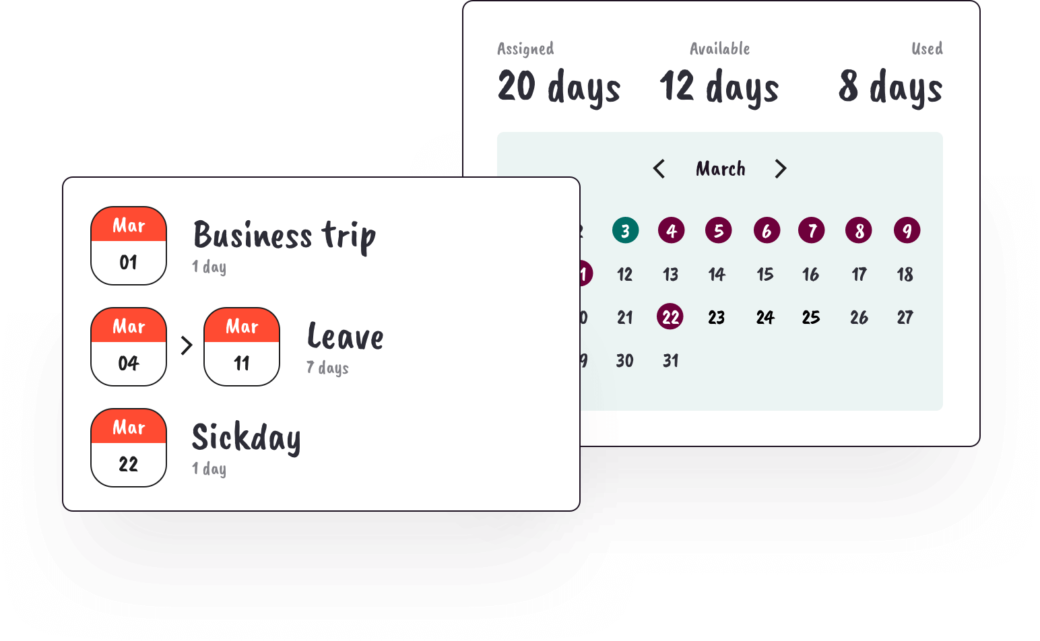 Time & Absence
Fully configurable solution to calculate net time pool based on holidays, public holidays and approved absences.
Clear team calendar

Everyone has an overview of the presence or absence of teammates.

Calculation of drawdowns and balances

Everyone knows how much leave they have taken and how much is left.

Approval workflow

Team managers approve the absences of their subordinates.

Synchronisation with calendars

Link your absence calendar to Google and Microsoft 365 calendars.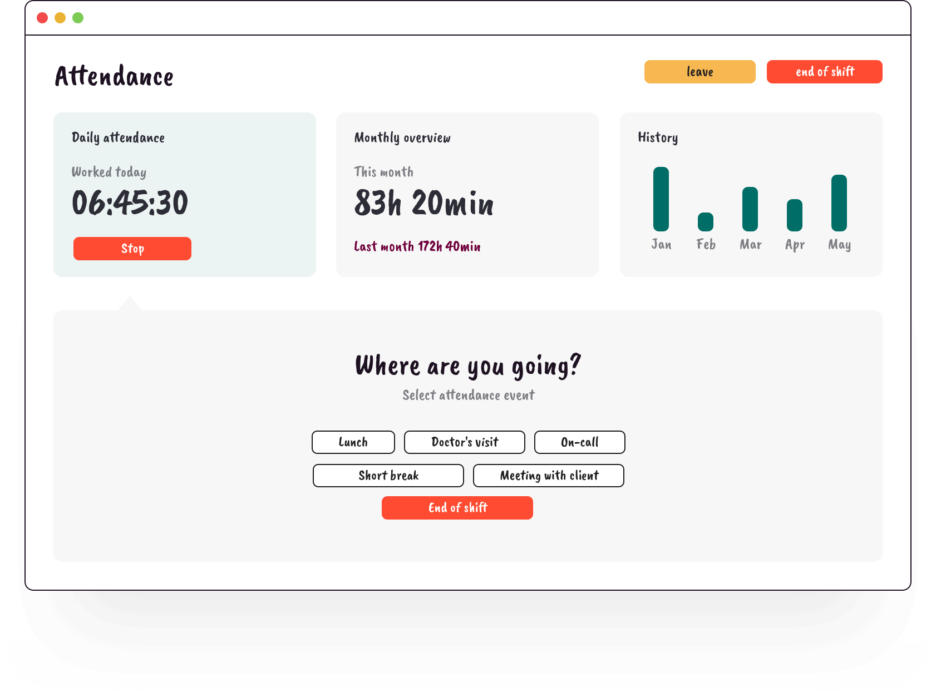 Electronic attendance
A modern corporate attendance system that puts minimal strain on employees while providing a perfect overview of how your people are getting to work.



Simple environment

Attendance is very easy to use, no training required.

Locations

Arrivals and departures can be tied to geolocation.

Working hours pool

Time worked is compared to each employee's time pool.

Terminals

You can create a time and attendance terminal from any tablet or computer.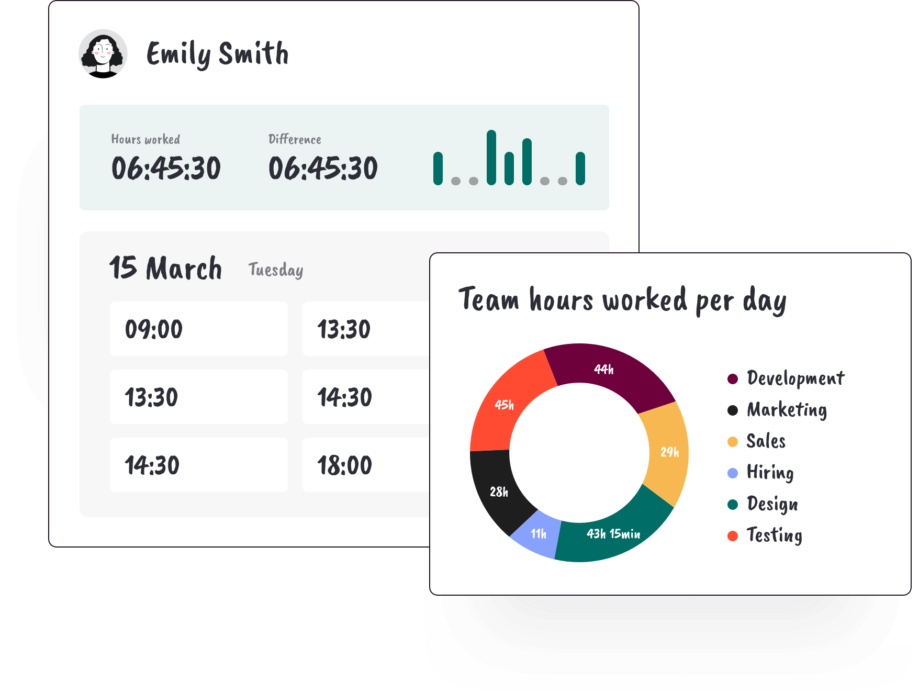 Time tracking and shifts
Track time worked using the time tracking method with extremely flexible settings that can be used for all types of working relationships. With easy shift scheduling.
Time tracking

Classic time tracker with predefined activities and their categorization.

Team calendar

Team members and managers have an overview of their colleagues' activities.

Approval of activities

Team managers can approve subordinates' time spent on activities.

Simple scheduling

Days off work affect the use of the annual absence pool.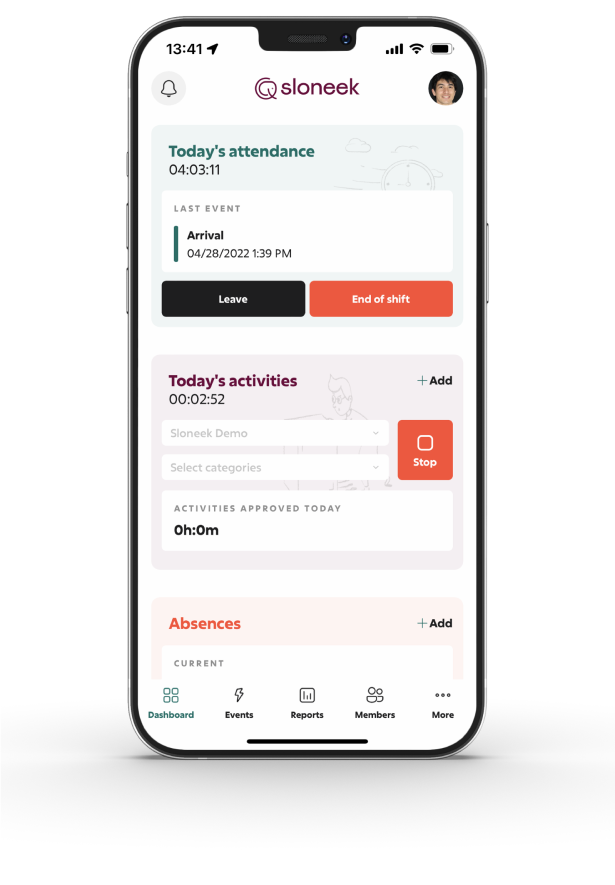 Mobile timekeeping
Employees can control all actions related to time records and absences from the convenience of their mobile phones.
Entering arrivals and departures

Control attendance, with precise geolocation.

Leave requests

Submitting requests for absence approval.

Time tracking

Measurement and time worked by activity.

Reports

Absence balances and time worked in a simple report.
Time is money. Save both with us.
What you can measure, you'll also be able to better control and optimize.
For HR professionals
Precise capacity planning
You will know the exact workload of your people.
For payroll accountants
Flexible reporting
You can download your labour reports in the format you need.
For employees
Always on hand
All the essentials in a user-friendly mobile app.