Explore the Best 5 Deel Competitors: Find Your Ideal HR Tool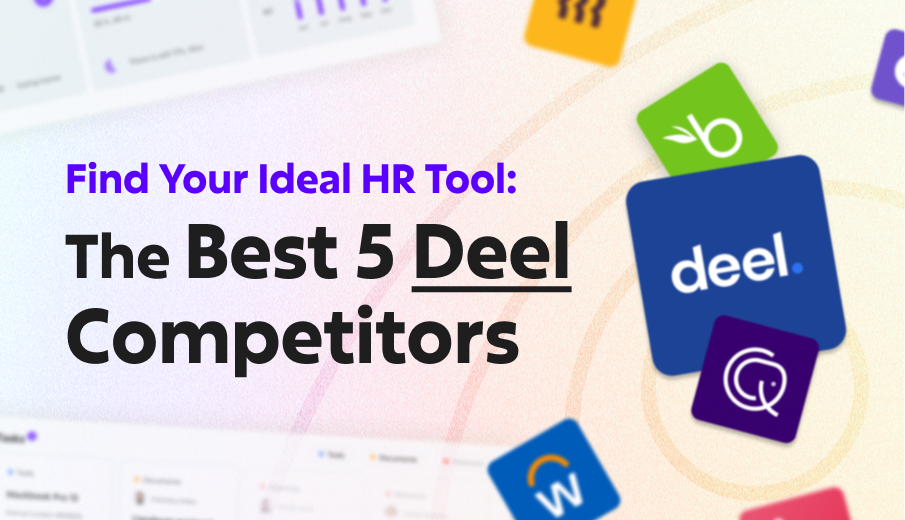 Join us as we embark on a comprehensive exploration of Deel's top competitors. 
We'll take a look beyond the surface and delve into crucial aspects like key features, pricing structures, and the distinct advantages (or potential limitations) that each competitor offers.
So let's jump right into it and find out which option is the best "Deel" for you.
What Is Deel?
Deel is a prominent player in the bright world of HR software that puts focus on the process of hiring internationally, enabling you to operate in over 150 countries.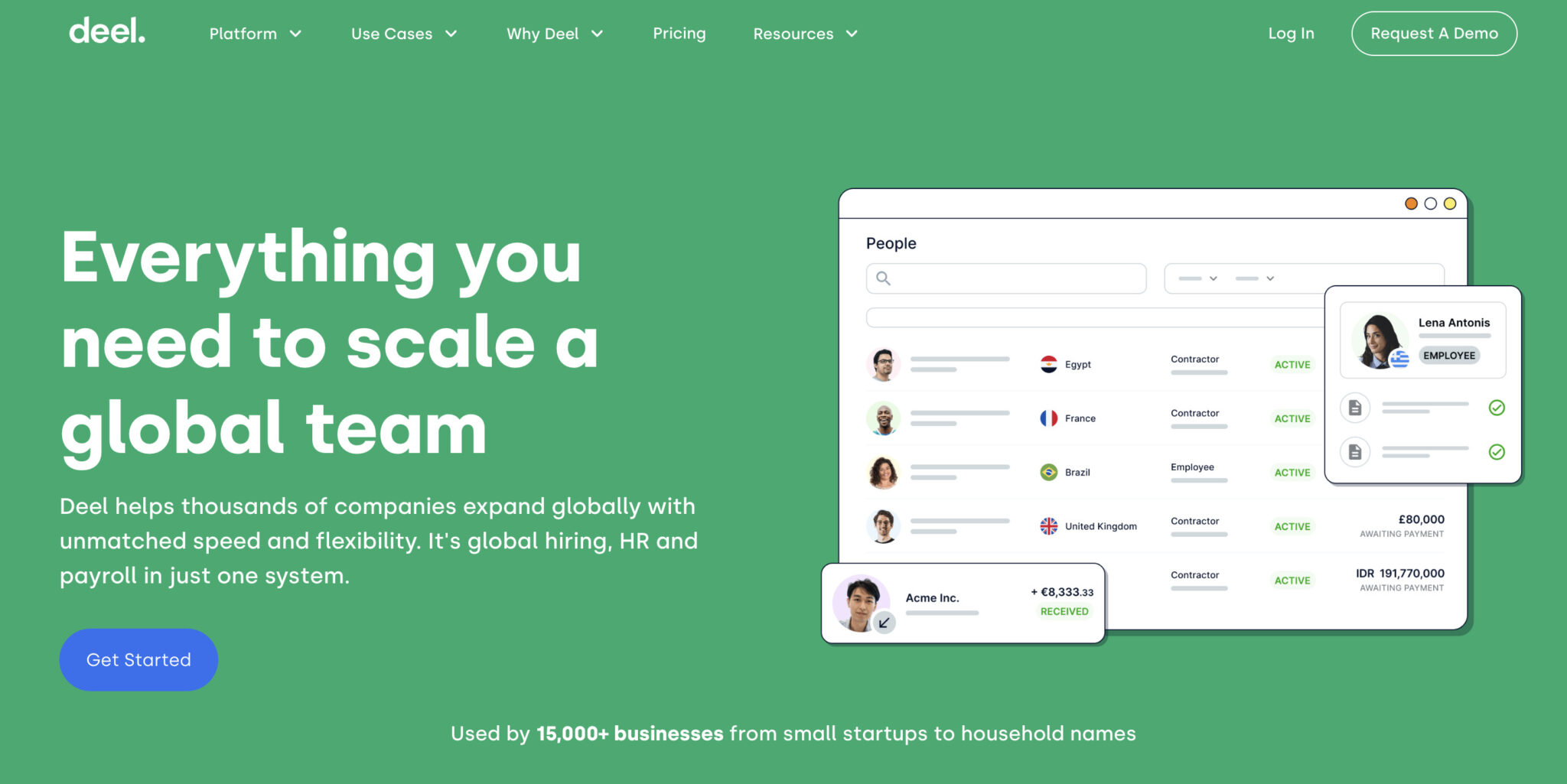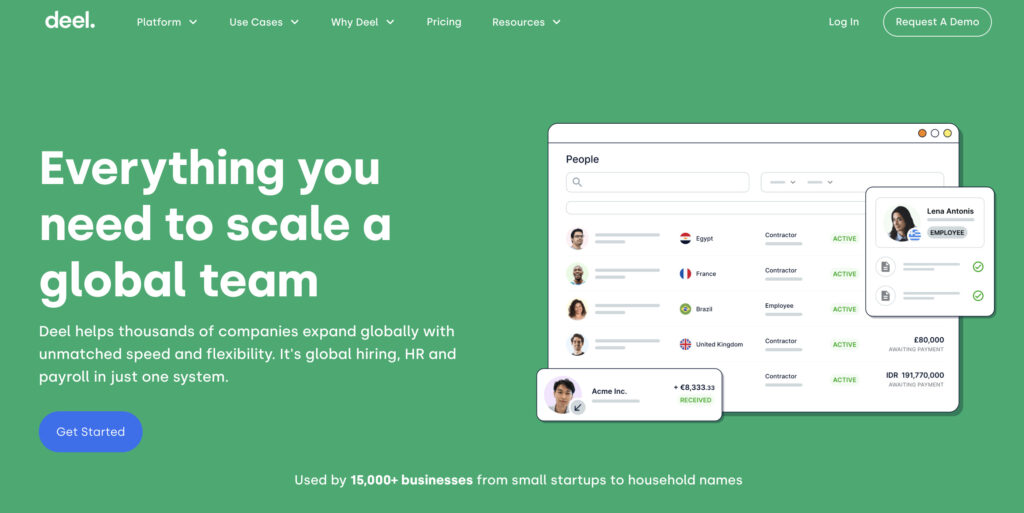 It offers multiple platforms for different goals that we can divide into these categories:
Hiring employees and contractors aboard
Managing your team
Global payments
Altogether the Deel portfolio consists of 16 different HR tools as listed on their website.
What Is Deel Used for?
What makes Deel different from other global HR tools?
Deel is a popular option in case you need assistance with relocating your employees to different countries around the world. It also covers situations like sending equipment to your employees or getting visa support.
The specific features included in Deel are:
Employee Onboarding
Global Payroll
Contract Management
Compliance
Benefits Administration
Time Tracking
Deel also integrates with multiple HR and other software allowing you to streamline your HR processes and operations.
How Does Deel Work?
Deel operates, like many other HR tools, as a cloud-based framework. This grants users to access the platform from any location.
Even though Deel is not around for a long time, their interface should be fairly easy to navigate.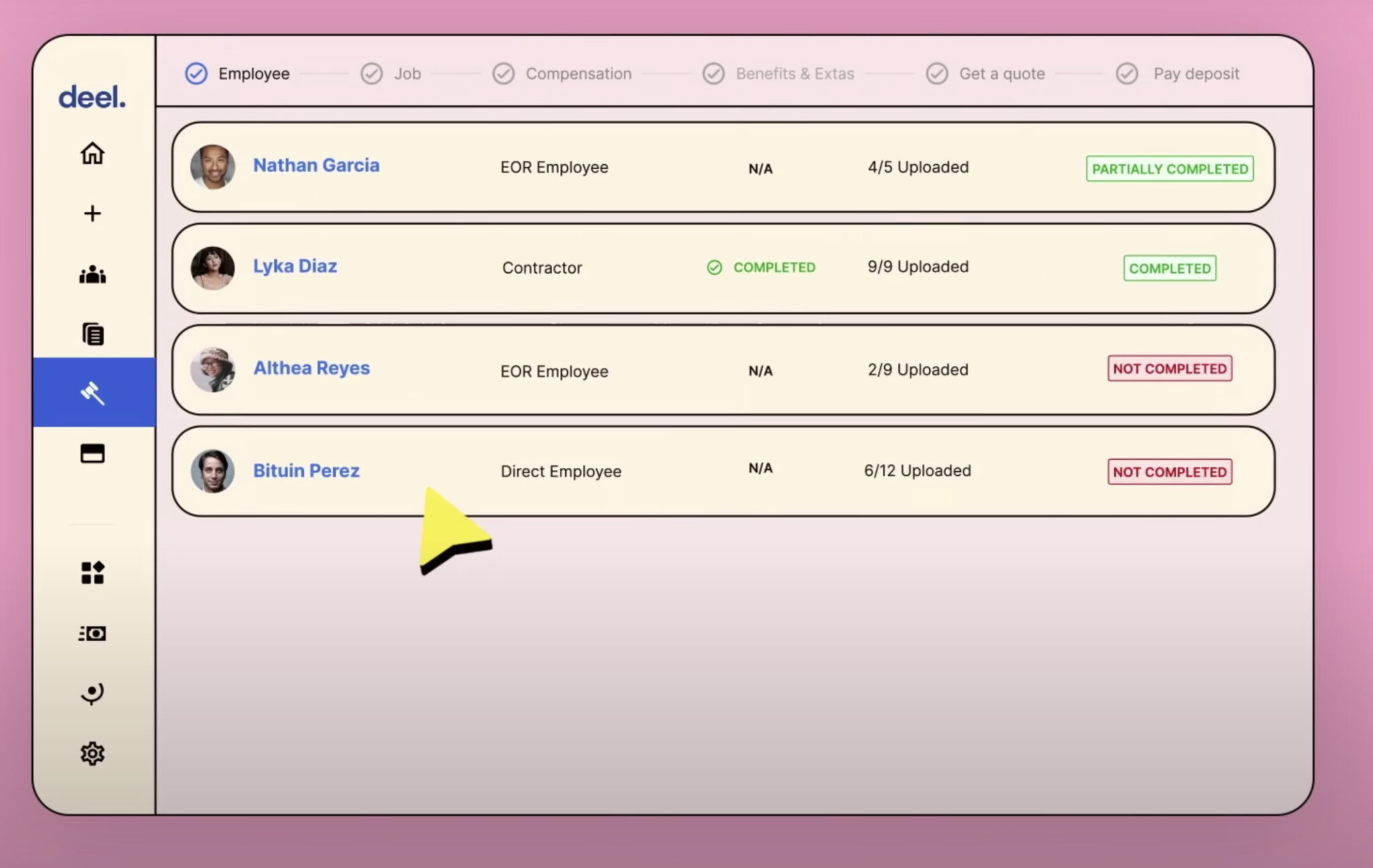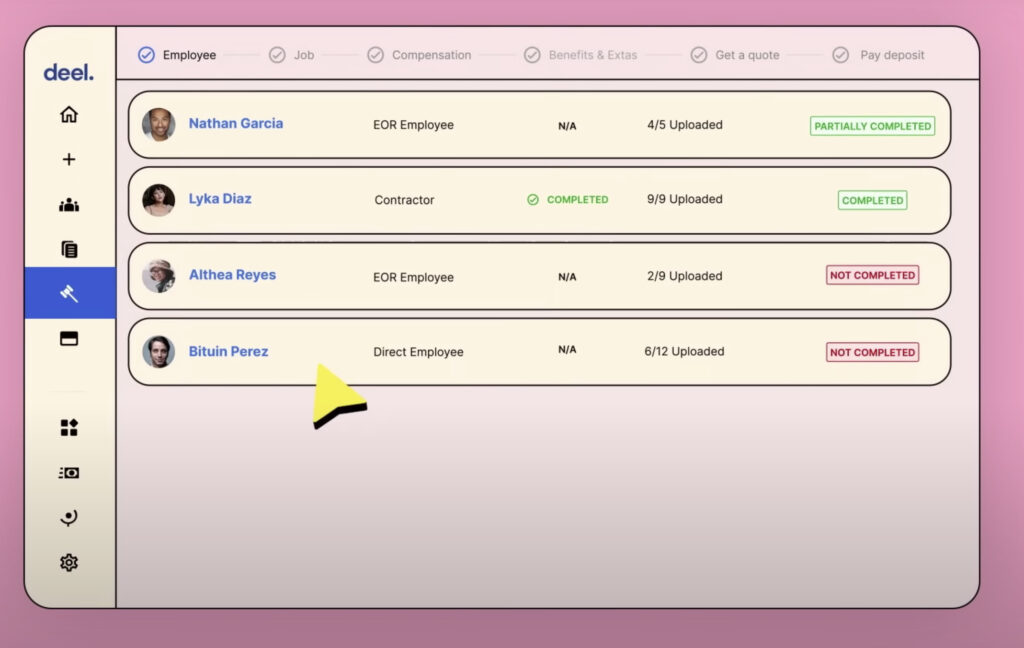 It's especially attractive to companies with global teams and employees. With everything that Deel includes, we can imagine keeping an eye on all the global laws and rules can be a challenge.
Deel provides a unified perspective on workforce and financial data, empowering organizations with real-time insights for informed decision-making.
Why Do Companies Need Deel Software?
Deel offers a comprehensive solution that simplifies the complexities of global workforce management.
With its intuitive platform, businesses can effortlessly navigate international hiring laws, tax forms, and localized contracts, ensuring compliance across borders.
One notable fact about Deel is its extensive coverage, enabling companies to hire in over 150 countries seamlessly. This global reach allows your organization to tap into a vast pool of talent worldwide.
Deel also streamlines payment processes, including managing payment cycles, timesheets, and invoice generation.
What Are the Benefits of Implementing Deel Software?
Embracing Deel software offers companies a multitude of advantages that go beyond streamlining HR processes.
By integrating Deel into your operations, you can expect:
Increased Productivity
Global Workforce Expansion
Enhanced Compliance
Cost Savings
International Payments Support
Deel offers the flexibility of handling multiple payment methods and supporting payments in 100+ international currencies. Additionally, Deel facilitates the compliant provision of equipment to your team, ensuring a hassle-free experience for both employers and employees.
Support for Remote Workers
Deel actively supports remote workers on a global scale. They provide assistance in obtaining work visas in the US and over 30 other countries, simplifying the often complex process of international work authorization. Deel helps with sending work equipment around the world too.
Enhanced Compliance
Deel's software is designed to help companies navigate the complexities of international labor laws and compliance. It ensures that all employment contracts and payroll processes adhere to local regulations, reducing the risk of legal issues and penalties. This level of compliance management provides peace of mind to companies expanding their global presence.
When do you need to implement Deel software?
Deel software is a strategic asset for companies and their global operations.
When your business is poised for global expansion, Deel simplifies the complexities of hiring and managing a global workforce, enabling you to tap into talent worldwide without grappling with the intricacies of international labor laws.
Deel proves vital in scenarios marked by compliance complexities.
It offers a streamlined, automated approach to compliance processes. It takes on administrative burdens, from payroll management to contract generation and tracking, allowing your HR team to focus on strategic initiatives.
Additionally, as your company experiences rapid growth, particularly on a global scale, Deel facilitates seamless scalability.
It simplifies the hiring process for remote employees, contractors, and freelancers, ensuring that new talent integrates effortlessly into your organization.
Deel also contributes to cost efficiency by automating HR processes, reducing errors, and resource requirements, ultimately resulting in significant savings over time.
What Is the Price for Implementing Deel or Its Competitors?
Deel offers a wide variety of global solutions for different use cases, which means the pricing is a bit complex too.
What you'll pay for Deel software depends on your specific needs.
The basic HR system is free for global companies with fewer than 200 workers. This package includes essential features commonly found in HR tools, such as expense management, time off tracking, bonuses, access to Google Suite, workflow automation, people directory, and data storage.
However, if you require assistance with global hiring in countries where you don't have legal entities, this add-on will cost you $599 / per month.
The Contractors Deel platform, designed for managing and paying international contractors, starts at $49 / per month.
For pricing details on other platforms like Global Payroll and Immigration, you would have to refer to Deel's official website or contact their support team.
5 Best Deel Competitors to Consider
Now, let's discuss why you're here. We'll describe the top 5 Deel competitors you might find interesting if Deel is not the right solution for you.
1. Sloneek HR
Our top pick among Deel's competitors is an all-in-one solution that will be your companion on your HR management journey. It's designed to not only save you time and costs but also to efficiently support both your employees and freelancers.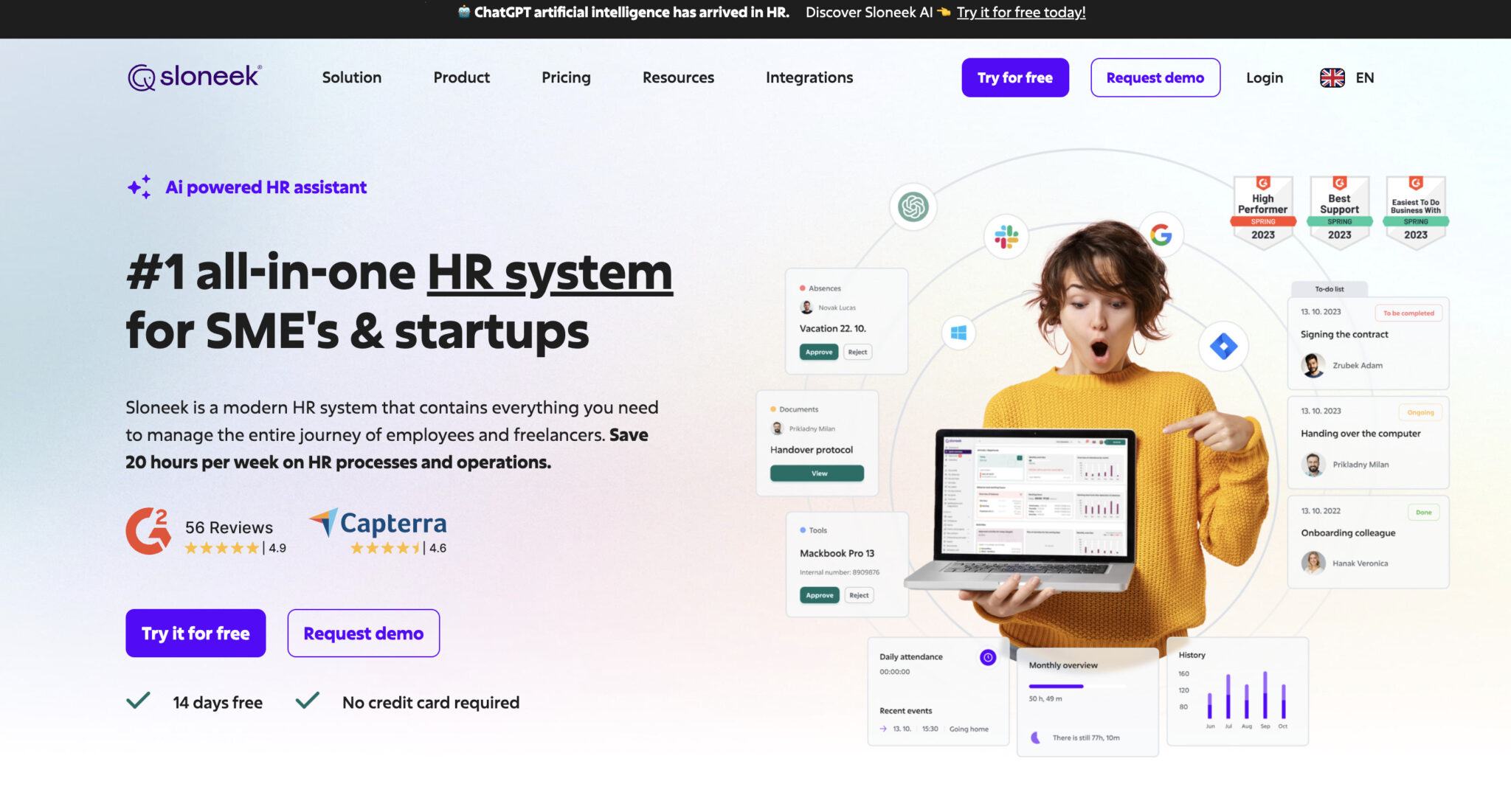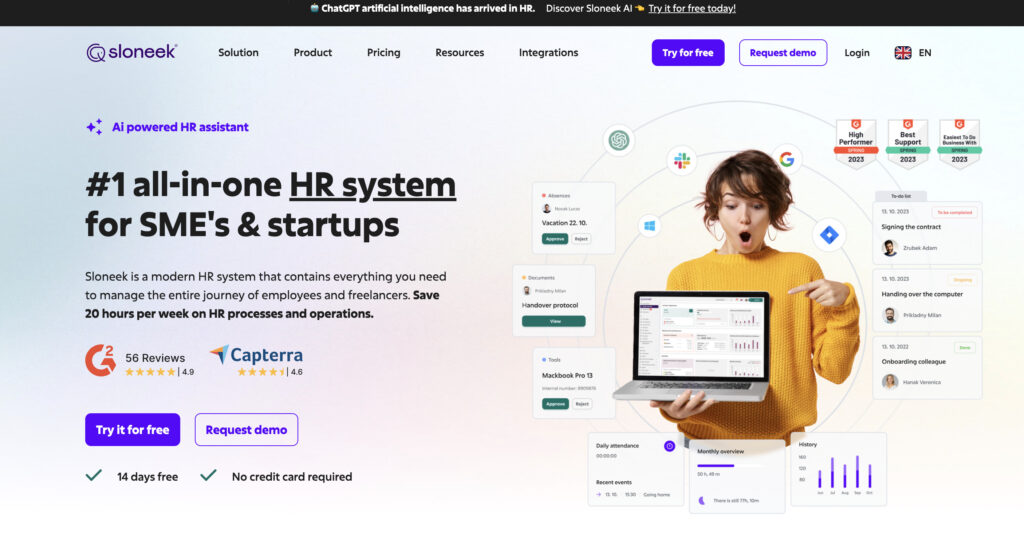 Sloneek offers straightforward solutions to complex HR challenges.
What sets it apart is its built-in AI capabilities, ready to assist you with various tasks right from the get-go, and available transparent pricing.
This tool comprehensively covers essential features and more. So, what exactly are these?
Features
Sloneek boasts a wide array of features, categorized as Essential and Professional based on your chosen plan.
Each feature encompasses vital functionalities such as fundamental employee management and the ability to create personalized folders housing critical resources for employee growth and engagement.
These features can be grouped into several main categories, each offering effective, user-friendly solutions to address specific areas.
Sloneek features include:
Records of workers
Absence management
Activities
Integrations
Work assets
Skills and performance
Task lists
Engagement
Documents and signing
ATS (applicant tracking system)
Mobile applications
Reporting
Attendance system
As an advanced SaaS business, Sloneek offers a complimentary demo tour guided by their experts before you make any commitments.
Pricing
Sloneek's pricing structure is transparent and budget-friendly.
The Professional plan provides access to all features for just $6 / per user / per month, delivering complete digitization of your HR processes. If you don't require all the features, there's the option to choose the Essential plan at $4 per user per month.
Customer Support
Exceptional customer service is a hallmark of Sloneek.
Known for its outstanding and reliable support, Sloneek has earned positive feedback from satisfied customers and boasts an impressive 4.8 out of 5 stars rating on G2.com.
Alongside top-tier support, Sloneek offers a comprehensive knowledge base filled with valuable insights to help you maximize the potential of this user-friendly HR management software.
| | |
| --- | --- |
| ✅PROS | ❌CONS |
| Affordable prices with live demo and 2-week trial | Solely HR-related features |
| Entire recruitment covered in one system | Room for improvement |
| Great support | |
| Fast deployment process | |
2. Plane
Coming in as our second competitor is Plane, a robust HR management solution that acts as an ally in managing your workforce and enhancing employee engagement.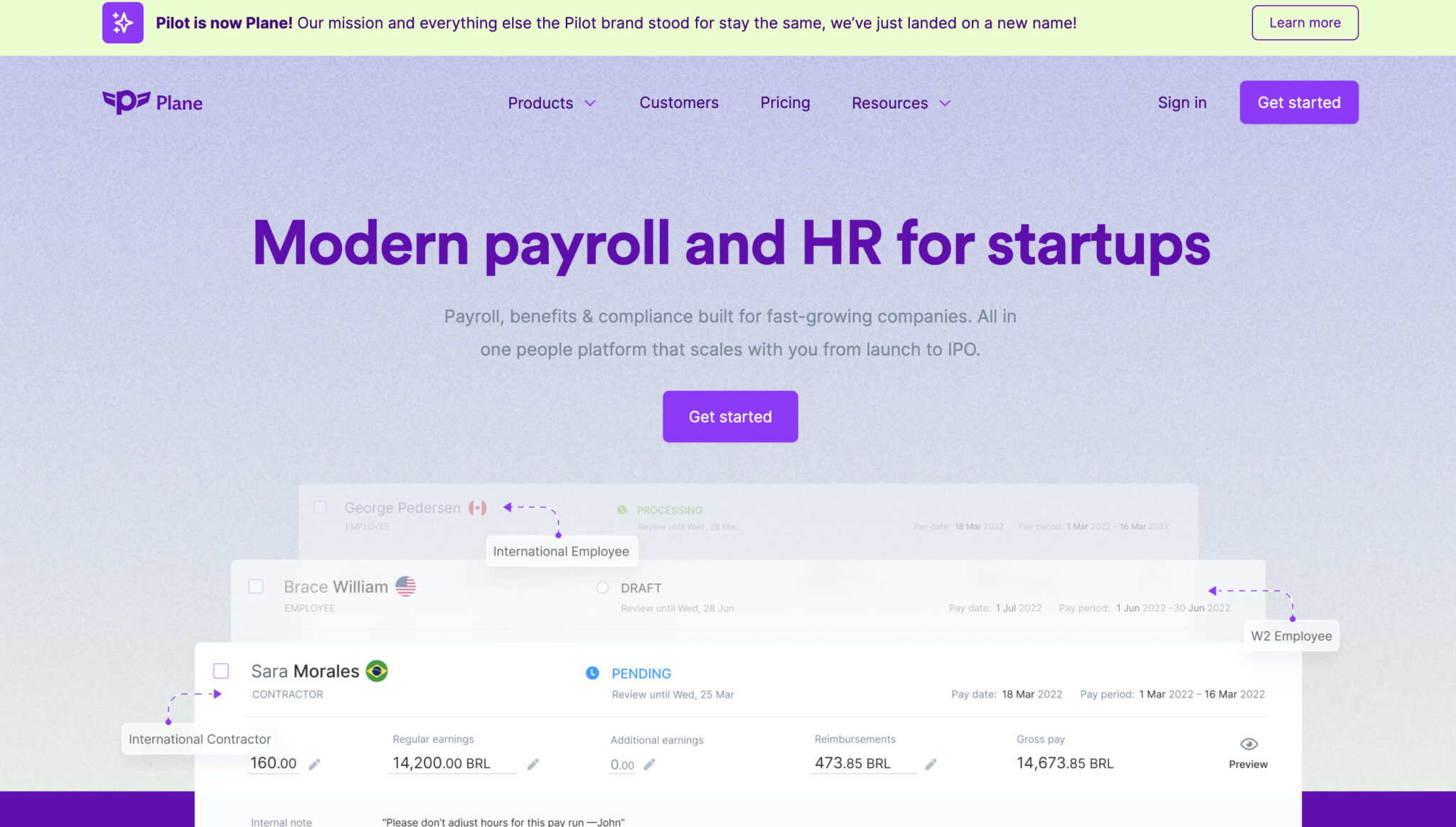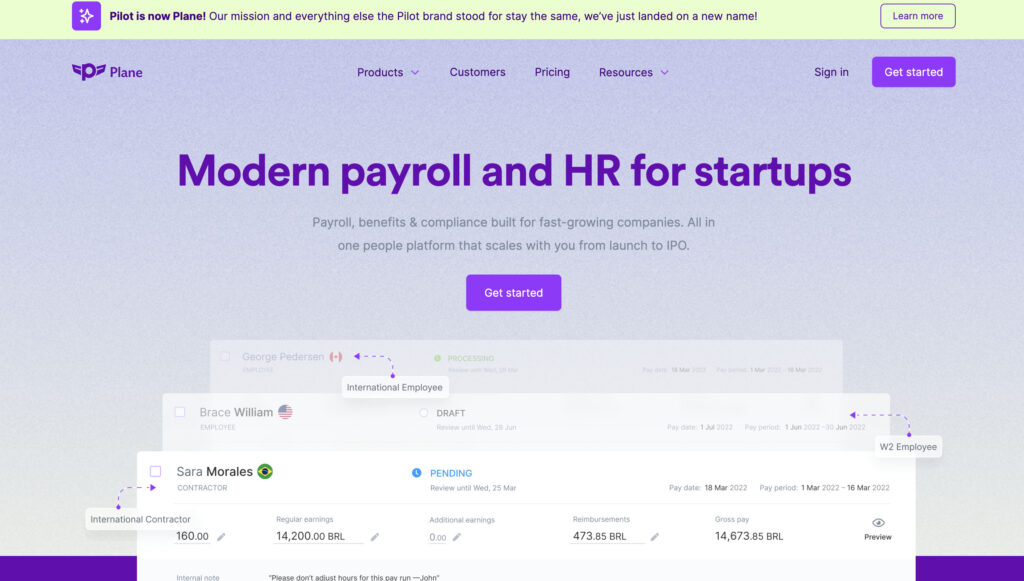 Features
Plane offers an array of features, including talent acquisition, performance management, and workforce analytics.
These features are categorized into:
Talent acquisition
Onboarding
Performance management
Compensation and benefits
Learning and development
Workforce analytics
Mobile access
Integrations and scalability
While Plane's feature list is extensive, users may find it slightly complex to navigate due to the multitude of options.
Pricing
Plane's pricing structure is tailored to suit companies of various sizes.
The cost for US employees starts at $19 / per user / per month, and if you need HR software for international contractors, that starts at $39 / per contractor per month.
Compared to Deel, the flat rate for international hiring in 100+ countries, you'll pay $499 / per employee / per month.
Customer Service
Plane's customer support is renowned for its responsiveness and expertise.
Users can expect prompt assistance and access to a comprehensive knowledge base for self-help. G2.com rates Plane at 4.6 out of 5 stars.
| | |
| --- | --- |
| ✅PROS | ❌CONS |
| Comprehensive feature set | Complex interface |
| Responsive support | Pricing |
3. Remote
With a focus on simplifying international hiring and global compliance, Remote is a game-changer for companies expanding their global workforce.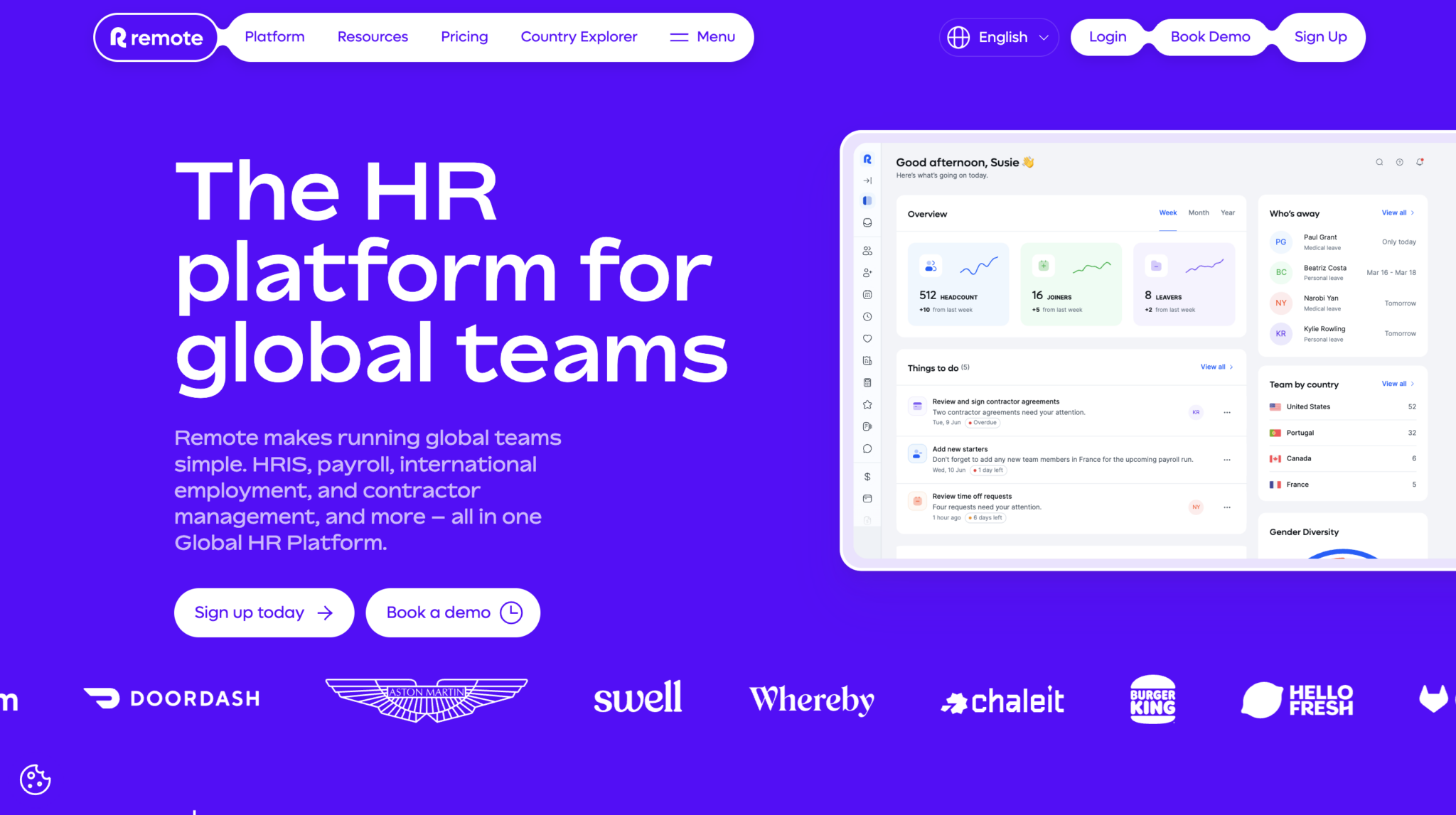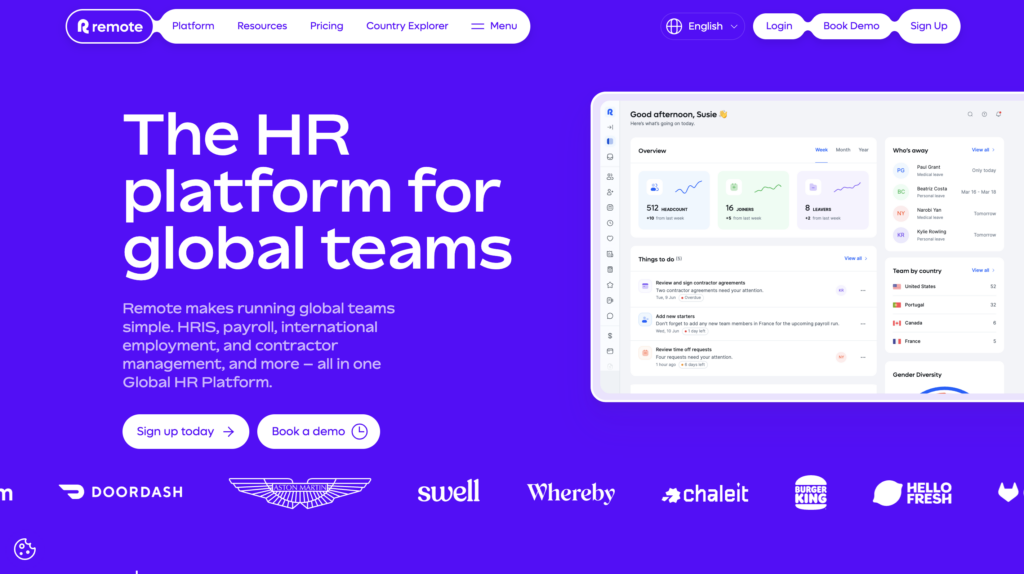 Features
Remote's feature set is tailored to international hiring, encompassing global payroll, compliance, and HR, which makes it a considerable Deel competitor.
Key features include:
International hiring support
Global payroll management
Compliance with local regulations
Employee benefits administration
HR and workforce management
Pricing
To hire and pay your global team, the plan called Employer of Record starts at $599 / per user / per month.
The contractor management starts at $29 / per contractor / per month with a free trial available, but the basic employee management is free.
For global payroll features, you'd need to contact the sales team.
Customer Service
Remote's customer service is highly specialized in international HR and compliance. Users should expect 24/7 live chat support.
| | |
| --- | --- |
| ✅PROS | ❌CONS |
| Live chat support | Pricing |
| Contractors support in 180+ countries | Not suitable for startups |
4. Workday
Workday is a robust HR and financial management software provider that has been around for some time.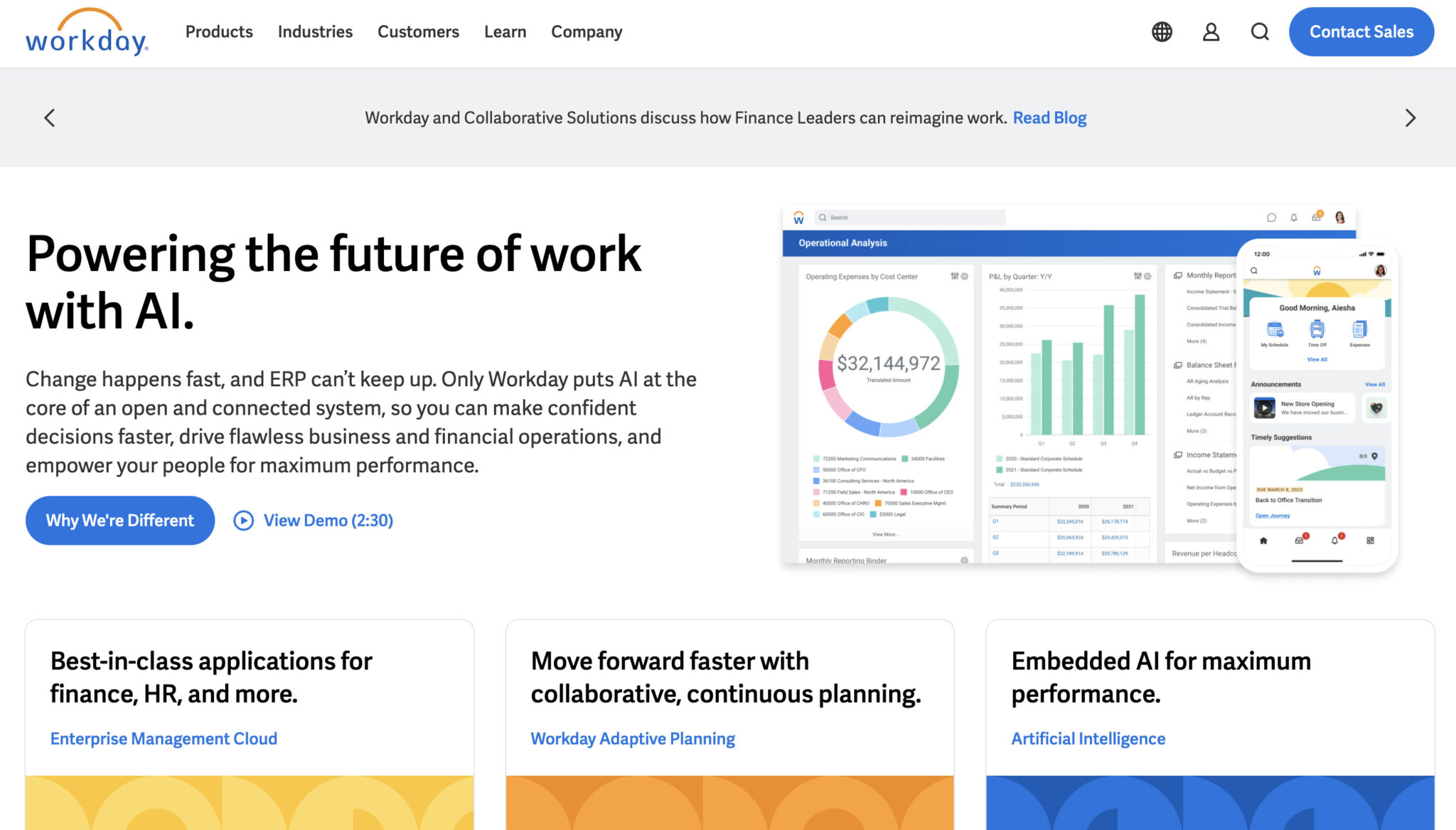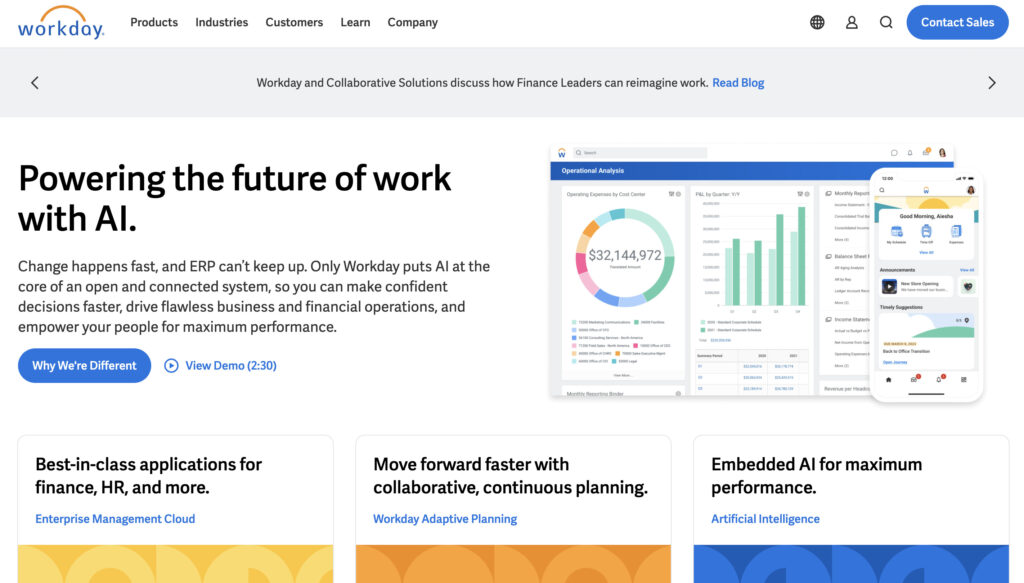 Features
Workday offers a comprehensive suite of HR and financial features, including:
Human Capital Management (HCM)
Human Resource Management (HRM)
Employee Experience
Workforce Management
Analytics and Reporting
Planning solutions
Financial management
Pricing
Workday adopts a customized pricing approach, which can pose challenges when making direct comparisons with other solutions.
It's important to highlight that Workday is often positioned as one of the higher-priced options in the market.
Initial monthly costs for some users have been reported to begin at approximately $99 / per user / per month.
As per insights from OutSail, a company specializing in HR tool research, Workday predominantly caters to Enterprise HRIS needs, making it most suitable for larger organizations boasting a workforce of over 2,000 employees.
Customer Service
Workday offers an extensive 'Learn' page, which includes in-depth documentation, educational videos, and informative demos.
This will come in handy as the live support with such a large company is usually not so responsive as in the case of Sloneek, for example.
| | |
| --- | --- |
| ✅PROS | ❌CONS |
| Comprehensive solution | Complex implementation |
| | Cost |
5. BambooHR
BambooHR is a popular HR software solution known for its user-friendly interface and customizable features.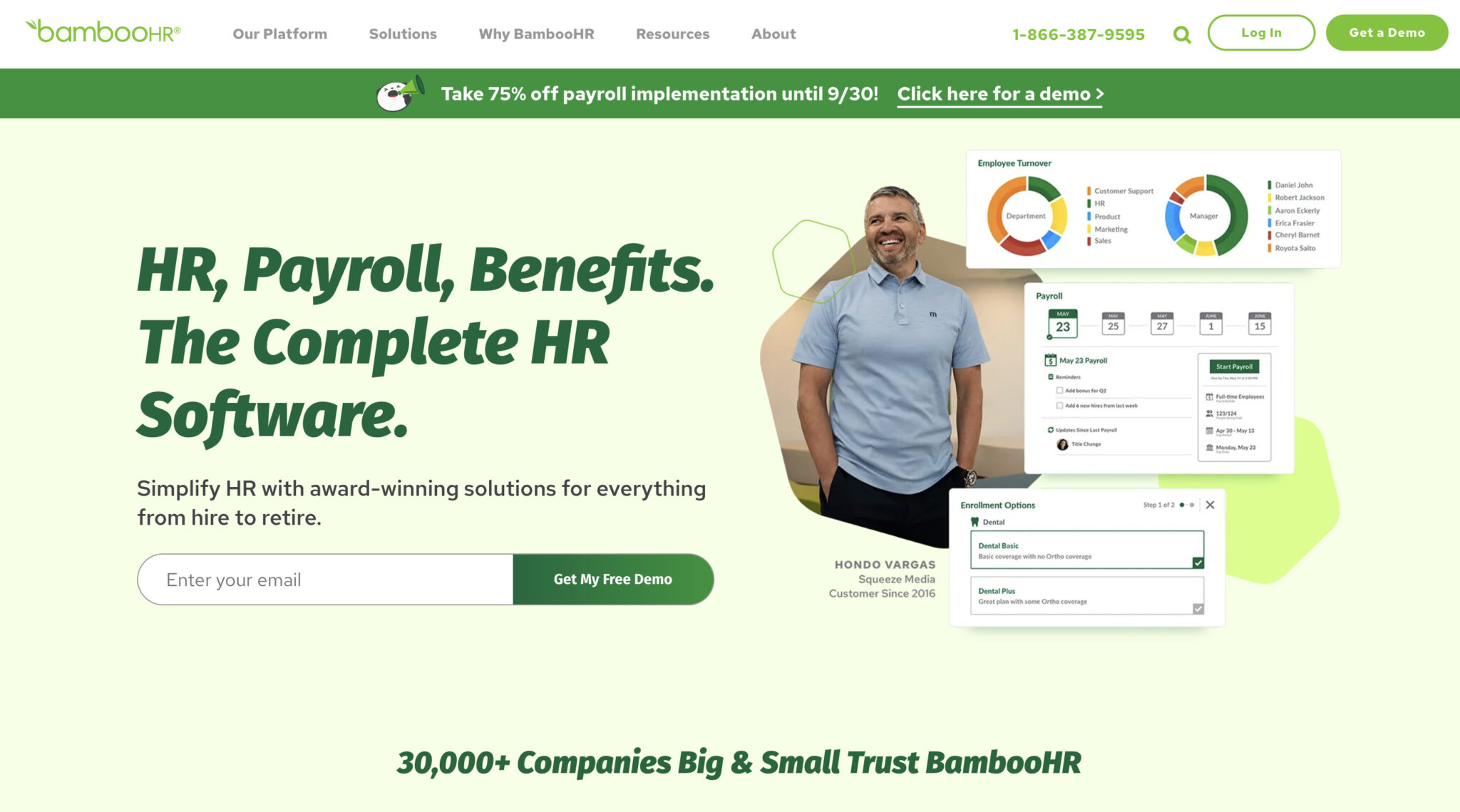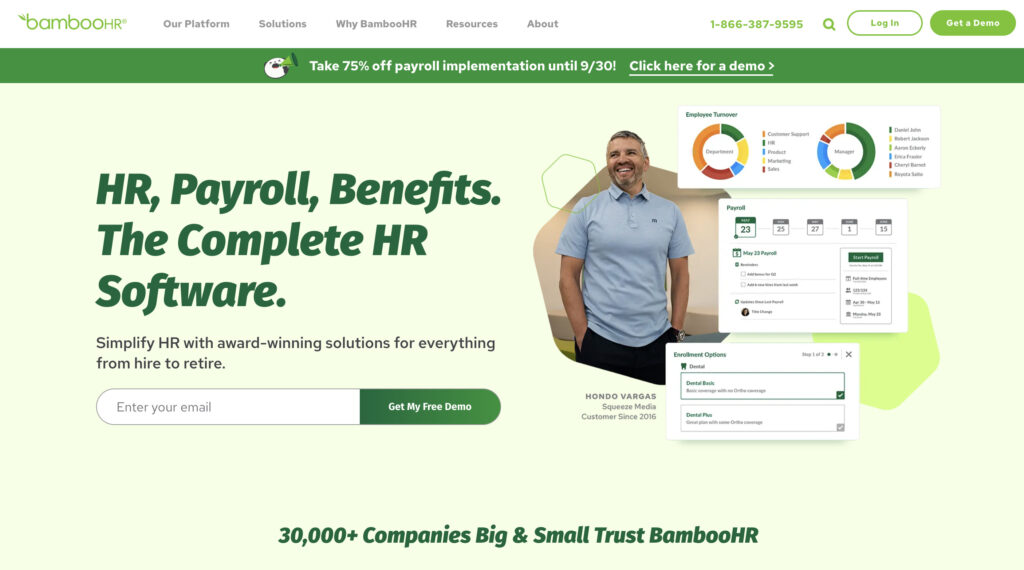 It caters to the needs of small to mid-sized businesses.
Features
BambooHR offers a range of features, including:
Employee data management
Onboarding
Payroll, time & benefits
Employee experience and performance
Features are categorized into two distinct paid plans, along with optional add-ons that can have a substantial impact on how you utilize this tool and its associated cost.
Pricing
However, BambooHR stands out as a more cost-effective alternative to Deel.
NOTE: Their pricing was transparent until recently, but currently, you need to contact BambooHR for a custom quote, which can mean the prices are even higher than specified in this blog.
Still, it's essential to note that its initial price of $6 / per user / per month can increase significantly when incorporating the four mentioned add-ons.
Of these four add-ons, Payroll and Benefits Administration are specifically designed for use within the United States, further narrowing the applicability of this budget-friendly HR tool.
Customer Service
BambooHR provides satisfactory customer support, although limited to working days and hours in the GMT-6 time zone.
| | |
| --- | --- |
| ✅PROS | ❌CONS |
| User-friendly experience | Lack of features |
| Pricing | Customer support oriented towards the US |
| | Hidden costs with ad-ons |
Final Thoughts
Deel offers an array of solutions catering to global workforce management, but your choice should be contingent on your precise needs, budget, and company size.
Throughout this comparison, we've introduced you to several Deel competitors, each with its own set of strengths and areas for improvement.
So, which options stand out?
The best cost-effective and user-friendly HR solution – Sloneek.
Ideal for smaller businesses, especially for remote workforce management – Plane.
Offers comprehensive features and a modern interface – Workday.
Provides a customizable HR and payroll solution – BambooHR.
Focuses on efficiency-driven HR tools – Remote.
We trust that this guide will help you to make an informed choice and choose what suits you the best. And if you're still not sure, let us know!


Frequently asked questions
What are the top Deel Competitors?
The top Deel competitors include Sloneek, Plane, Remote, Workday, and BambooHR.
What is the Deel's pricing compared to other tools?
Deel's basic HR features are free for up to 200 employees, other options for hiring experts around the world start at $49 and $599 depending on which platform you choose.
What are the features Deel is missing compared to competitors?
Deel may lack robust applicant tracking systems, advanced analytics, and comprehensive performance management modules compared to some of its competitors.
What are the better-rated software solutions than Deel?
One of the best HR solutions with great user testimonials and reviews on G2 is the modern HR software Sloneek.