Why have only ATS when I can have everything HR needs in 1 app?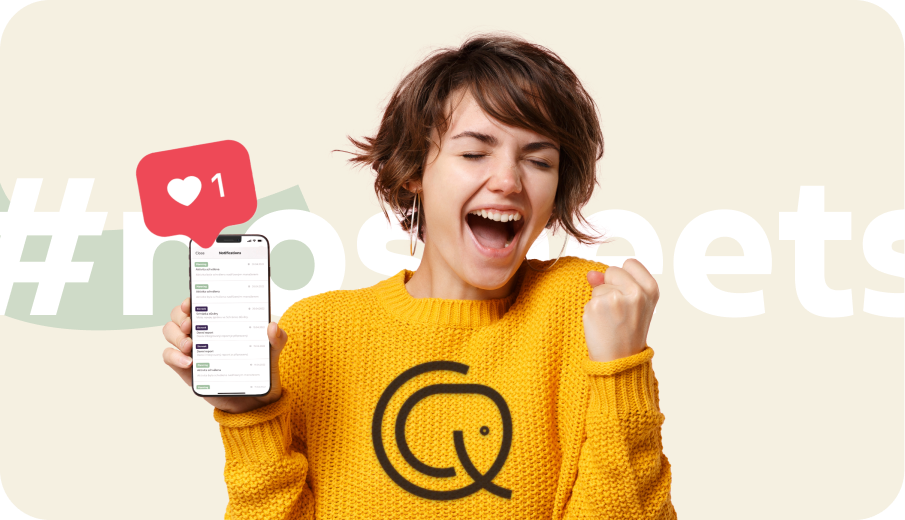 Manage the entire recruitment process in a single system
After months of development, we can introduce you to another desired functionality – Selection process management or ATS (Applicant tracking system).
With the launch of the ATS module, we are once again expanding the largest added value of our system – finding everything you need to manage your HR agenda in one place.
The ATS module is designed to maximize the efficiency of the recruitment process, automate the associated routine processes and centralize candidate information.
With our team, we are slowly moving towards the goal to digitise the entire employee journey in the company. ATS is part of the package Professional, which will also be expanded in a few months to include Skills and Performance Management (KPI, OKR).
If you don't have Sloneek yet or are considering changing your package, we would be happy to discuss the choice with you. Use a calculator that calculates the return on investment, you can make a completely rational decision based on easily calculated data. We'll be happy to give you our expert opinion and answer any other questions you may have when making your choice.
Automation and centralisation
We all know it: Posting one job can lead (and today everyone is happy when it leads) to hundreds of applications. How to process them in the most efficient way?
No longer will you have to switch between the various systems and tools you used to rely on to do your job: email, Excel spreadsheets, calendar, job portals, social networks, or separate ATS applications. You'll be able to track and manage candidate progress directly from a single platform. This will make your recruitment process more organized and efficient.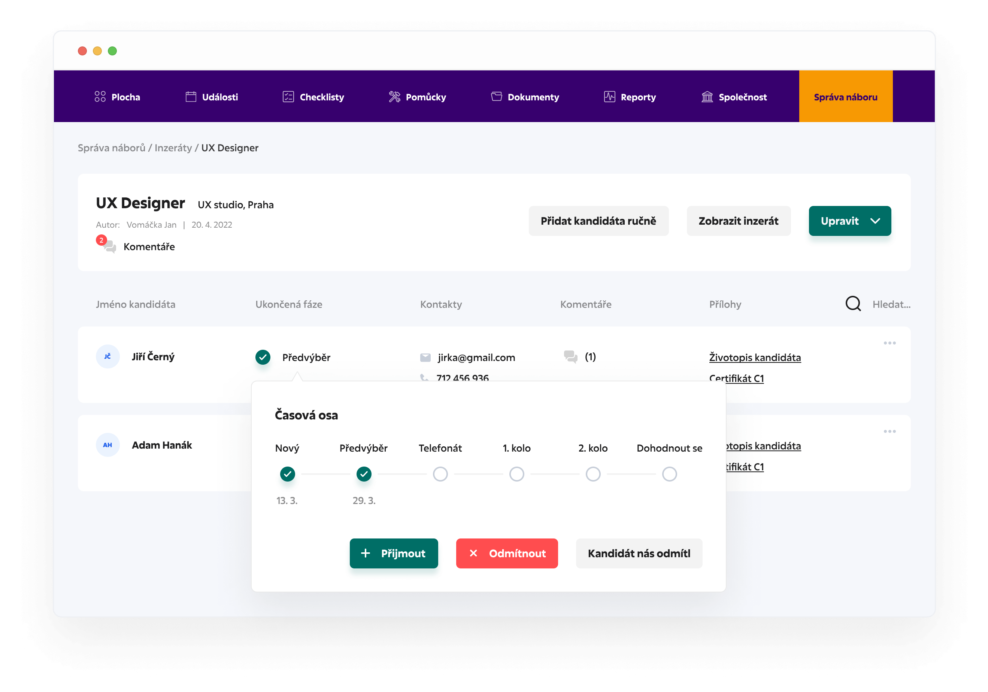 Our solution ATS allows you to centralize information about candidates and open positions, thus naturally avoiding the risk of duplicate tasks. All automated features help HR teams focus more on recruiting the right people and less on time-consuming administrative tasks.
Working with talent pool
Don't reject highly qualified and quality candidates just because they're not currently a good fit for the current position you're looking to fill. ATS helps you create and nurture your talent database in advance, saving you time in your search. So you can have great candidates before the next job becomes available!
The platform also allows you to send personalized emails to keep silver medalists interested until a new job opening opens that perfectly matches their profile.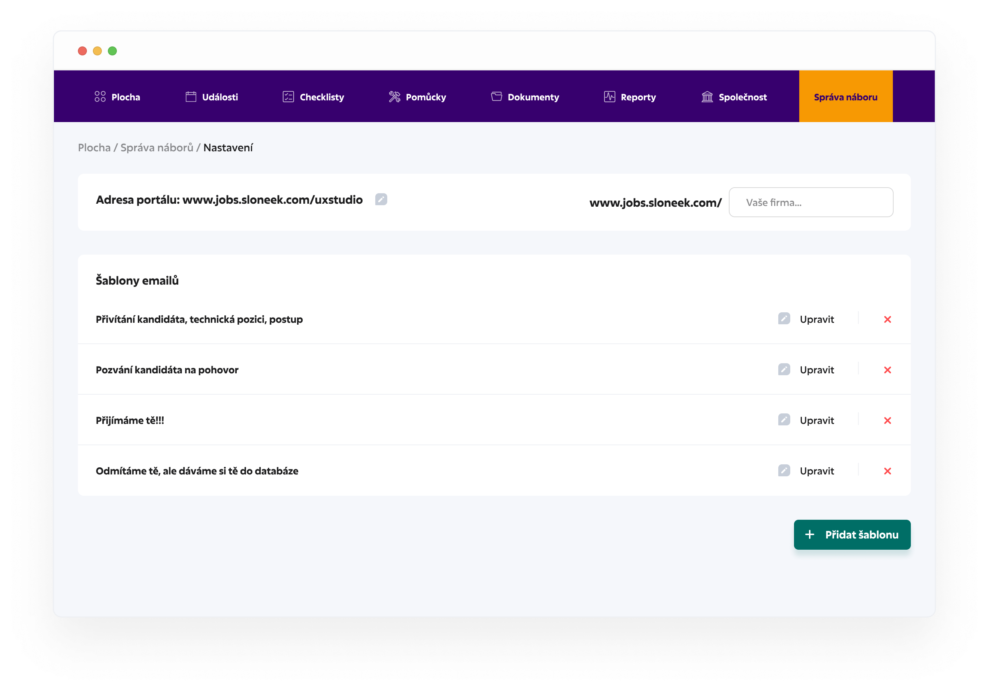 Talent pool will be made available to users after the second phase of development (October 2022).
Improving the user (candidate) experience
According to the company's research CareerBuilder up to 75% of unsuccessful candidates never hear back from an employer with feedback. That's not a pretty score. We want to do our part to improve it.
A candidate tracking system improves the candidate experience, especially by allowing ongoing communication with all candidates throughout and after the hiring process. This is one of the main things that significantly enhances candidates' positive experience of the recruitment process.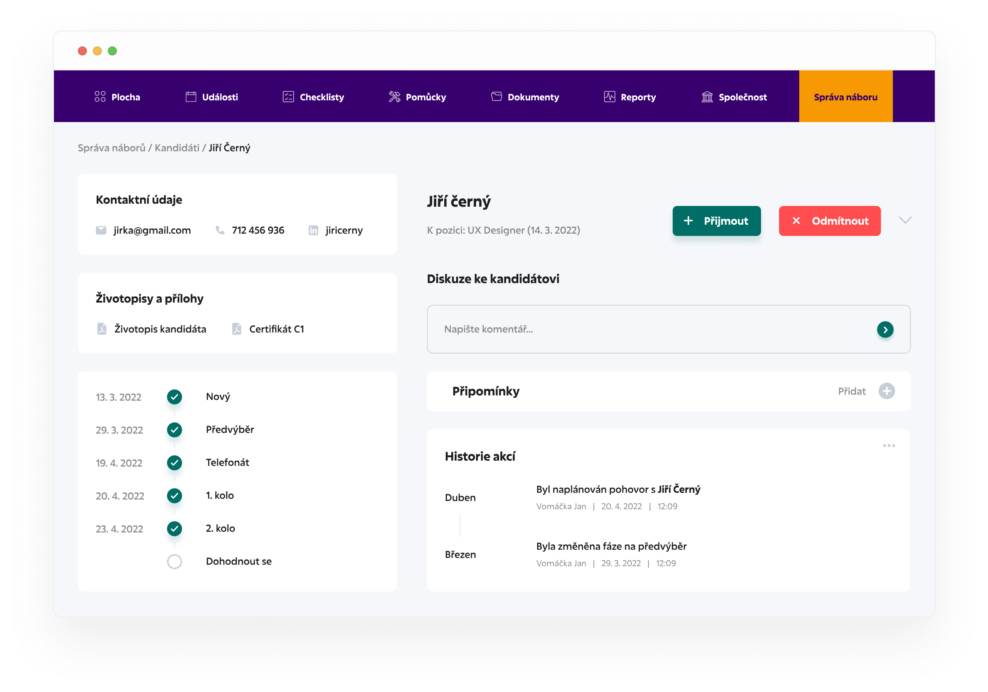 Managing the selection process has built-in recruitment email templates that you can automate. This gives you the choice of ensuring timely communication with all candidates without wasting your precious time and energy.
Do you have questions? Want to learn more about ATS? Try Sloneek for 14 days for free or schedule a commitment-free meeting with our Sales department. We will be happy to introduce you all the features of Sloneek! 🙂