Asset management
A clear record of all the work tools you have in your company and that your people work with. Employees acknowledge receipt of a work aid with a digital signature, so every work aid has a complete history, photo documentation and handover reports.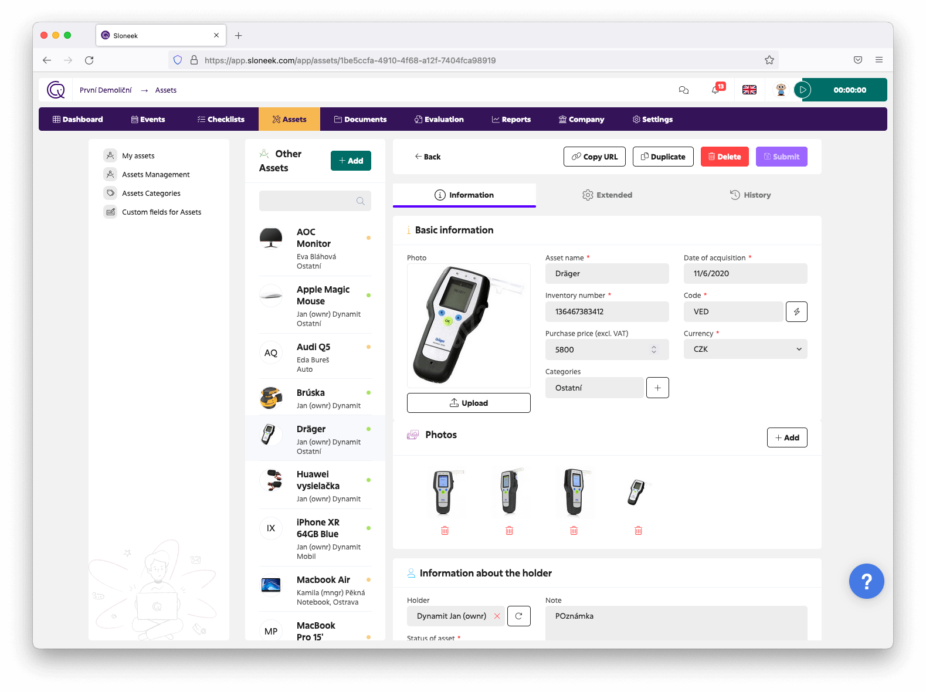 Register and management of assets
Each tool has its own register card, which you can extend with your own field types. Conveniently import all the work aids you have in your company into Sloneek. Each tool has its own registration card, which you can extend with your own field types and photo documentation.
Detailed information about each tool

Photo documentation of the aid

Dedicated role of the Assets Manager

Manage all assets by administrator

Custom definable fields

Import and export to Excel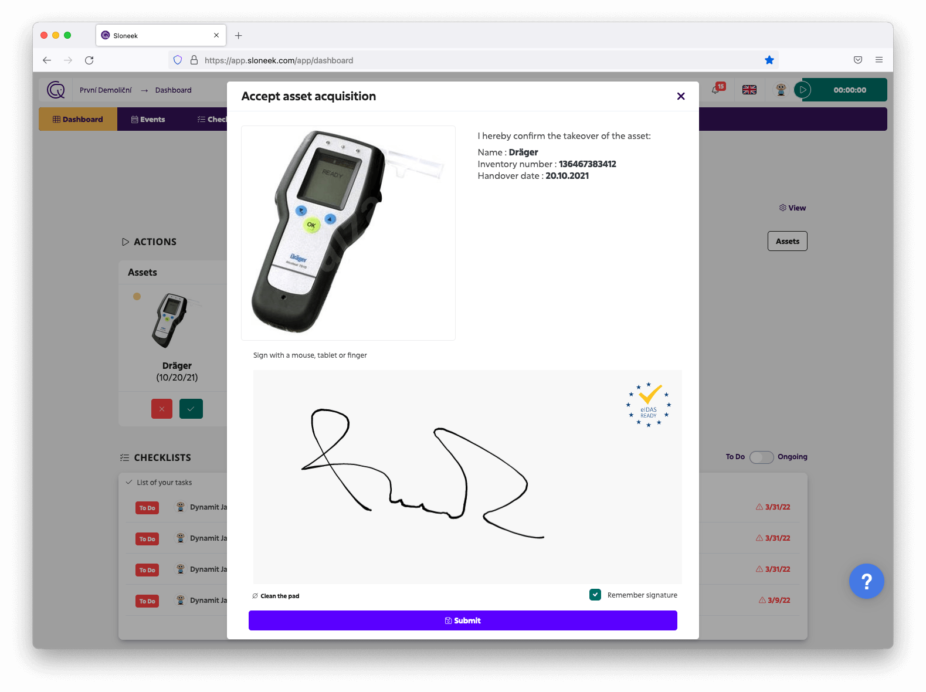 Transfer workflow
Each handover of a tool, whether after purchase and initial allocation, or during removal from one user and handover to another, is confirmed by an eIDAS ready digital signature. The handover report is legally binding and the possession of the aid is unquestionable.
Clear dashboard of the assets

Signature on receipt of eIDAS-compliant aids

Cryptographic imprint of the receipt

Automatic notifications to email and mobile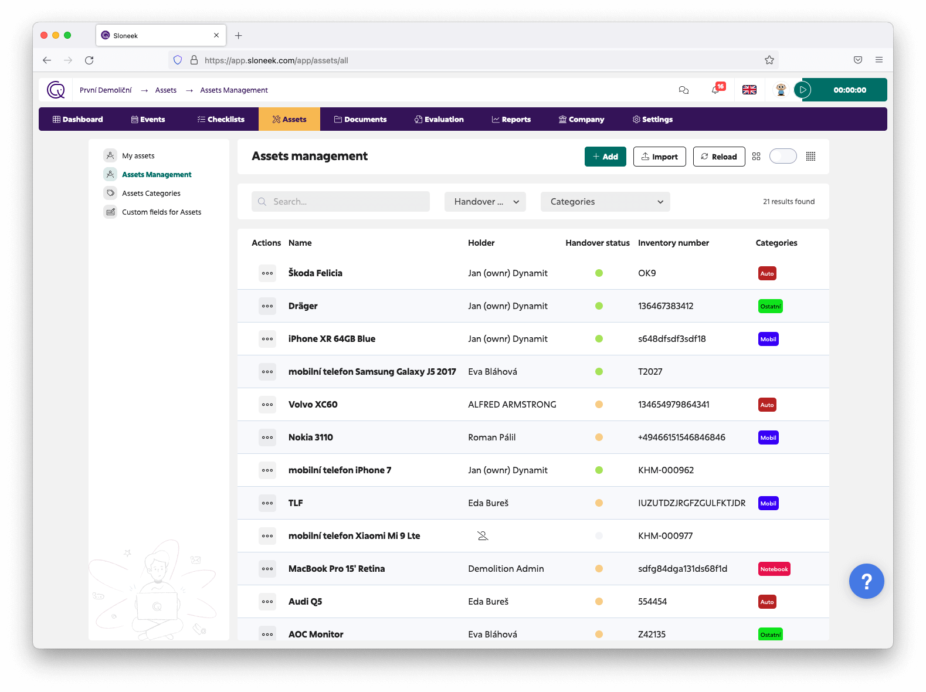 Overview of status and location
You get a complete overview - for example, who has which gadget under management, which locations have retired computers, and when the software license expires. Each user has an overview of their assigned assets, managers can see the gadgets of their team members.
Filterable list of gadgets

A user's view of their utilities

Team manager's view of team's gadgets

Categorization, user-definable custom fields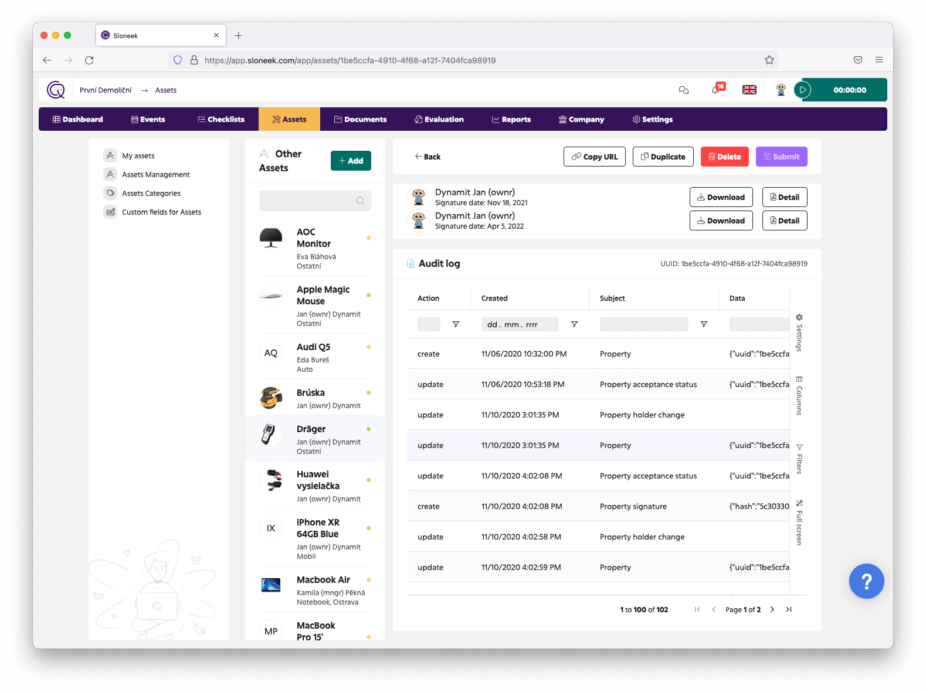 Immutable audit log
To eliminate any doubt about how, when, and by whom a widget was registered in the application, each widget has its own immutable audit log. It contains completely all actions that have been performed with the tool.
Every action performed is recorded

The audit log cannot be changed or deleted

Quick filtering by many parameters

Access to the audit log is available to Tool Administrators and Administrators
FUNCTIONALITY DETAIL BY USER ROLE
Administrator only
Assign the role of Utility Administrator to selected users
Hide the module from selected users
Administrators and Asset Administrators
Create, edit and manage widgets
Exporting and Importing tools to/from Excel
Create and manage custom widget fields
Assigning a widget to a user
Previewing all aids and their acceptance status
Reminder to the user about the acceptance of a tool
Preview of audit logs of all assets
Employee
Preview of assigned aids
Acceptance/rejection of acceptance of the aid – from email notification, dashboard and the Aids section