Top 5 Humaans Competitors You Should Consider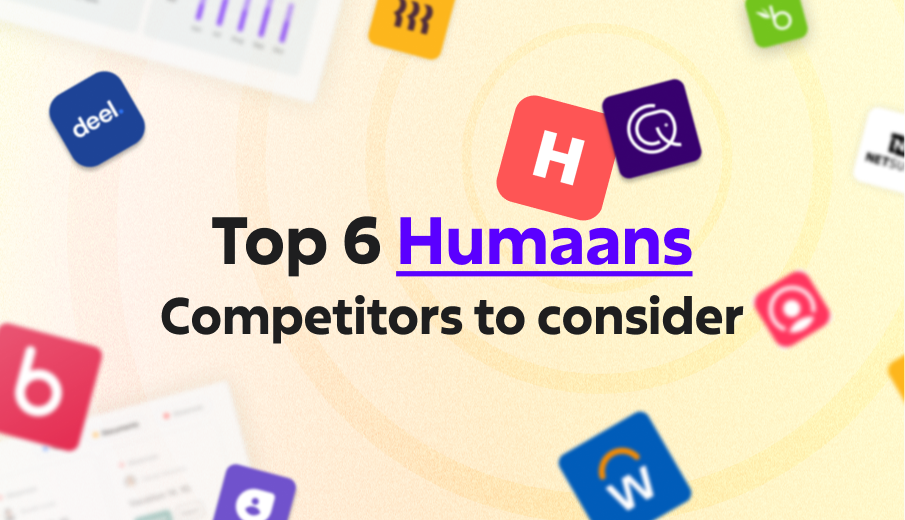 In today's fast-paced business landscape, the success of any organization heavily relies on its ability to manage its human resources efficiently. Humaans, an innovative HR software solution, has been making waves with its user-friendly interface and feature-rich offerings. However, the competitive HR tech market has no shortage of alternatives, each with its own strengths.
In this article, we will take a deep dive into Humaans, exploring its benefits and features, while also introducing you to its top 5 competitors.
What is Humaans?
Humaans is a versatile and user-friendly HR software solution designed to streamline and simplify human resources management for businesses of all sizes. This handy tool empowers HR professionals and teams with a comprehensive set of features to manage employee data, onboarding, offboarding, time off, benefits management, and more.
With an intuitive interface and a strong focus on user experience, Humaans offers a centralized hub for company-wide HR processes, enhancing efficiency and employee lifecycle management. It's an ideal choice for businesses looking to automate HR tasks, reduce administrative burden, and ensure a smooth, compliant, and employee-centric HR operation.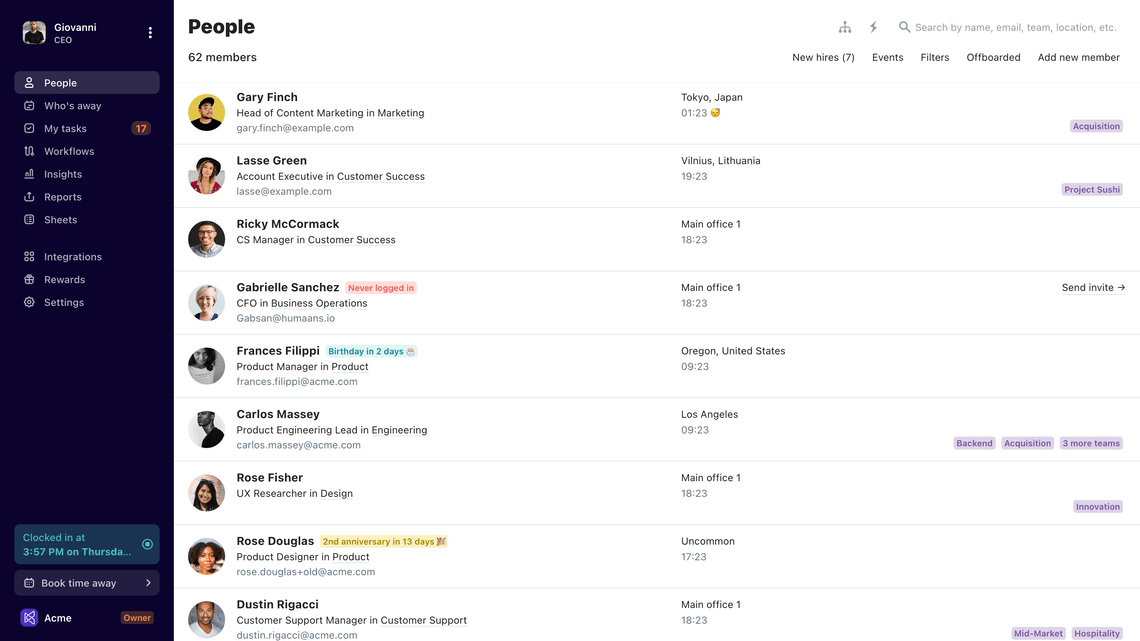 Why do companies need Humaans software?
Companies require Humaans people management platform for several compelling reasons:
Workflow Automation
Humaans streamlines HR processes through workflow automation, making it easier to manage various tasks like onboarding, offboarding, and time-off requests. This automation reduces manual data entry, administrative workload, and the risk of errors, ensuring that HR teams can focus on strategic initiatives.
Employee Directory
Humaans offers an employee directory that serves as a centralized repository for all employee information. This directory simplifies access to critical data, such as contact details, work history, and performance metrics, fostering better communication and collaboration among team members.
Employee Database
Humaans serves as a robust and secure employee database, storing essential information in one place. This centralized database enhances data integrity, reduces data redundancy, and ensures that HR professionals have real-time access to the most up-to-date employee records.
Employee Management Platform
Humaans acts as a comprehensive employee management platform, providing a holistic view of each employee's journey within the company. It simplifies tasks like employee onboarding, employee compensation, tracking performance, and managing time-off requests, creating a more efficient and consistent HR management process.
Record of Employee Data
Humaans maintains a comprehensive record of employee data, ensuring that organizations remain compliant with data protection regulations. This feature is critical for HR professionals, enabling them to access historical data for audits, performance reviews, and making data-based decisions.
Best Humaans Competitors
Sloneek
Features
Sloneek is an all-in-one HR software that offers a range of HR and employee management features, including onboarding, employee self-service portal, time-off management, custom reports, and advanced document management capabilities. It also includes performance management tools, analytics, and integrations with other popular business software.
 Pricing
Sloneek offers straightforward pricing starting at just $4 per user per month. A more feature-rich plan is available at $6 per user per month, with no hidden costs. For enterprises, custom solutions are also available, ensuring flexibility to meet specific company needs.
Customer service
Sloneek provides convenient access to customer support via email and has a knowledge base to assist users in navigating the platform and resolving common issues.
Pros
Customizable onboarding and performance management tools
Integration options for seamless workflow with other software
Affordable price and intuitive technology
Cons
Solely HR-related features


BambooHR
Features
BambooHR is a comprehensive employee engagement platform with features like employee self-service, benefits administration, employee performance reviews, time tracking, and applicant tracking. It also offers reporting and analytics tools, document management, and integrations with various HR-related applications.
Pricing
BambooHR's pricing relies on custom quotes, potentially resulting in higher costs due to necessary add-ons. The lack of upfront pricing may pose challenges for businesses seeking cost predictability when selecting HR software.
Customer service
If customer care is a priority and you're outside the US or GMT-6 timezone, BambooHR may not be the ideal choice, as their operational hours are aligned with that timezone.
Pros
Cons
US-centric customer support
Hidden costs with ad-ons
Rippling
Features
Rippling offers an integrated solution for HR and IT management, including onboarding, payroll, benefits administrative services, talent management, time tracking, and device management. It stands out for its all-in-one approach, simplifying employee management tasks.
Pricing
Rippling uses a custom quote pricing model. This personalized approach ensures you pay for services your business requires, though it necessitates more time and consideration during the evaluation phase.
Customer service
Rippling provides customer support through phone and email, with additional resources such as a knowledge base and community forum.
Pros
All-in-one HR solution combining HR and IT management
Streamlined onboarding and payroll processing
Integration access with a wide range of popular software
Cons
US-centric features
Pricing can become costly for organizations with many employees
Complexity
Gusto
Features
Gusto is known for its user-friendly payroll and benefits administration features. It includes payroll processing, benefits management, time tracking, and employee self-service. Gusto also provides compliance support.
Pricing
Gusto offers three pricing tiers. The base plan begins at $40 per month, with an extra $6 per user per month. Additional costs for priority support and HR resources at $8 per user per month make Gusto one of the pricier options.
Customer service
Gusto offers customer support through phone and email assistance. However, there is no live chat option.
Pros
Simplified and user-friendly payroll and benefits administration
Transparent pricing and customizable plans
Cons
Remote
Features
Remote is focused on international employment and offers features for global payroll, compliance, and employee management. It simplifies the process of hiring and managing a distributed, global workforce.
Pricing
Remote's pricing is tailored to the specific needs of international employment and payroll. It can vary significantly based on your company's requirements.
Customer service
Remote provides customer support through email and live chat. It also offers resources to help users navigate the intricacies of international employment.
Pros
Specialized in managing global, distributed teams
Streamlined international payroll and compliance
Cons
May not be suitable for companies with primarily local workforces
Pricing complexity due to international considerations
Conclusion
While each of the competitors offers unique advantages and tailored solutions to meet specific business needs, it's clear that the choice ultimately depends on the size, goals, and budget of your organization.
Whether you prioritize affordability, comprehensive features, secure access, or global workforce management, there is a solution out there to suit your complex HR processes. As you navigate this dynamic landscape, keep in mind that a well-informed decision is key to ensuring that your HR management aligns perfectly with your business objectives.
Frequently asked questions
1. What does Humaans software do?
Humaans is a team-friendly HR software that streamlines human resource management and ensures an efficient hiring process. It offers tools for employee data management, onboarding, offboarding, and time-off tracking, making HR tasks more efficient and organized, while delivering exceptional experiences for employees.
2. What are the key features of HRIS software?
HRIS (Human Resource Information System) software typically includes features for employee data management, payroll processing, benefits administration, time and attendance tracking, and reporting. It centralizes HR functions, enhancing productivity, business decision-making, employee retention, and company growth.
3. Who are the top 5 Humaans competitors?
The top five Humaans competitors are Sloneek, BambooHR, Rippling, Gusto, and Remote. Each offers its own strengths and features in the HR software market.
4. Which Humaans software alternative is best?
Sloneek is a strong Humaans alternative, offering tailored HR solutions starting at $4 per user per month. It's a cost-effective and modern HR management tool for businesses seeking an efficient HR management tool with transparent pricing and no hidden costs.