Top 10 Core HR Software Solutions Compared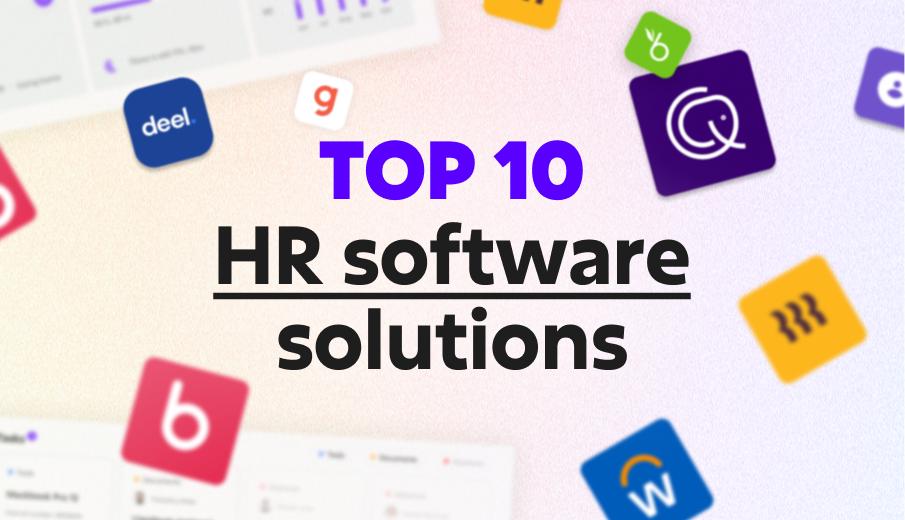 In the fast-paced world of human resources, having the right tools at your disposal can make all the difference. Your search for the best core HR software ends here as we dive deep into a comprehensive comparison of the top 10 human resource management systems on the market. From feature-rich platforms to budget-friendly options, we'll explore every aspect to help you make an informed decision.
What is Core HR software?
Core HR software, often referred to as Human Resources Information System (HRIS) or Human Resource Management System (HRMS), is a comprehensive software solution designed to streamline and centralize essential HR functions within an organization. It serves as the foundational system for managing HR data, streamlining core HR processes, and automating administrative tasks.
How do Core HR platforms work?
Core HR platforms work by centralizing HR data and automating various HR processes. Here's how they typically function:
Data Centralization
Core HR software gathers and stores employee data in a secure and centralized database. This information is easily accessible to authorized users.
Automation
Complete HR solutions automate routine HR tasks, such as payroll services, benefits administration, and time tracking, reducing manual errors and administrative burdens.
Employee Self-Service
Many human resources management solutions offer self-service tools where employees can update their information, request time off, and access HR-related documents. Employee self-service portals help improve employee experience and boost employee satisfaction.
Integration
Complete HR solutions often integrate with other business systems, such as accounting software, payroll processing systems, and recruiting tools, to streamline data flow and improve overall efficiency.
Reporting and Analytics
Core HR platforms generate data-driven reports and provide analytics tools to help HR professionals make informed decisions and assess workforce performance.
Compliance Management
Human resource management software assist in maintaining compliance with labour laws and regulations by generating reports, tracking employee certifications, and managing documentation.
Scalability
Core HR software can scale with the organization's growth, accommodating changes in the workforce size and structure. They also help streamline employee onboarding process and employee scheduling.
Security
They prioritize data security, ensuring that sensitive employee information is protected from unauthorized access.
Benefits of Implementing Core HR Software
Implementing core HR features is essential for companies for several compelling reasons:
Efficiency: Streamlining core HR functions like employee data management, payroll, and attendance tracking reduces manual work, boosting efficiency.
Data Accuracy: Centralized data minimizes errors and inconsistencies in HR records, enhancing data accuracy.
Talent Management: Core HR software helps in talent acquisition, onboarding, recruitment process, and retention, improving user experience and fostering a skilled and engaged workforce.
Employee Performance: Performance management tools enable objective assessments and support employee development.
Compensation Management: Simplified compensation management ensures fair and competitive pay structures.
Actionable Insights: Predictive analytics provide actionable insights for informed decision-making and strategic planning.
Workforce Planning: Core HR platforms help companies adapt to changing workforce needs and anticipate future requirements.
Employee Engagement: Core HR functions improve employee satisfaction and engagement, boosting productivity.
When do you need to implement HR software with core features?
You should consider implementing HR software with core features when:
Your HR tasks become time-consuming and error-prone due to manual processes.
Compliance and reporting requirements become complex, posing a risk to your organization.
You're expanding your workforce and need scalable HR solutions.
Employee data management, human capital management, payroll, time-off tracking, compliance management, and benefits administration demand automation.
You seek to improve talent management, employee engagement, and overall HR efficiency.
Tracking and analyzing employee performance and compensation become critical.
You want to gain actionable insights for strategic workforce planning.
What is the price for implementing the Core HR platform?
The price for implementing a core HR platform can vary significantly based on factors such as the software provider, the number of users, and the specific features required.
Pricing models may include subscription-based fees, one-time licensing costs, or a combination of both. The implementation cost can also depend on the level of customization and integration with other systems.
For a small to midsize businesses, a basic core HR solution may start at a few hundred dollars per year. However, more comprehensive platforms with advanced features, including talent management, human capital management, and advanced analytics, can range from thousands to hundreds of thousands of dollars annually.
What are the key features to look for?
When searching for the right core HR software, it's essential to consider several must-have features that can significantly enhance your HR operations.
Workforce Management
Efficiently track time, attendance and leave, automate workflows, and ensure optimal workforce coverage with streamlined HR software.
Time and Attendance Management
Track employee work hours accurately, manage shifts, and handle attendance records.
Absence Management
Tools for tracking employee leave, managing requests, and ensuring proper coverage during absences.
Workflow Automation
Automation of routine HR tasks and approvals to streamline processes and reduce administrative overhead.
Predictive Analytics
Obtain valuable insights into your workforce and make informed decisions.
Predictive Workforce Planning
Tools that use historical and real-time data to forecast future workforce needs and trends.
Talent Analytics
Insights into employee performance, turnover risk, and other metrics to support talent management.
Applicant Tracking and Hiring Process
Streamline the hiring process by managing job postings, candidate applications, and interview scheduling.
Recruitment Process Management
Tools for creating and managing job requisitions, collaborating with hiring teams, and tracking candidate progress.
Learning Management
Facilitate employee training, course delivery, and skills development.
Mobile Application
Allow employees to access training materials and HR functions on the go, promoting a seamless employee experience.
Best Core HR Solutions Compared
Let's take a look at the top 10 core HR software solutions:
Sloneek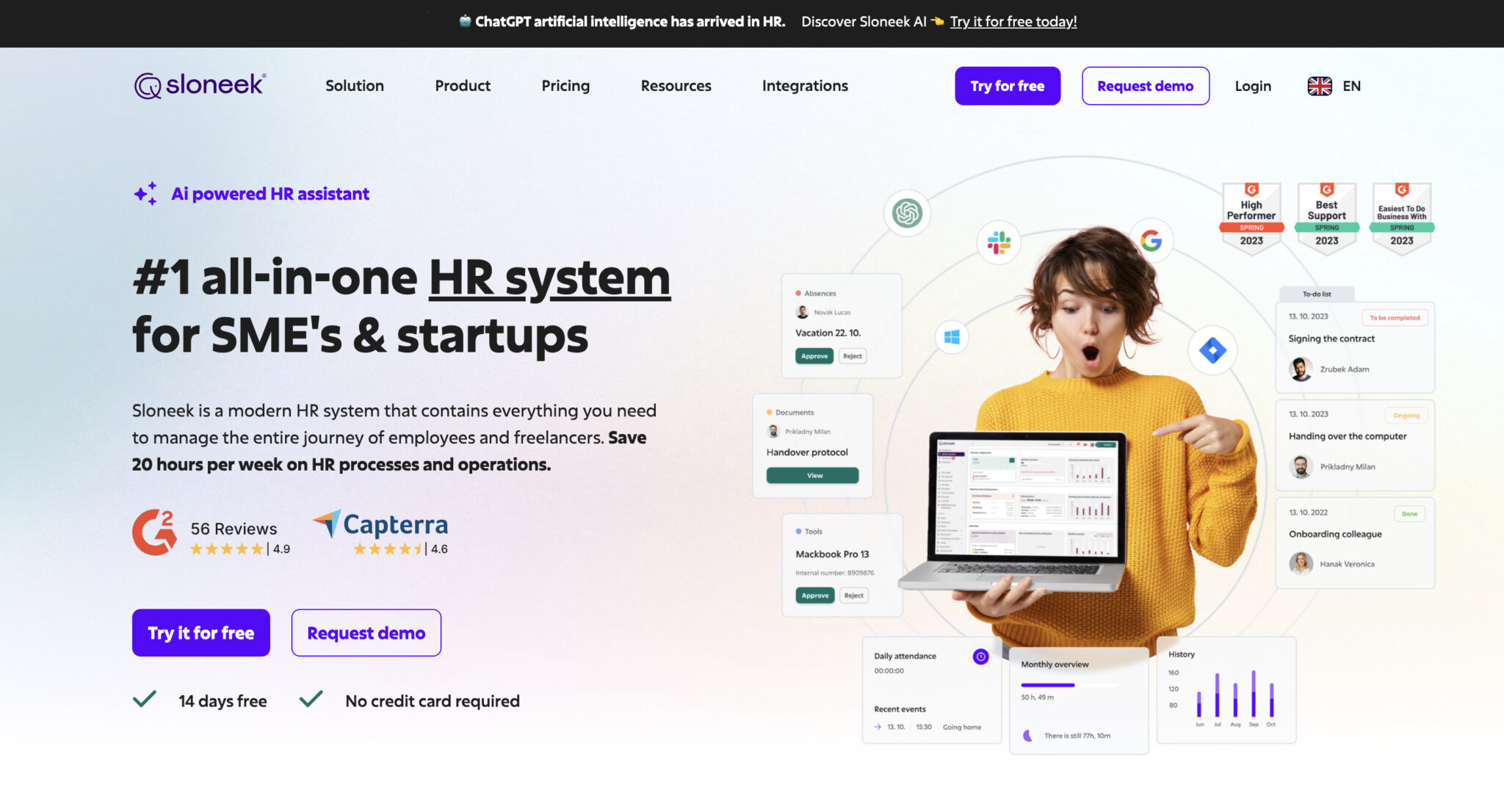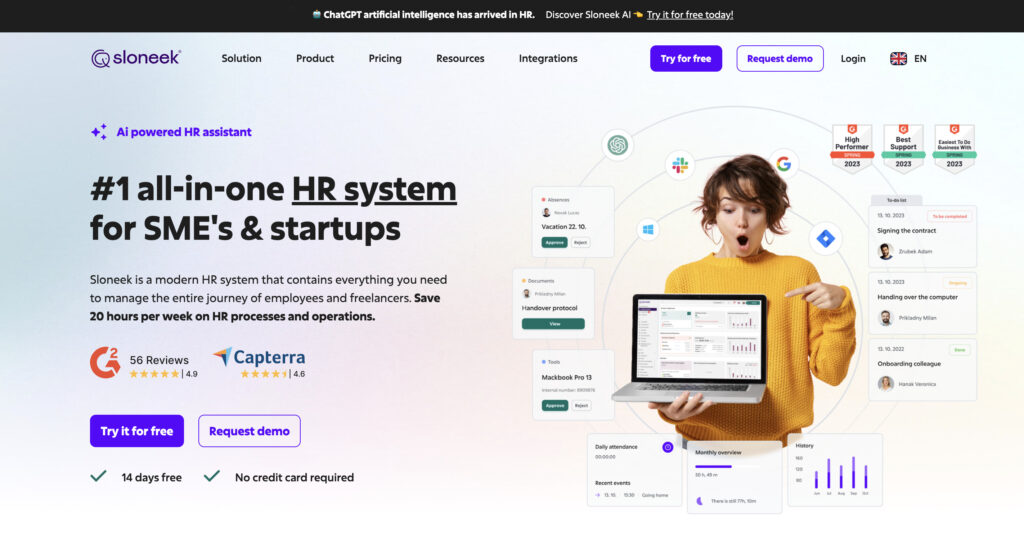 Features
Sloneek offers versatile HR software tailored for startups with essential features, including worker records, absence management, integrations, and more. It streamlines workforce management, fostering efficient employee absence and time tracking.
Pricing
Sloneek cost around $4 or $6 per user, per month, depending on which plan you choose. There are no hidden fees for add-ons, which makes Sloneek the best cost-effective software for your business.
Customer service
Sloneek has one of the most competitive customer services compared to other HR alternatives.
Pros
Affordable prices with live demo and 2-week trial
Entire recruitment covered in one system
Great support
Fast deployment process
Cons
Solely HR-related features
Room for improvement


BambooHR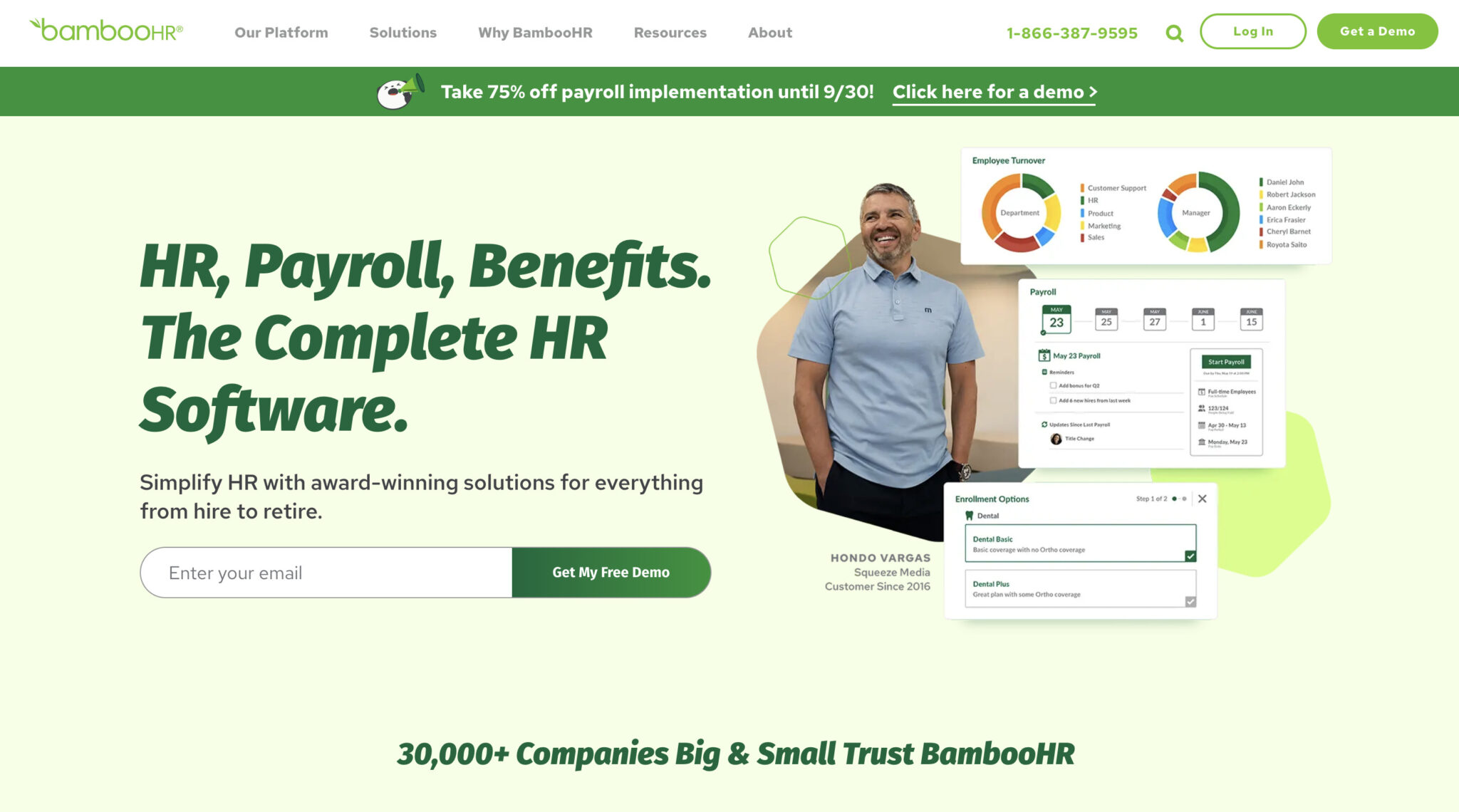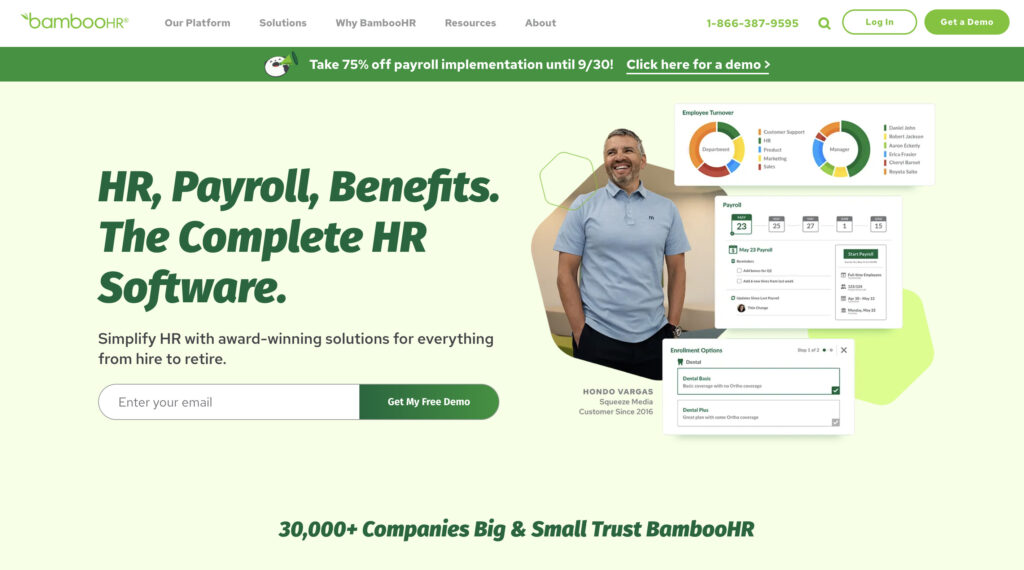 Features
BambooHR is renowned for its user-friendly human resources management tool, offering a comprehensive suite of features to support various HR functions. It excels in employee records management, streamlining the onboarding process, handling benefits administration, and providing customizable reporting.
Pricing
BambooHR adopts a quote-based pricing model. The price for the basic plan starts at $6 per user, per month.
Customer service
It offers responsive customer support, ensuring that users receive assistance promptly.
Pros
User-friendly experience
Self-service feature
Cons
Lack of features
US-oriented customer support oriented
Hidden costs with ad-ons
Zenefits
Features
Zenefits offers a versatile, all-in-one platform that combines HRIS, payroll, benefits administration, and time tracking tools in a single platform.
Pricing
With a starting price of $8 per employee per month, it provides an affordable solution for small to midsize businesses.
Customer service
Customer service quality can vary.
Pros
Simplifies compliance processes
Provides a comprehensive suite of HR tools
Cons
Gusto
Features
Gusto is a payroll and HR software known for its user-friendliness and robust features. It specializes in payroll processing, benefits management, compliance, and offers employee self-service functionalities.
Pricing
Pricing starts at $45 per month, plus $6 per employee per month.
Customer service
The platform is known for its excellent customer support.
Pros
Seamless user interface
Robust applicant tracking features
Cons
 Extra fees for additional features
Workday
Features
Workday stands out with its comprehensive HCM suite, covering workforce planning, analytics, talent management, and more.
Pricing
Pricing is quote-based, often favouring large enterprises due to the extensive features it offers.
Customer service
The customer service is generally well-received, and it's especially ideal for large organizations.
Pros
Advanced features
Real-time insights
Cons
Overly complex
Expensive for smaller businesses
Namely
Features
Namely offers a unified platform featuring HRIS, payroll, time tracking, and talent management functionalities.
Pricing
Its pricing is quote-based and can vary widely based on company size and requirements.
Customer service
Customer service reviews are mixed, with some users reporting glitches.
Pros
Unified approach
Strong compliance features
Cons
Expensive for small businesses
Technical glitches
ADP Workforce Now
Features
ADP Workforce Now specializes in payroll, HR, and time and attendance management.
Pricing
Pricing is customized based on specific business needs.
Customer service
Customer service experiences can vary, but it is generally considered a robust payroll solution.
Pros
Employee self-service portal
Advanced core features
Cons
Expensive for small companies
Paycom
Features
Paycom offers payroll, HR, talent management, and employee self-service solutions.
Pricing
It offers custom pricing to meet specific business requirements, often determined by the number of employees.
Customer service
The platform receives positive feedback for its user-friendly interface and strong customer service.
Pros
Intuitive and user-friendly interface
Robust talent management features
Cons
Expensive pricing
Difficult learning curve
Oracle HCM Cloud
Features
Oracle HCM Cloud provides cloud-based HCM, workforce management, talent management, and analytics features.
Pricing
Pricing is quote-based and can be substantial, making it more suitable for larger enterprises.
Customer service
Customer service generally garners positive reviews.
Pros
Robust global capabilities
Scalability
H4: Cons
Complexity
Expensive for small businesses
Kronos Workforce Ready
Features
Kronos Workforce Ready focuses on workforce management, timekeeping, payroll, and HR functions.
Pricing
Pricing is customized, often based on specific business needs.
Customer service
Customer service is generally positively reviewed.
Pros
Strong timekeeping and workforce management capabilities
Cons
Cost-prohibitive for smaller businesses
Advanced features may require a learning curve
Conclusion
Core HR software plays an important role in modernizing human resources management. This article has explored the key features to look for, the benefits of various core HR solutions, and when it's the right time to implement them. The choice depends on your unique needs, budget, and growth stage.
Implementing the right core HR software can significantly improve HR efficiency, data accuracy, and strategic decision-making, ensuring your organization is well-equipped for the challenges of workforce management in today's business landscape.


Frequently asked questions
[FAQ1] What is the core HR software?
Core HR software is a comprehensive software solution that centralizes and automates essential HR functions. It manages employee data, payroll, benefits, time and attendance, and other core HR processes, enhancing efficiency and accuracy in HR management.
[FAQ2] What are the key features of an all-in-one core HR program?
Core HR software offers a wide range of critical HR functions, including:
Employee Data Management: Core HR systems store and manage essential employee information, such as personal details, contact information, employment history, and qualifications.
Payroll Processing: Payroll software facilitate accurate payroll calculations, tax deductions, and direct deposits, ensuring employees are paid correctly and on time.
Attendance and Time Tracking: Core HR software helps track employee work hours, time-off requests, absences, and leave requests, simplifying attendance tracking and management.
Benefits Administration: It manages employee benefits, such as health insurance, retirement plans, and other perks, helping employees make selections and HR professionals administer these programs.
Compliance and Reporting: Core HR platforms assist in avoiding compliance issues with labour laws and regulations by generating reports and managing documentation related to HR activities.
Recruitment and Onboarding: Some core HR systems offer features for recruiting new employees, posting job openings, conducting interviews, and facilitating the onboarding process.
Performance Management: They support performance evaluations, goal setting, and feedback collection, aiding in employee development and appraisals.
Training and Development: Core HR software often includes tools for tracking employee training and development programs to enhance skill sets and career progression.
Employee Self-Service Portals: They empower employees to access their HR information, request leave, update personal details, and perform other HR-related tasks independently.
Analytics and Reporting: They provide HR professionals with data-driven insights into workforce trends, enabling informed decision-making and strategic planning.
[FAQ3] What are the best core HR solutions on the market?
The best core HR solutions on the market can vary depending on your organization's specific needs and size. Some top contenders include Sloneek, Workday, BambooHR, Zenefits, Gusto, and ADP Workforce Now. Sloneek provides an all-in-one HR solution. Consider your business requirements and budget to determine which solution suits you best.
[FAQ4] When is the right time to implement a core HR program?
The right time to implement a core HR program is typically when your organizational structure reaches a size or complexity where manual tasks and HR processes become inefficient and error-prone. This could be as your workforce grows, compliance requirements increase, or HR tasks become overwhelming.