What is the Best HR Software for Startups? Explore These 5 Options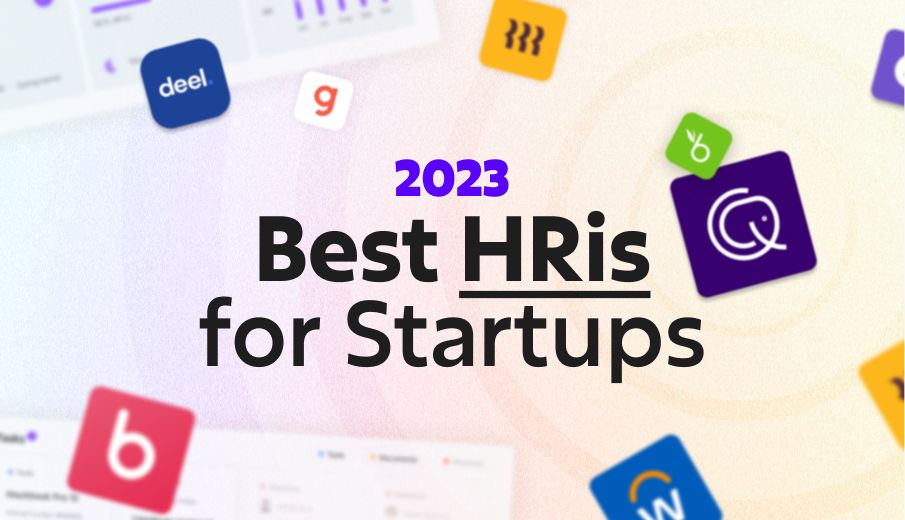 Are you a dynamic, rapidly scaling company with ambitious goals? We got you.
In the dynamic landscape of startups, selecting the right HR software isn't just a decision, it's a strategic decision that can define your company's success. 
Our comprehensive guide is tailored for startups seeking the perfect HR software solution to assist you on your journey to growth. 
We'll talk about the best HR software for startups, highlighting key features, pricing structures, and the distinct advantages each option offers. 
If you're a startup looking to streamline HR processes, enhance workforce management, and boost your growth, this guide is your essential resource for making informed choices.
Why Do Startups Need HR Software?
Amid the whirlwind of startup ambitions, HR software operates as the secret ingredient that catalyzes growth and success. 
Every startup appreciates every help making their processes easier, so you can focus on what's important. 
Solid and well-developed HR software can foster innovation, boost efficiency, and lay a resilient foundation – every decision matters for startups.
HR software for startups can simply automate various HR processes, liberating your team from tedious administrative tasks. By centralizing data and ensuring compliance, HR software allows startups to focus on what truly matters—growth. 
What Are the Benefits of Implementing HR Software?
Best HR software for paying startup employees is the key to building a strong organizational foundation, nurturing your workforce, and ensuring that your startup is not only agile but also prepared to scale efficiently. 
Now, let's delve into the tangible benefits that come with implementing HR software.
Cost-Efficient Workforce Management
HR software for startups offers cost-effective solutions for managing your workforce. By automating essential HR processes such as payroll, benefits administration, and time tracking, your startup can significantly reduce administrative costs and allocate resources more efficiently. 
This cost-saving feature allows you to invest in growth and innovation without the burden of excessive overheads.
Streamlined Recruitment and Onboarding
Startups are often in a constant state of expansion, making efficient recruitment and onboarding processes crucial. 
HR software simplifies these tasks by providing tools for posting job openings, tracking applicants, and seamlessly integrating new hires. This streamlining not only saves you time but also ensures that your startup can onboard top talent swiftly to drive your growth.
Data-Driven Decision-Making
Startups thrive on data-driven decisions, and HR software empowers them in this aspect. 
It offers advanced analytics and reporting capabilities, providing insights into workforce trends, performance metrics, and employee engagement. Armed with this data, you can make informed decisions, fine-tune your strategies, and adapt to evolving market dynamics more effectively.
Enhanced Employee Experience
In startups, every team member is a valuable asset. HR software fosters an enhanced employee experience by offering self-service portals, mobile accessibility, and streamlined communication channels. 
This ensures that your employees have easy access to their information, can request time off effortlessly, and stay engaged with your company culture, ultimately boosting satisfaction and retention rates.
Best HR Software for Startups
Explore a variety of HR software for startups, assessing essential features, pricing, and suitability to find the ideal cost-effective HR software solution tailored to your needs.
So let's not waste time! Which one suits you the best?
1. Sloneek
The first HR software on our list is ideal for managing smaller startup teams, especially if you hire freelancers.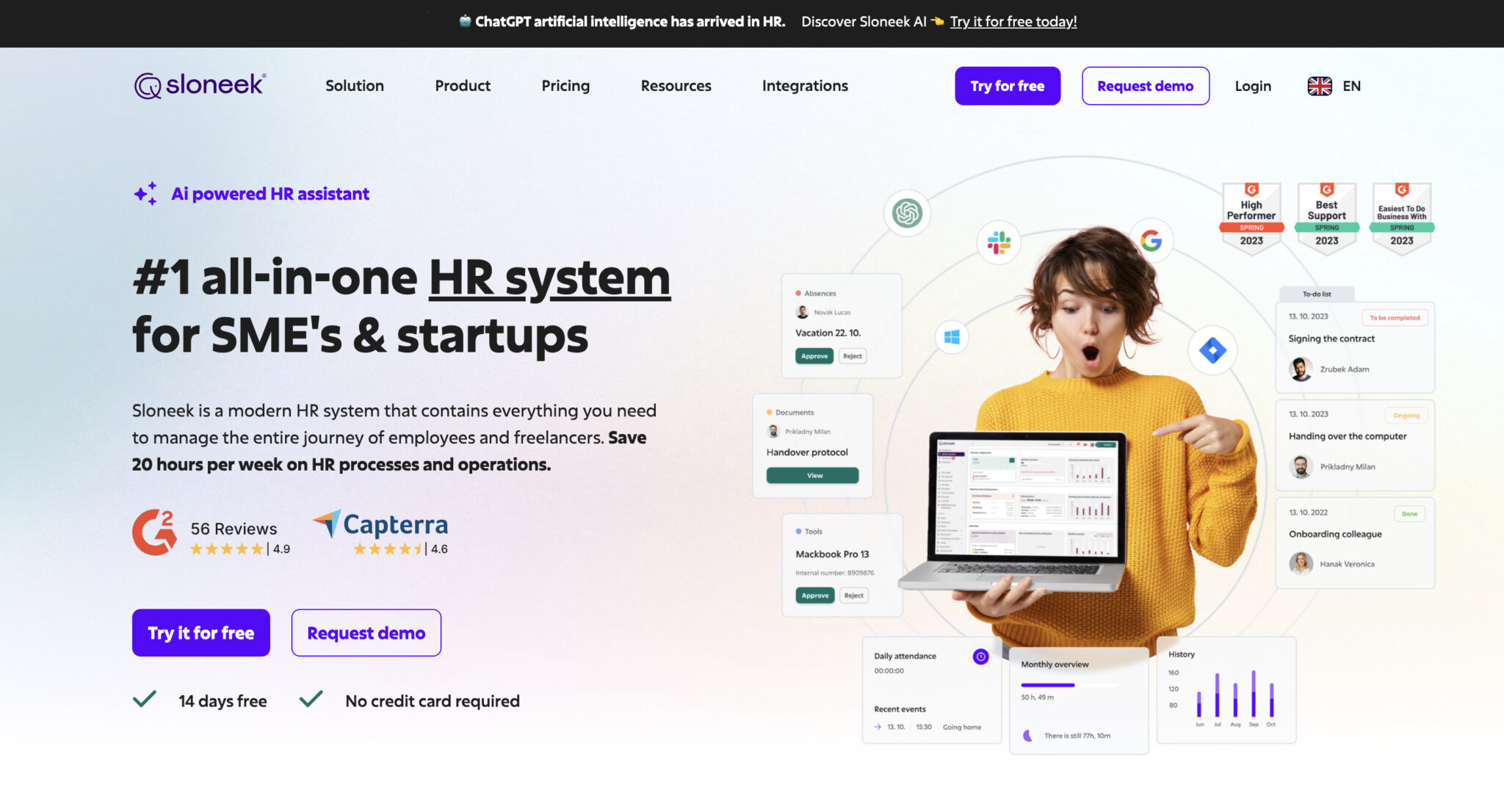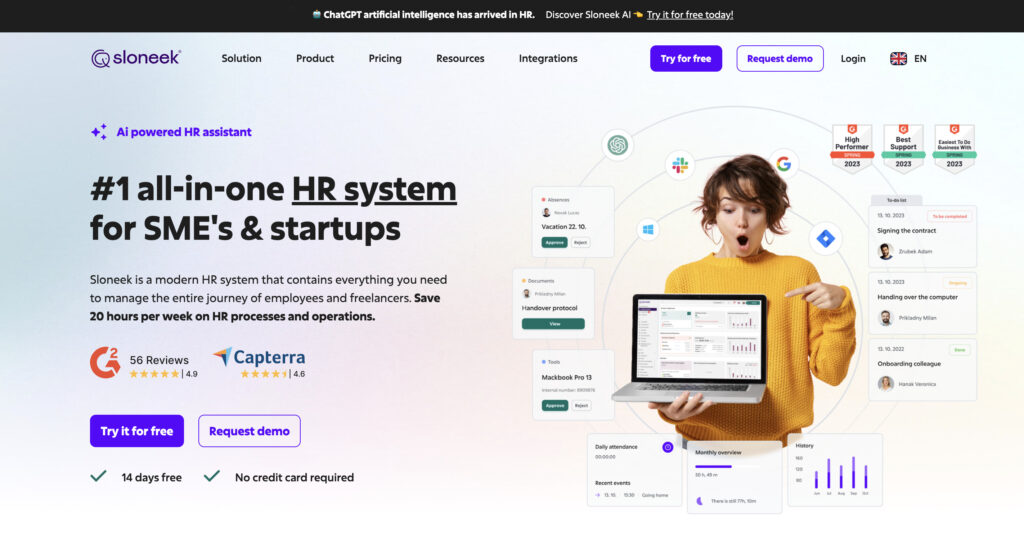 Sloneek proves to be a valuable companion, offering support to both you and your employees throughout their professional journey.
But let's explore the evidence instead of promises. If you take a look at G2 reviews, you'll find an amazing score of 4.8 out of 5 stars and many happy customers. 
You can also just try this HR software with an available trial version or ask for an on-call demo tour – no strings attached.  
Features
Sloneek is considered a great HR software for startups because of the wide offer of features that will support your business. 
All features are available under two plans, Essential and Professional, that are described below, so you can fine-tune your use of this tool.
These functions include important tools for employee management and the ability to create personal folders for all the resources needed for professional development and employment.
These main categories encompass all of the features:
Records of workers

Absence management

Activities

Integrations

Work assets

Skills and performance

Task lists

Engagement

Documents and signing

ATS

Mobile applications

Reporting

Attendance system
Efficient management of employee absences and working hours is essential for every startup, therefore, Sloneek is a precious partner for you. 
Pricing
So what about the price? We think you'll like this. 
More robust solutions for global companies like Deel will cost you hundreds of dollars depending on your needs, but you don't need such solutions, right? 
Sloneek will cost you $4 or $6 / per user / per month, depending on which plan you choose. 
This transparent pricing structure with no hidden fees or payments for add-ons makes Sloneek the best cost-effective software for your startup.
Customer Service
As a starting company, you need the most effective solution without spending too much time on learning and implementing your new HR software.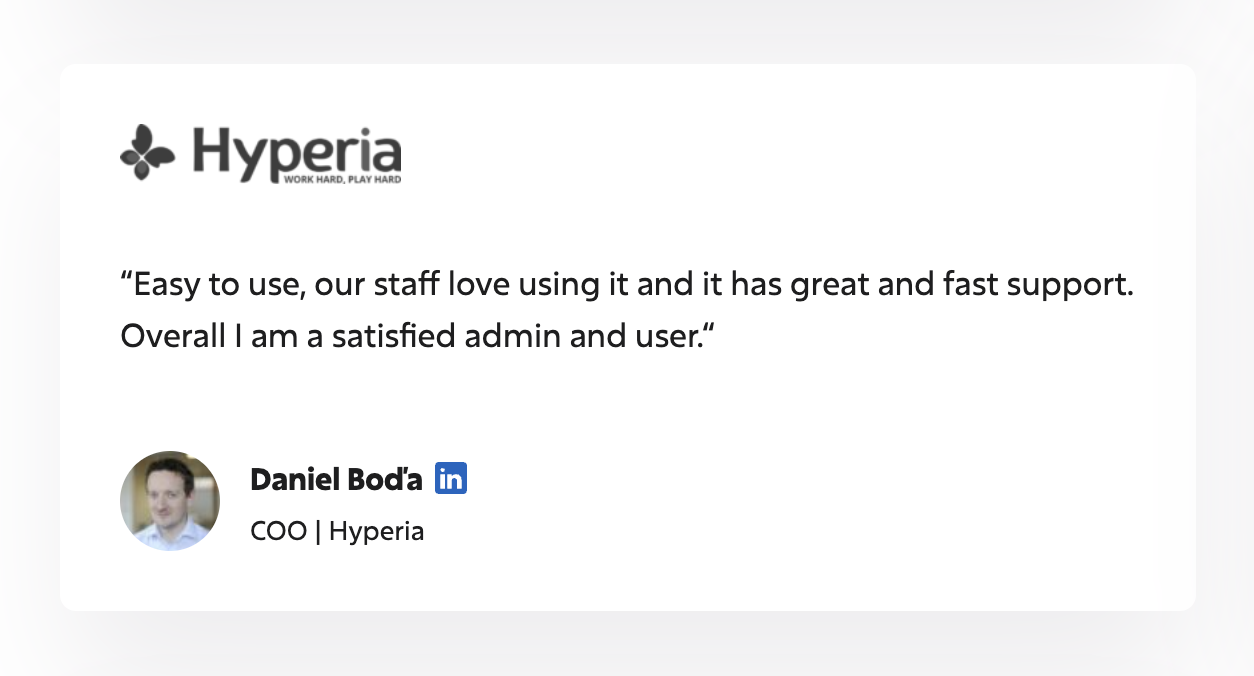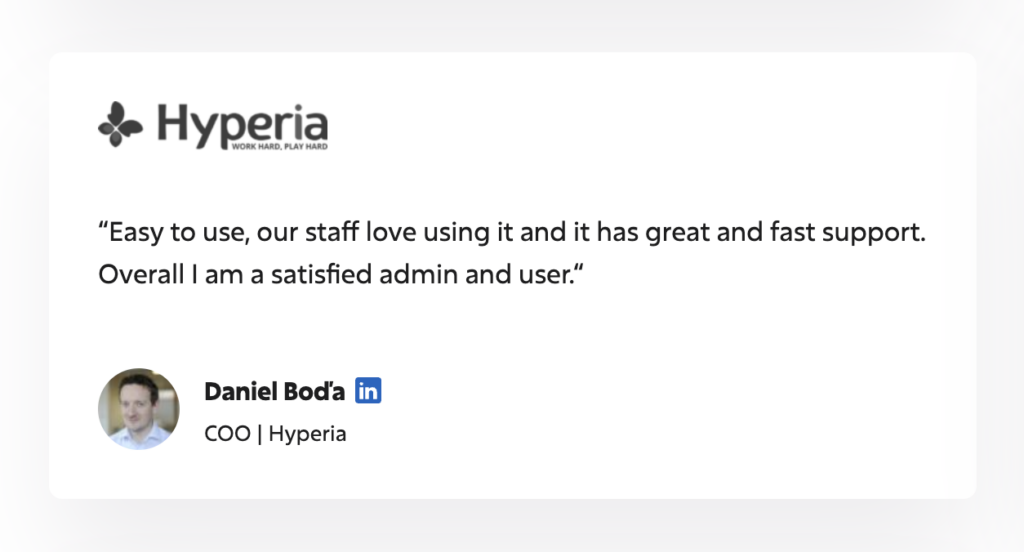 The rise and fall of a startup can depend on your customer support.
And it's the same for every other tool and company, so make sure you won't be spending too much time waiting for support. 
Sloneek has one of the most competitive customer services compared to other HR alternatives, making this one of the most efficient HR software for startups. 
✅

PROS

❌

CONS

Affordable prices with live demo and 2-week trial

Solely HR-related features

Entire recruitment covered in one system

Room for improvement

Great support

Fast deployment process


2. BambooHR
When considering the best HR software for startups, BambooHR would be the next after Sloneek.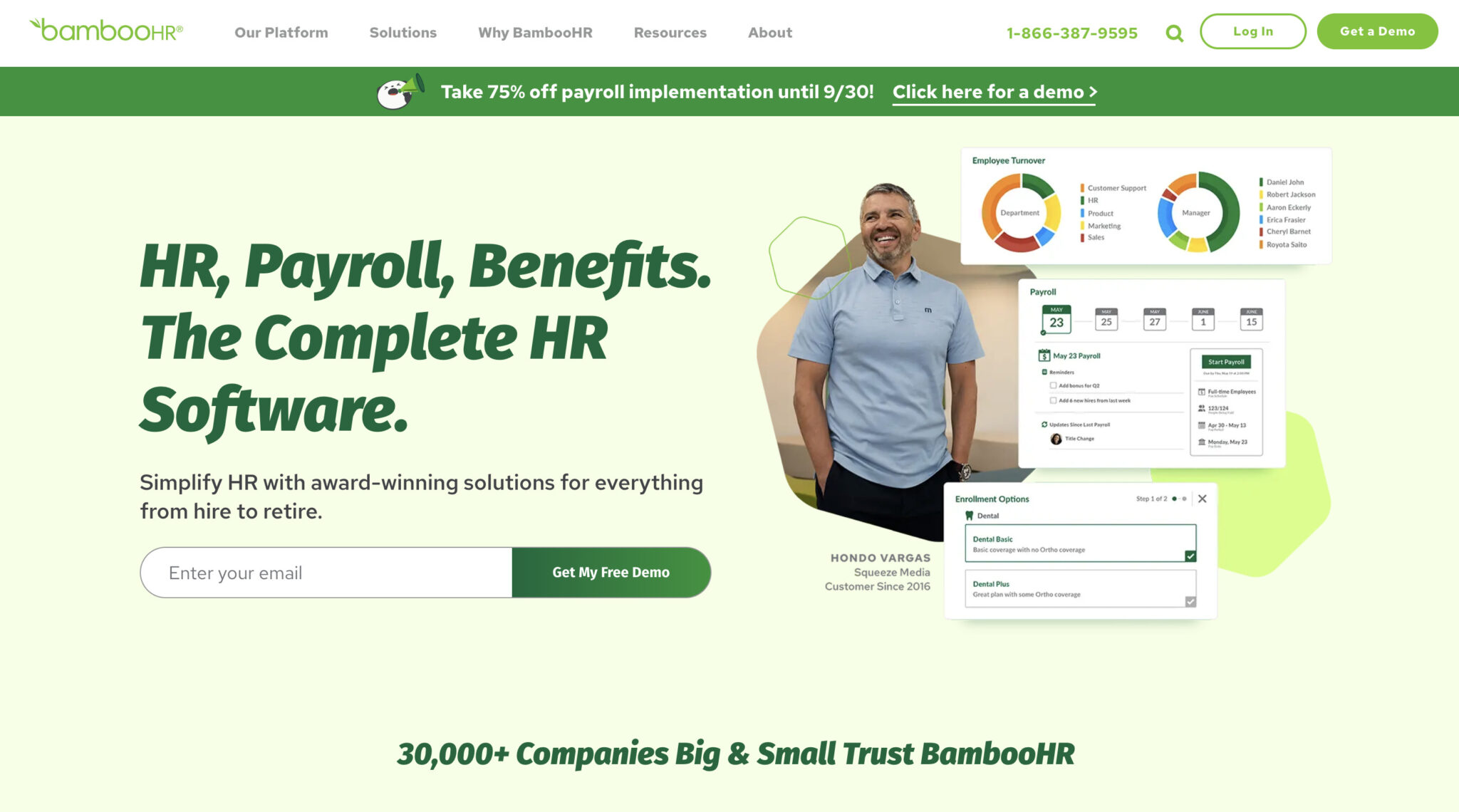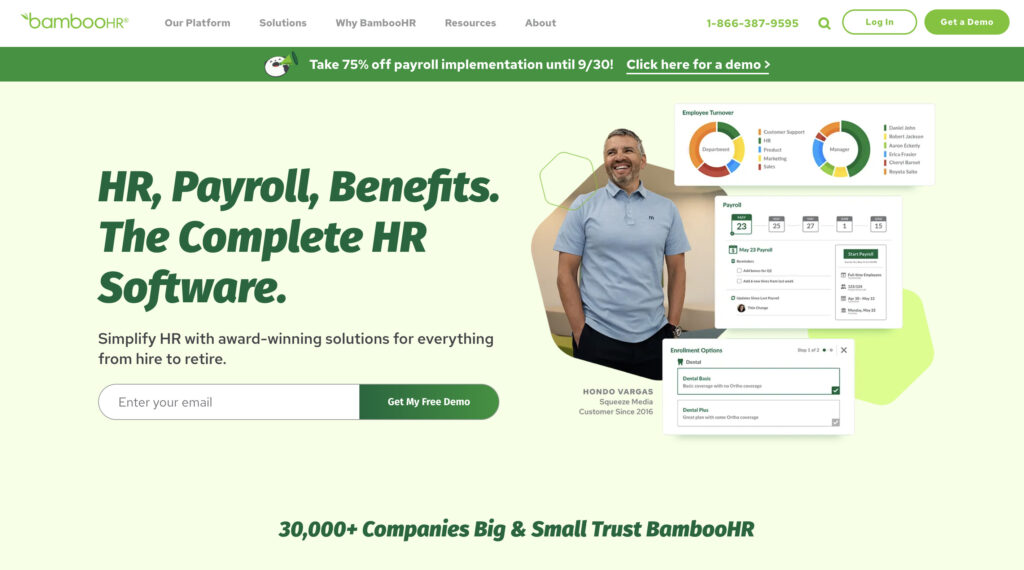 It's similar to Sloneek, but with some important potential downsides and a different pricing structure. Since their pricing is not available on the website anymore, this alternative can be even more expensive. 
Features
BambooHR includes a solid number of features, that include: 
HR Data & reporting

Hiring & onboarding

Payroll, time & benefits

Employee experience and performance
These should be also divided into two different plans, but again, the pricing structure is not transparent anymore, so this could mean anything. 
Pricing
Even though the pricing is currently only available upon request and via custom quotes, we had a chance to explore their previous publicly available pricing. 
The price for the basic plan was starting at $6 / per user / per month, but there are some add-ons available that could make this HR software even more expensive. 
Even though they lack some features, compared to Sloneek, the user interface is easy to navigate, which makes this a sufficient HR option for startups. 
Customer Service
According to customer reviews and testimonials available on portals like G2.com, the customer service should be fairly good, available, and responsive. 
This is an important feature to consider when looking for the right HR software for your startup. 
✅

PROS

❌

CONS

User-friendly experience

Lack of features

Pricing

Customer support oriented towards the US

Hidden costs with ad-ons
3. Gusto
Gusto is another great competitor on our list, suitable for teams of up to 10 or more employees.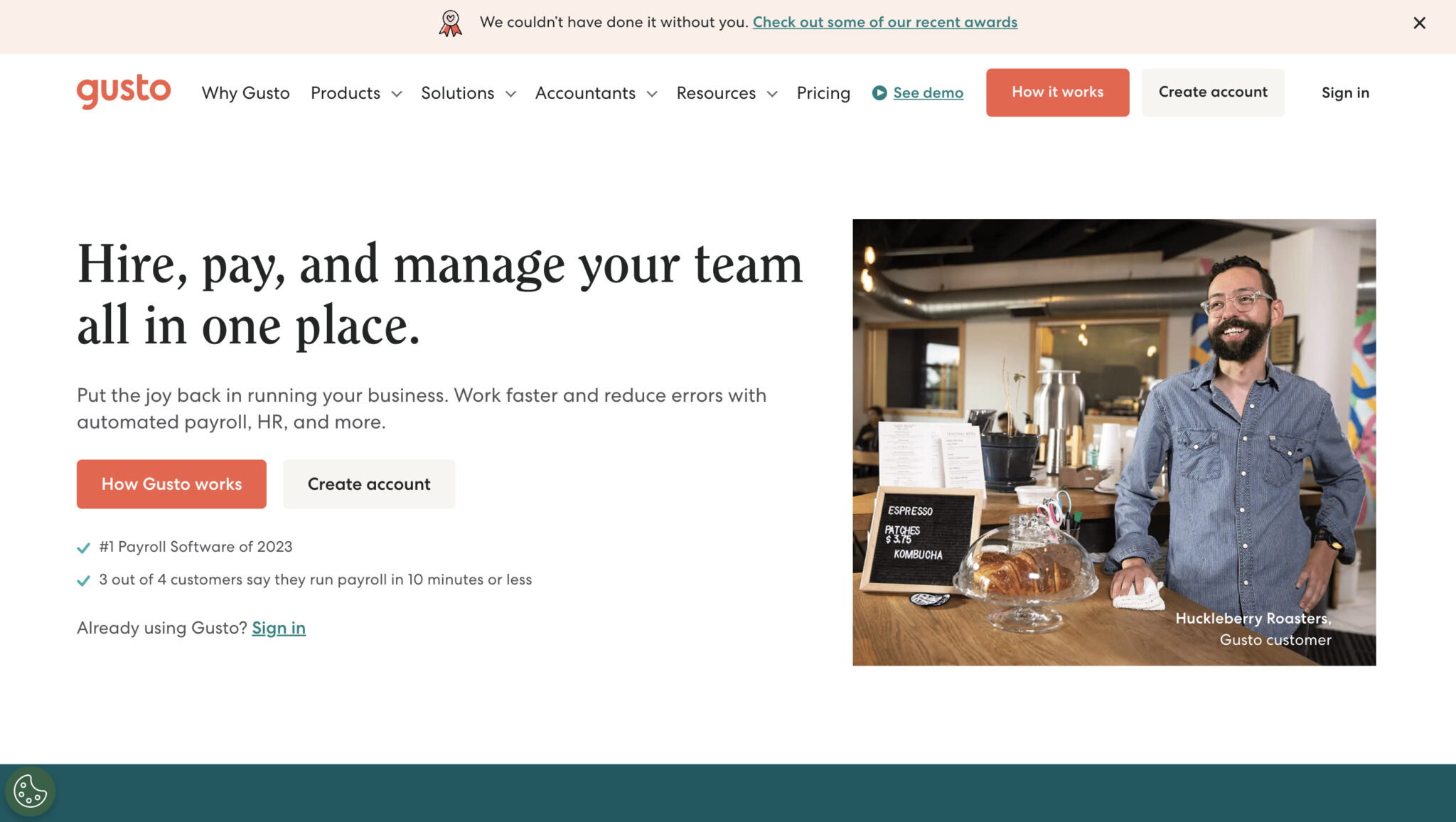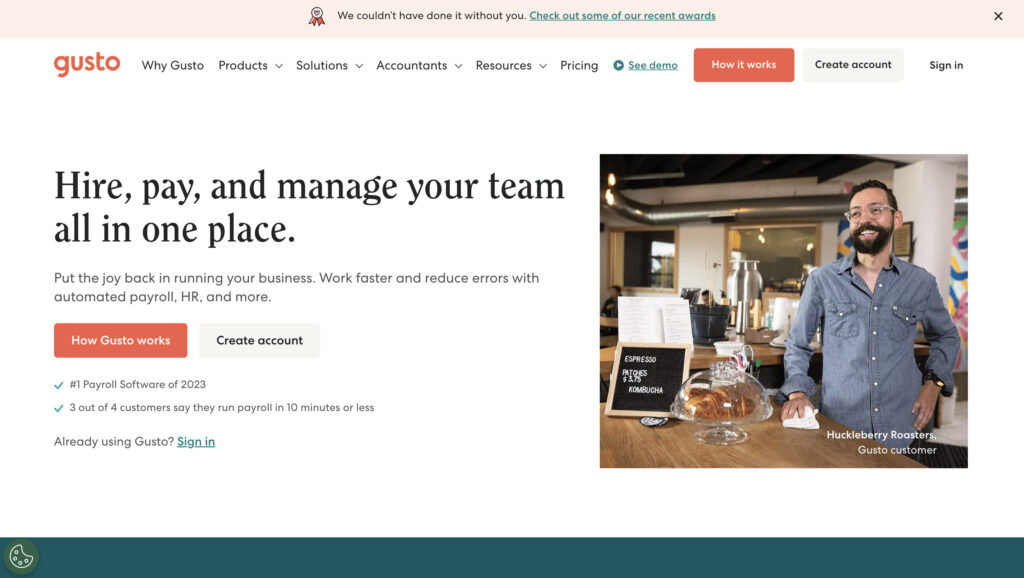 Gusto should offer everything you need, but the pricing structure could be demotivating for you as a starting company. 
Features
Gusto is one of the modern solutions like Sloneek and BambooHR, offering a wide range of features like: 
Payroll

Employee Benefits

Hiring & Onboarding

Talent Management

Time & Attendance

Insights & Reporting
Gusto is also easy to use, which makes it another good candidate on our list. 
Pricing
The pricing structure is divided into three categories based on your needs. The plans are called Simple, Plus, or Premium – which is a scalable solution with custom pricing. 
The Simple plan starts at $40 / per month plus an additional $6 / per user / per month. If you need a more comprehensive solution including payrolls and benefits, you'll pay $80 / per month plus $12 / per user / per month. 
Customer Service
Gusto has a focus on its users and also offers a live demo. A comprehensive FAQ section and business guides are also available, so you don't have to rely on their support much. 
✅PROS

❌

CONS

User experience

Scalability

Transparent pricing

No live chat

Integrations
4. Remote
Remote revolutionizes global workforce expansion for startups, with a particular emphasis on international hiring and ensuring global compliance.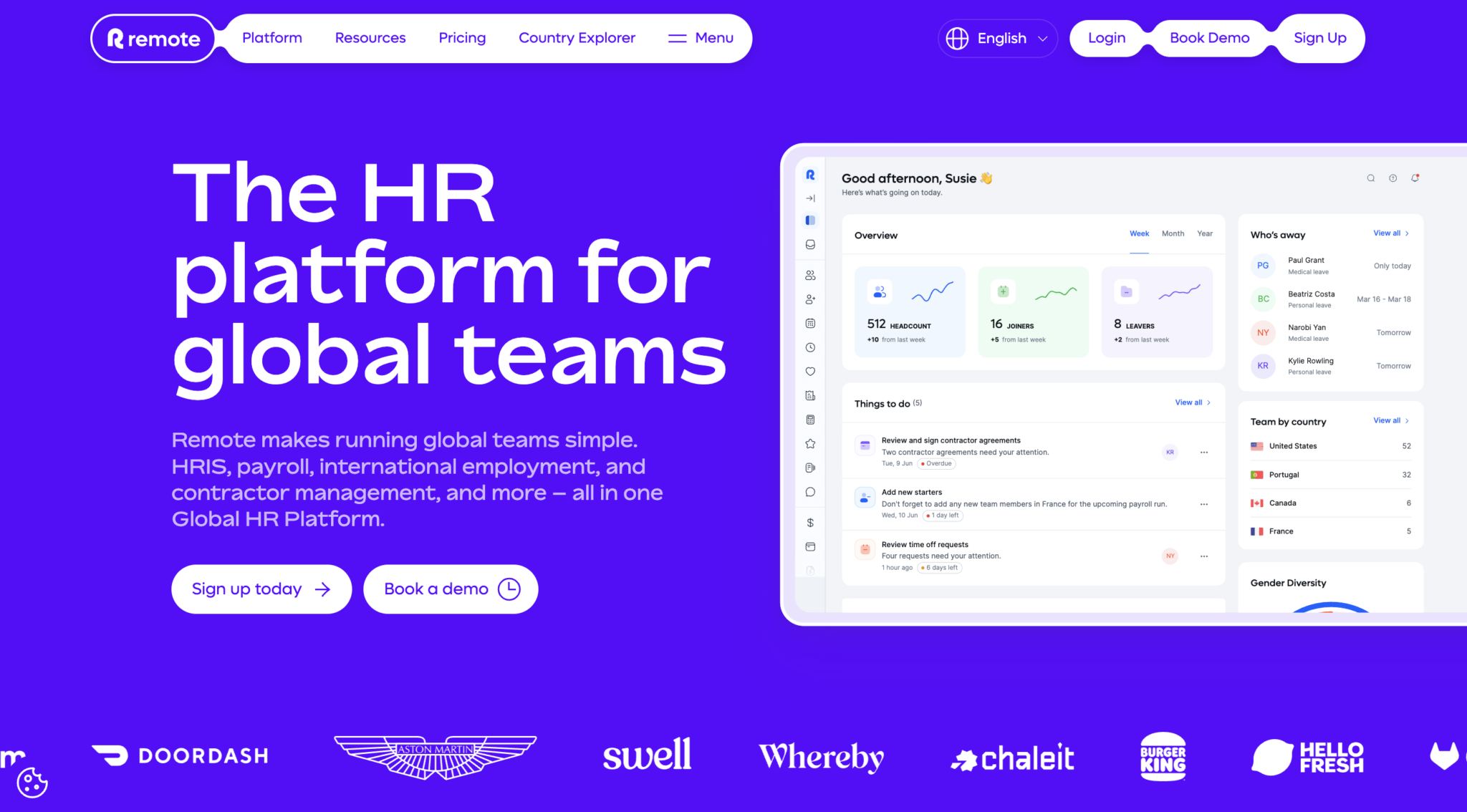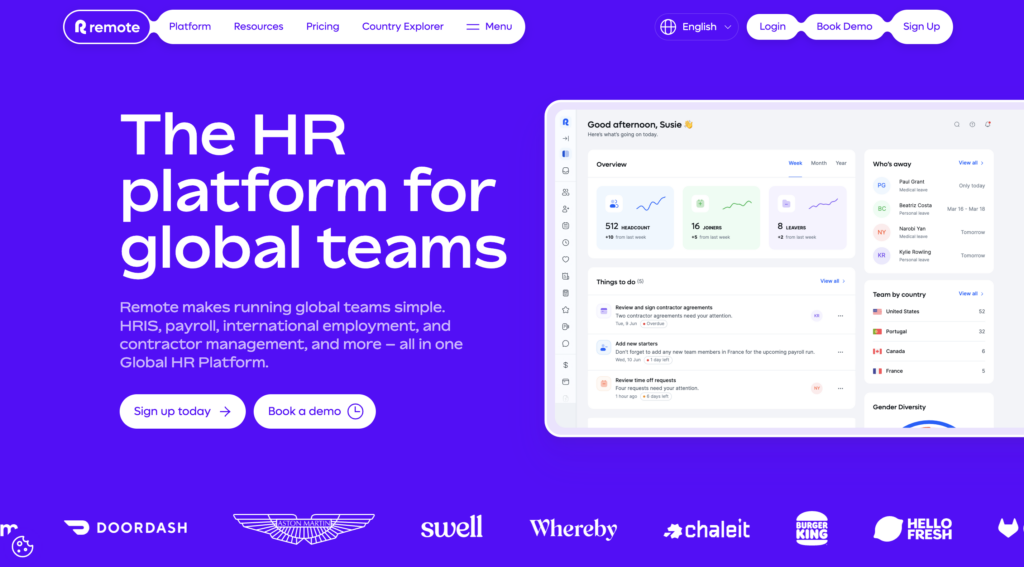 Features
The key features of this HR software should be considerably good for your startups, which makes Remote a solid competitor on our list. 
International hiring support

Global payroll management

Compliance with local regulations

Employee benefits administration

HR and workforce management
Pricing
If you just need Contractor management, this option starts at $29 / per contractor / per month. 
If your startup has global ambition and you need to hire globally, especially in countries where you don't have legal entities, this plan starts at $599 / per user / per month. 
Customer Service
The best feature of Remote is that they offer 24/7 live chat support, as they claim on their website. 
✅

PROS

❌

CONS

Live chat support

Pricing

Contractors support in 180+ countries

Less suitable for startups
5. Rippling
Rippling is another solid HR software for startups due to its customization options.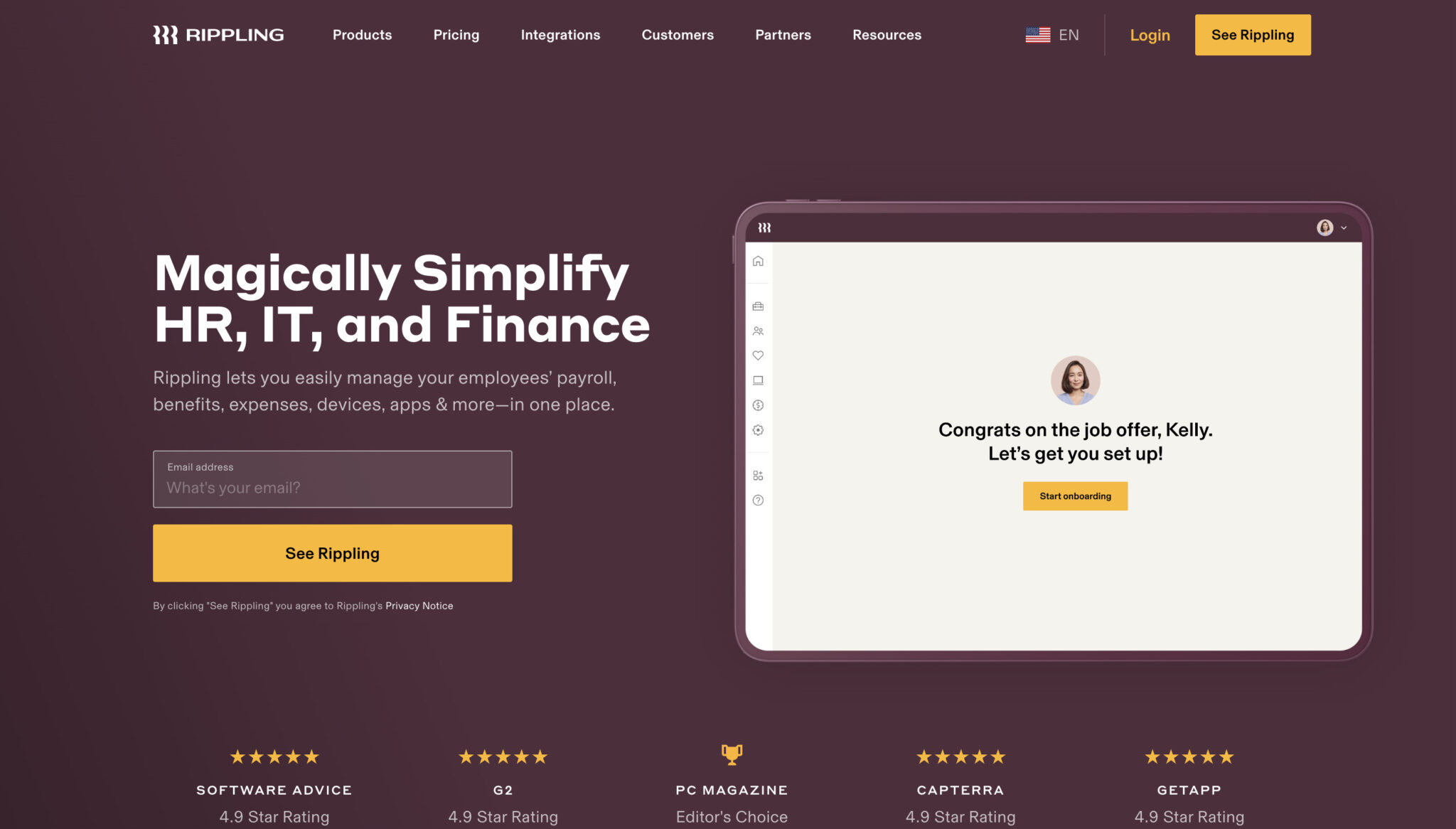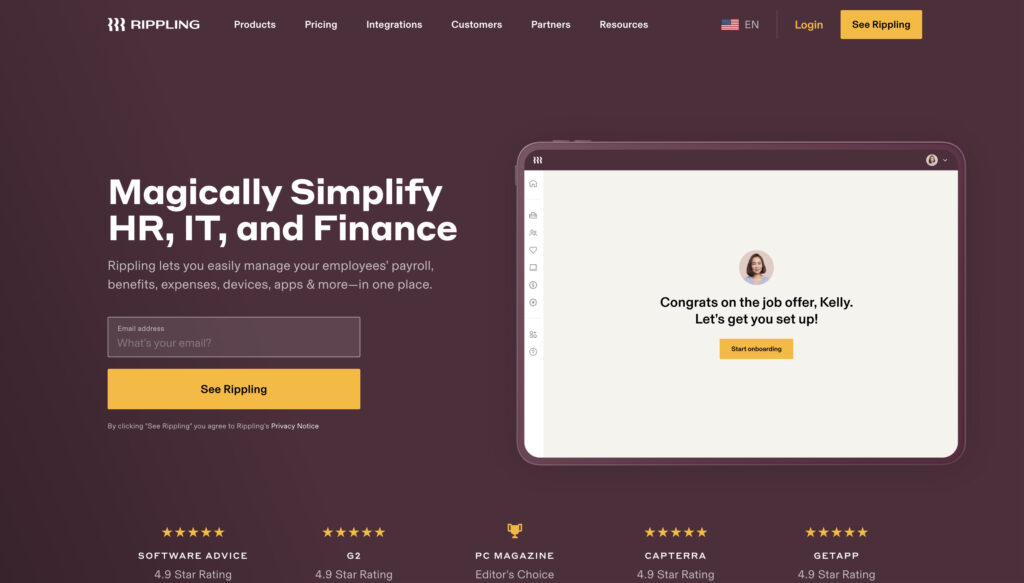 Rippling offers three products for each department, so except for their HR Cloud, they also have IT Cloud and Finance Cloud. 
Features
The range of features and platforms might be a bit overwhelming for a startup. 
US Payroll

Recruiting

Global Payroll

Headcount Planning & Comp Bands

Time & Attendance

Learning Management

Benefits

Pulse

PEO Services
Even though they offer global features, e.g. for payrolls, others like Benefits are more suitable for US employees. 
Pricing
Rippling offers a personalized pricing model with custom quotes tailored to your startup's specific needs. 
The final cost depends on factors such as the number of add-ons you need and the size of your organization, enabling you to create a solution that aligns perfectly with your budget and requirements. 
It will probably be much more than you'd pay for other competitors on this list. 
Customer Service
Their customer support is available for registered users only, but you can contact their sales anytime. 
An interesting feature that is unique for this competitor is its live support status page. 
✅

PROS

❌

CONS

Customizable platform

US-centric features

Complexity
Conclusion
Choosing the right tools for your startup can significantly impact the direction of your future and growth. 
We hope our thorough guide helped you to make the right decision and get all the important details you need. 
So in summary, what are the highlights of each product? 
The best and most affordable user-friendly HR software, ideal for startups looking for budget-friendly options – Sloneek
A customizable HR and payroll solution that caters to your startup's specific needs – Rippling
Focusing on international hiring and global compliance, Remote is great for startups expanding their global workforce – Remote
A user-oriented experience with transparent pricing, making it a solid choice for startups – Gusto
A good option for those who need less for an affordable price – BambooHR
Frequently Asked Questions
Why do startups need HR software?
Startups need HR software to streamline essential HR processes, such as payroll management, time tracking, and benefits administration. It helps save time, reduce errors, and enhance compliance, allowing startups to focus on strategic initiatives and growth.
What are the key features to look for in HR software for startups?
When selecting HR software for startups, prioritize features like time and attendance tracking, payroll processing, talent acquisition, and mobile accessibility. Integration capabilities with other essential tools and customizable reporting are also crucial for informed decision-making.
When is the right time for startups to implement HR software?
Startups should consider implementing HR software when HR processes become time-consuming and resource-intensive. It's especially beneficial when data integration across HR and finance is essential for making informed decisions about workforce management and growth.
How much does HR software cost for startups?
The cost of HR software for startups can vary widely depending on factors like the number of employees, required features, and the chosen provider. Many HR software providers offer pricing tiers based on company size, so startups can find options that fit their budget. 
If you're looking for the best cost-effective HR software solution for your startup, look no further, let's talk!