The aim was to streamline HR and move with the times, says Feedo HR specialist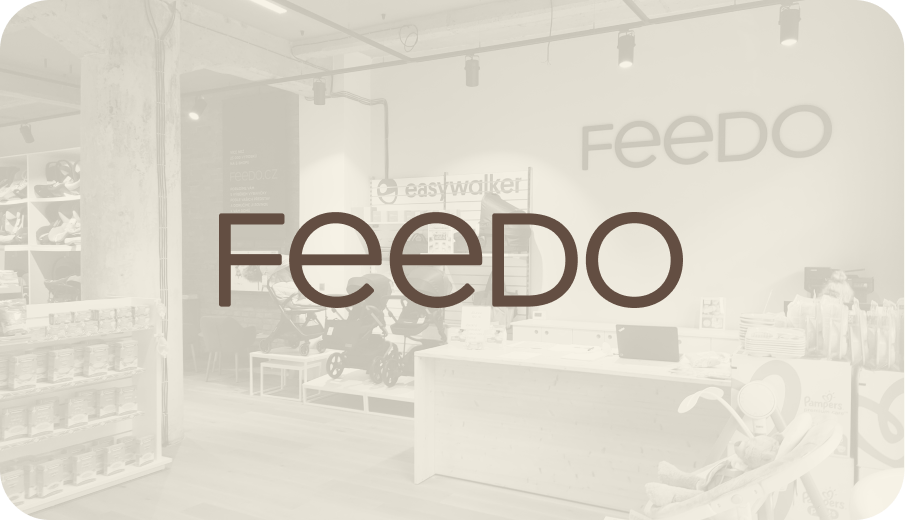 The Ags92 group, which operates the Feedo e-shops and stores, is one of the largest distributors of global brands of baby products on the Czech, Slovak, Polish and Hungarian markets. In addition to selling products from the world's leading brands, it is also developing its own brand, Petite&Mars. Ags92 operates the  feedo.cz, feedo.sk and predeti.sk network of retail stores and e-shops, which are the largest specialised stores in the children's goods category in the Czech Republic and Slovakia.
The mission of the Feedo brand is described by its HR specialist Jana Dočekalová as reliable help for parents and their little ones. "We are part of their finest moments and we work with the purest range," she said. The greatest added value Feedo has on the labour market is the chance to reach mothers returning to work from maternity or parental leave.
"As an employer, it is parents and their loved ones who are most aware of us when they shop with us. We can be an ideal employer for mothers returning to the labour market. Sometimes these returns can be difficult, but years of familiarity with the brand and our product range can make it much easier and more enjoyable to return to work as a buyer, retailer or social media specialist."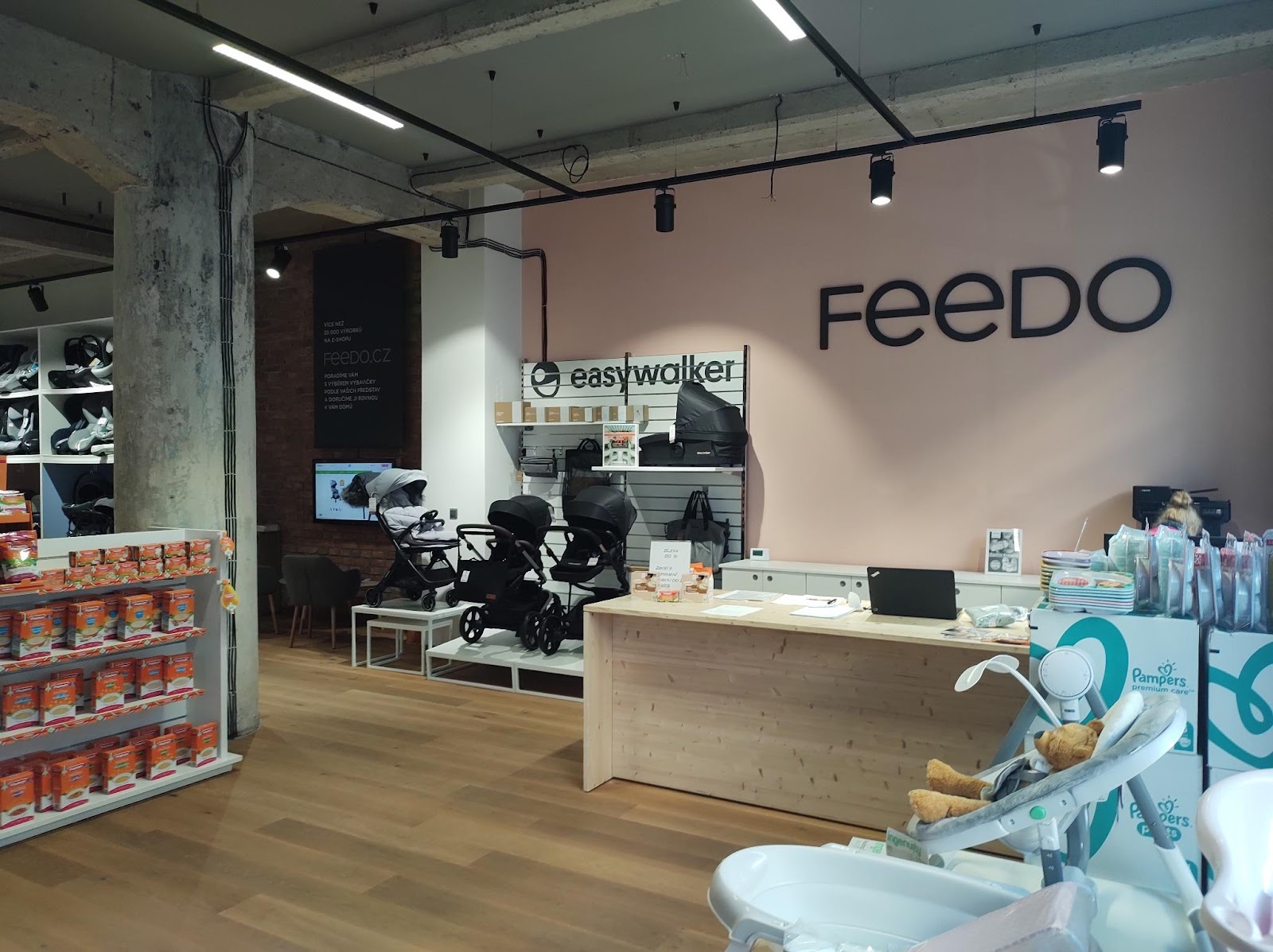 Feedo showroom and store in Prague's Nusle district
Man and communication in main roles
According to Dočekalová, one of the most important pillars of Feedo's HR strategy is undoubtedly that it is necessary to think about each employee, his or her individual needs, wishes, opinions or attitudes.
"It's important to treat each individual humanely and listen to their needs and any concerns. Communication is also always a key building block, once it works properly, a lot of communication noise is avoided. We try to operate in this spirit."   
Jana Dočekalová, HR specialist at Feedo
"Until a few years ago, a large number of HR departments were completely passive. HR specialists were mostly people who saw themselves more as accountants, whose energy was not needed in the company and it was enough just to do their job behind closed doors. And that's how they were perceived by the employees. Fortunately, that's changing. If you, as a boss, want to know where your company will stand in the future and if it can move with the times, go look at HR. If you find dusty files and unpleasant or inactive employees who don't even like their colleagues or people in general, then God help you," commented Milan Rataj, HR strategist and co-founder of the start-up Sloneek, on the approach by some HR specialists. 
An overheated market and potential in your own nest
As far as the labour market and its current problems are concerned, the HR specialist from Feedo perceives great uncertainty and people's consequent lower willingness to change jobs, which, according to her, is also true in cases where people are not satisfied at work. "This means that there are rather less qualified candidates on the market. Like probably most HR specialists, I can confirm that there aren't enough quality candidates on the market. And when someone does come along, they tend to look around at all the options and it's not easy to get them," she said.
She also described how long-term data, statistics and research repeatedly show that firing one person and hiring another is economic folly. For example, a new person often does not "earn his or her keep" until a year after joining a company. "If an employee has proven themselves, but they're not a good fit in a specific department or there's not as much work for them there any more, don't say goodbye to them. Adjust their work, retrain them or put them in a vacant position in the next department," Dočekalová advised her colleagues in the field.
"We always try to use the human potential we have here. If a position does not suit someone, we always try to move the person in a direction that attracts him or her, that is, if there is an opportunity and we have a vacancy in the department." 
Jana Dočekalová, HR specialist at Feedo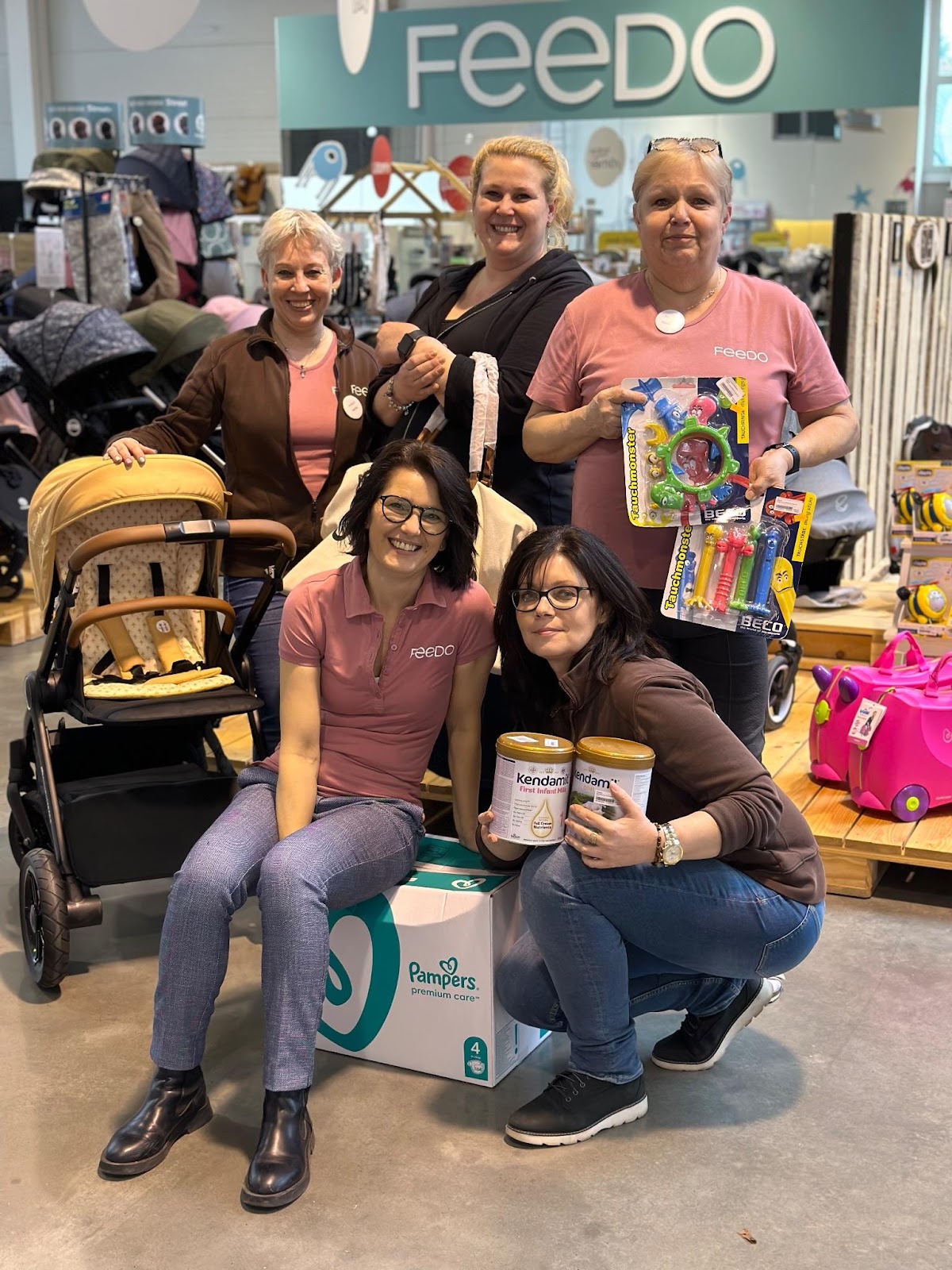 Feedo team at its Hostivice branch
Three in one and more time for more important work
The main impetus for using Sloneek was for Feedo to unify, streamline and consolidate the entry of absences into one place and in electronic form. Prior to Sloneek, the company used paper leave slips signed by a supervisor along with a shared Google Drive document where all employees recorded their leave, and also alongside a shared Google Calendar. The biggest problem was coordinating and correcting data from the three sources and if there was any error, such as a lost slip or failure to save an absence in a shared document, it caused a lot of problems and inconvenience for the employees and HR department.
"It was a lengthy and complicated job. It was confusing for employees and challenging for HR. Employees wrote in the document themselves, occasionally someone forgot, didn't report it beforehand and brought the slip afterwards when the payroll was done. Fortunately, that can't happen to us with Sloneek any more. Instead of cluttered spreadsheets with lots of errors, we now have a fast and secure system. Its introduction has significantly saved time for everyone in the company, both employees and the HR department," she said.
"One of our pain points is definitely the HR department's limited capacity. Unfortunately, you can't really do much with 1.5 people, it's all about good time management. Thanks to Sloneek, which helps us with the work, there is room for other important activities that we don't normally have time for." 
Jana Dočekalová, HR specialist at Feedo
"After an employee enters an absence into Sloneek, an email is sent to the supervisor with the option to approve or deny the absence if it is an absence where supervisor approval is required. So he/she has an immediate overview and a quick notification in an email. The same happens when a supervisor approves or denies an absence, an email about the change is sent to the subordinate immediately. This simplifies and streamlines the work," she explained.
"Lack of capacity in HR departments is not unusual in companies. This puts a lot of pressure on HR specialists to constantly prioritise and extinguish what is currently burning the most. I'm glad to hear from those who have started using our system how much it can save them time, stress and money," commented Milan Rataj, HR strategist and co-founder of the start-up Sloneek. 
Smooth implementation by the book
The HR specialist mentioned that the most important thing was to introduce the new system to the employees and explain to them the newly introduced solution's importance and usefulness. For some time, the company operated in a transitional phase, where Sloneek ran alongside the old solution, before all employees gradually switched to it. As there were no complex functionalities involved, she said the set-up and implementation process was neither lengthy nor demanding.
"The system was originally introduced for Feedo, but after the merger with ags92, Sloneek expanded to the Czech and part of the Slovak side of the ags92 group. Initially, the systems were divided into the two countries, but in the summer of 2022 we successfully migrated and now have everything together," she said.

According to her, the set-up is very flexible, and working hours can also be entered individually for each employee in accordance with the specific type of employment relationship. "The same applies to absences, after linking CZ and SK we encountered a problem with different types of absences by country. Sloneek is really a perfect tool in this respect, because we can assign the absences created not only to selected employees, but we even have the possibility to set the appropriate language version," added Dočekalová, praising the all-in-one HR system. The quality of Sloneek is confirmed by the client churn rate, which was exactly 0% in 2022.
"It's a modern HR system that moves forward, it doesn't stay still and I keep finding newer and newer updates in it. During implementation, but also at any time afterwards, we could rely on specialists from Sloneek. They were and are ready to provide quick help or advice. Communication with them is friendly and professional at the same time. I can only recommend Sloneek." 
Jana Dočekalová, HR specialist at Feedo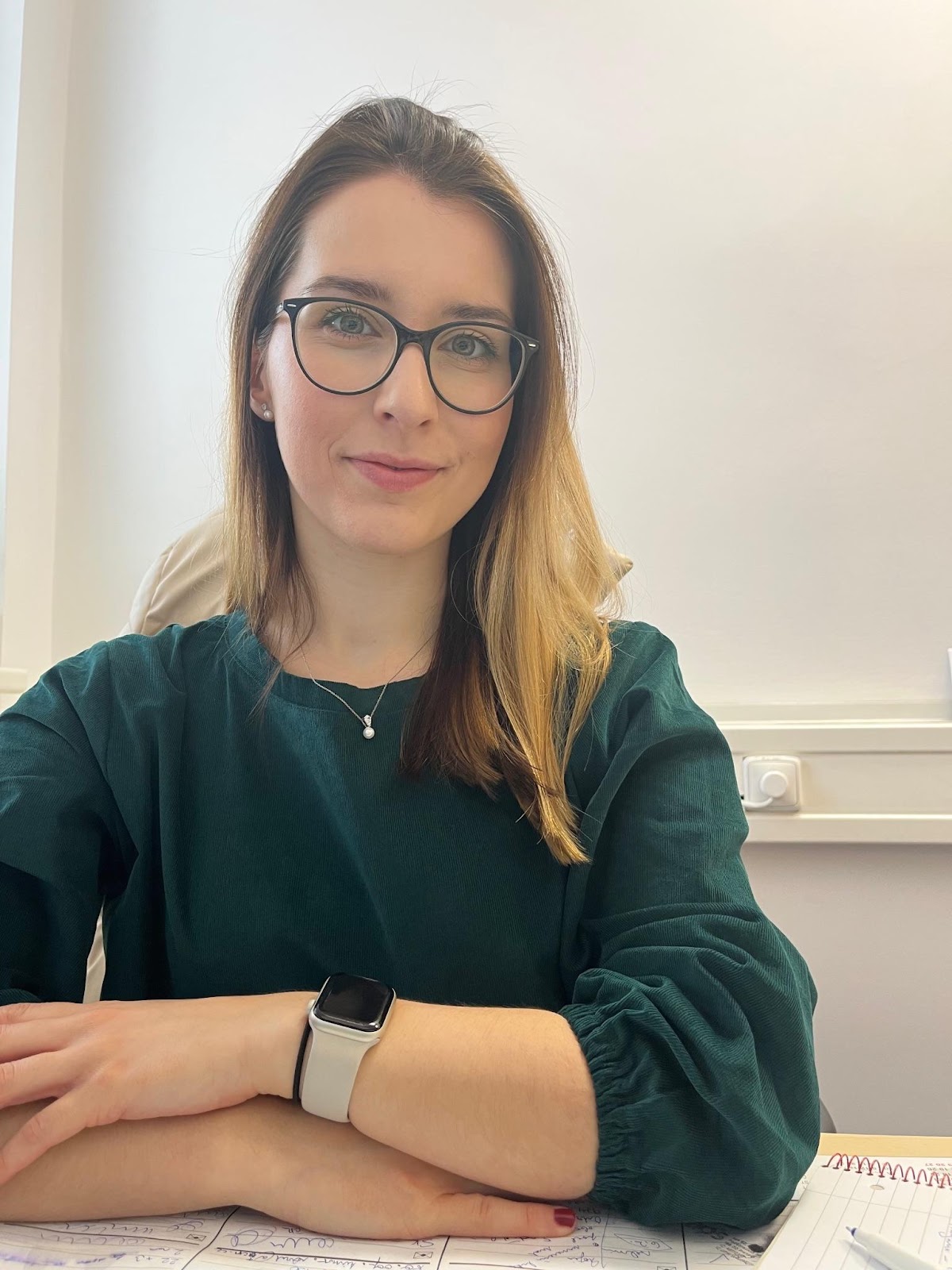 Feedo HR specialist Jana Dočekalová
Satisfied employee, satisfied HR specialist

According to Dočekalová, employees like the fact that if they need to deal with someone, they can check with a few clicks whether the person in question is on annual leave or otherwise absent and how long he or she will be gone. There has also been an increase in the transparency of absences across the group, which was very successful in the company.
"We have also had positive feedback on the team overview, which is a small organisational structure that can be set up in Sloneek. It makes it easy for an employee to check who belongs to which team. Several employees have also made use of the recently-established Trust Box function. Everything is anonymous so employees are not afraid to write their opinions. I feel that enabling them to give safe feedback is one of the roles of HR," said the HR specialist from Feedo, which belongs to the Ags92 group.
"An individual came up with the idea to start using Sloneek specifically, but at the same time there was a company-wide vision to take Feedo a little further, to improve processes and simplify the work of both employees and the HR department. A good price was also crucial," concluded Dočekalová, adding that Feedo has been using Sloneek since 2017, and, fishing in her memory, said that they probably learned about its existence at a conference or while looking for a suitable HR system to help solve their problems.
We would like to thank our clients at Feedo for their willingness and openness to share information that can benefit other HR specialists and companies.
There are several HR systems on the market to choose from. How to find out which one is the right one? Don't buy a cat in a bag, most HR systems offer the opportunity to try them out for a few days. The HR system Sloneek, which you can use, also meets those interested to try it for free for 14 days.