PTA Management: We needed to streamline work planning
PTA Management is a company engaged in the management and administration of car dealerships and other projects in the automotive sector. PTA Management currently manages three ŠKODA AUTO dealerships, a multi-brand car service centre and an independent car rental company.
Situation in PTA Management
PTA Management started to work with Sloneek in 2019. Marie Košíková, the HR manager, describes it as a young and ambitious company that prides itself on a friendly atmosphere and mutual trust. Given how dynamically the company has grown in recent years, management was looking for a tool that would help them keep a clear record of the employees, whose numbers have grown over time, so that the company could maintain its corporate culture and at the same time plan the operations of all the businesses under its care effectively.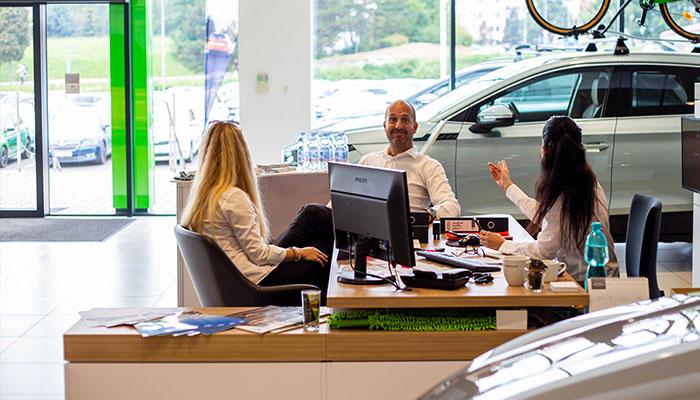 "PTA Management is a company that was founded on the basis of long-term experience not only in the automotive industry. Although the company has grown rapidly over the last few years, it is very important for us that our work does not lose its drive and also remains a hobby," said Košíková.
The positions at PTA Management are very diverse. There is a need for managers and consultants to help clients with strategic planning and financial and economic management, as well as employees to help with maintenance services and the actual sale of cars. In addition, all positions mostly must be represented at each of the five companies managed.
"We manage several companies and to do our job well, we need to have a perfect overview of the employees in all of them. We are responsible for keeping these companies running smoothly from marketing to service, which requires quite extensive planning. However, given the number we have now, such complex records of employees and branches are extremely laborious and time-consuming, and the way we used to work with employee records is no longer efficient and possible today," added Košíková.
Where the problem was and how we solved it 
The initial impetus for the implementation of Sloneek in the case of PTA Management was mainly the desire to streamline planning. The aim of PTA Management was to introduce a tool into the company's operations that would help management to record absences, plan work faster and more efficiently, and also to plan non-work activities. 
"For PTA Management we created a simple online database containing information and HR data on all employees. In one place, the company's management can, if necessary access employees' basic personal data in all companies managed. We also activated the attendance recording option in the database to enable management to plan shifts and annual leave easily and clearly, which was crucial for them in the current growth phase," commented Milan Rataj, HR expert at Sloneek.
"Although some of my older colleagues found it challenging to get used to the new app at first, with the help of Sloneek's helpful customer support, as well as Vašek Martin and Milan Rataj, who helped us through the whole process and were willing to consult daily if necessary, we managed to switch to the Sloneek system very quickly. We perceive the application's biggest advantage to be its intuitiveness and, above all, the fact that it can be implemented without complex preparation; the time saving, which in our case was really significant, is visible almost immediately," said HR Manager Marie Košíková.
Five companies managed from one place
Clear database of employee data for all companies managed

Quick and easy implementation 

Software development and improvement over time

Access to documents in digital form

Time savings in planning

 

Support from

Sloneek
PTA Management appreciates the simplicity and flexibility of Sloneek, but the key for it is primarily the time savings brought by the transition from manual recording of HR data to the online application. The company also has positive experience with the speed of implementation and assistance during the beginning of the cooperation. PTA Management is currently struggling primarily to recruit for service positions, which are key for it. Therefore, in the future it is planned to extend cooperation with Sloneek to include the planned automated onboarding function.
Thank you to our clients at PTA Management for sharing information that may be beneficial to other HR professionals in their decision-making.
Interested in learning more about Sloneek?
Meet Sloneek! Our experts Adam, Stana and Sebastian will guide you through our solution and answer all your questions.