Top 5 Workday Competitors: Find the Best All-In-One Solution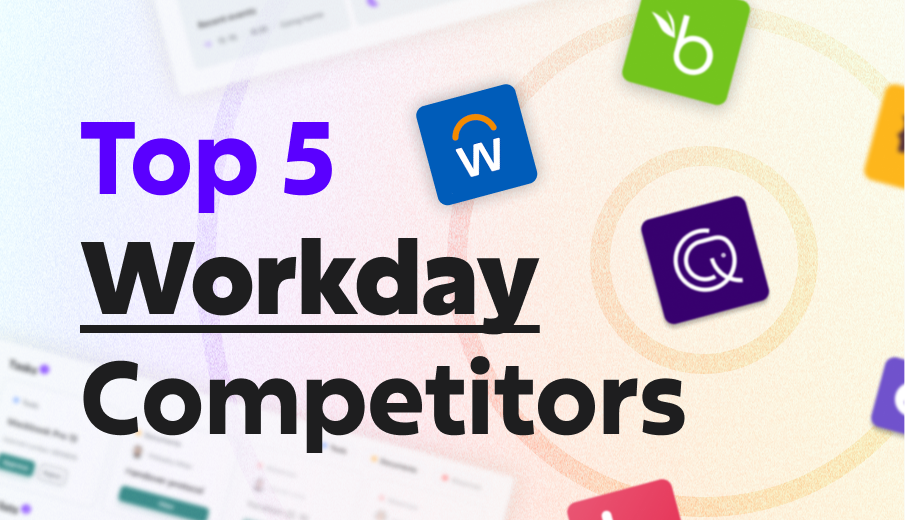 We have analyzed the 5 leading Workday competitors providing HR solutions. Gain insights into their key features, pricing options, and the benefits they offer (or drawbacks). 
We'll also talk about all the reasons why you should consider getting an HR solution such as Workday – or something that suits you more.
Learn about all the essentials to make the most informed decision and choose the ideal tool to efficiently manage your employees' journey. 
What Is Workday?
Workday is a leading cloud-based enterprise software company offering comprehensive HR features like 
Human Capital Management (HCM)

Human Resource Management (HRM)

Employee Experience

Workforce Management

Analytics and Reporting

Planning solutions

Financial management

and other HR and financial solutions. 
With its user-friendly interface and emphasis on accessibility, Workday has become a popular choice for organizations seeking efficient and integrated tools to manage their workforce and financial operations.
What Is Workday Used For?
Workday is a centralized platform for managing various aspects of an organization's workforce. 
As an integrated HR solution, it offers various functionalities, including talent acquisition, employee onboarding, performance management, time tracking, payroll, and benefits administration. 
This comprehensive HR system empowers businesses to efficiently manage their workforce, improve HR operations, and enhance employee experiences throughout their journey within the organization.
Workday also utilizes AI and machine learning to support the identification of talent and skills gaps in your organization. 
While trying to maximize your employees' performance and engagement, it's also used for financial planning and management. 
How Does Workday Work?
 Workday operates on a cloud-based model, meaning you don't have to self-host and maintain the software on your servers. This cloud architecture allows users to access the platform from anywhere, promoting flexibility and scalability for businesses of all sizes. 
The system is designed with a modern and intuitive interface, making it easy for users to navigate and perform various tasks.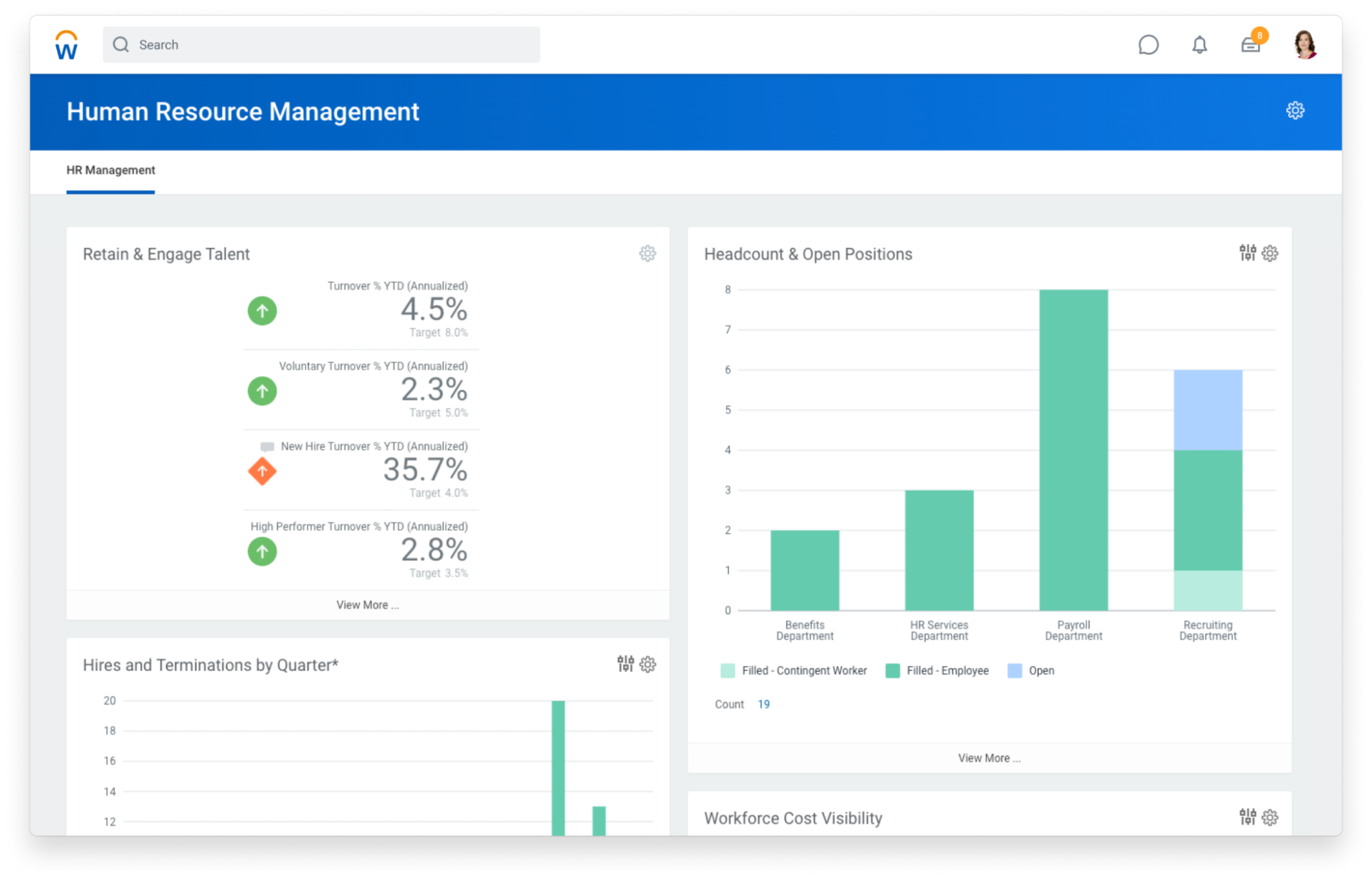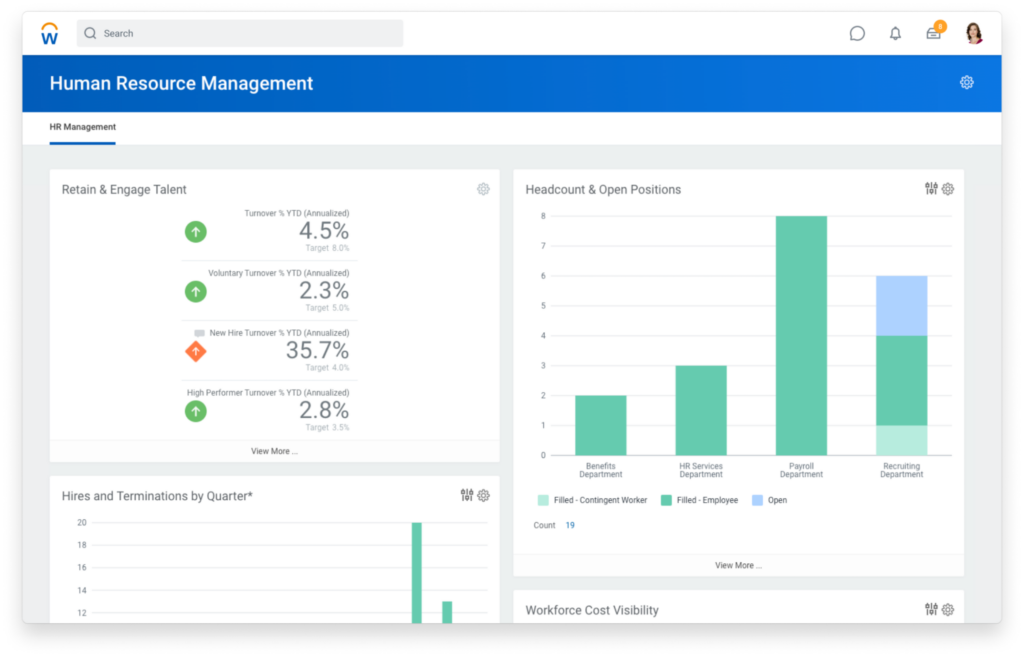 Workday integrates data from different modules, providing a unified view of workforce and financial data, empowering organizations with real-time insights to make data-driven decisions and enhance overall efficiency.
Why Do Companies Need Workday Software?
Companies need Workday software because it offers a comprehensive and integrated solution for managing their human resources effectively. 
With its wide range of HR functionalities, Workday streamlines HR processes and enhances the overall employee experience. The software ensures seamless operations and flexibility for businesses of all sizes. 
By utilizing Workday, companies can optimize their HR operations, improve workforce management, and foster a more efficient and productive work environment, ultimately leading to higher employee satisfaction and better organizational performance. 
Workday's all-encompassing HR solution is an essential tool for modern businesses seeking to stay competitive and thrive in the dynamic world of human resources management.
What Are the Benefits of Implementing Workday Software?
Implementing Workday software offers a myriad of benefits for companies seeking to optimize their human resources management. 
With its comprehensive HR functionalities, businesses can streamline
Talent acquisition

Employee onboarding

Performance management

Time tracking

Payroll

Benefits administration
These are leading to improved HR operations and a seamless employee experience.
Increased Productivity
One of the key advantages is the enhanced efficiency and productivity it brings to HR processes, allowing organizations to focus on strategic initiatives rather than getting bogged down by administrative tasks. 
Workday's solution also promotes flexibility and scalability, catering to the needs of both small businesses and large enterprises.
Deeper Insights into Company Data
Moreover, by utilizing Workday's integrated HR system, companies can gather valuable data and insights to make informed decisions. 
The platform offers robust search analytics, empowering businesses to optimize HR processes, understand employee trends, and identify opportunities for improvement.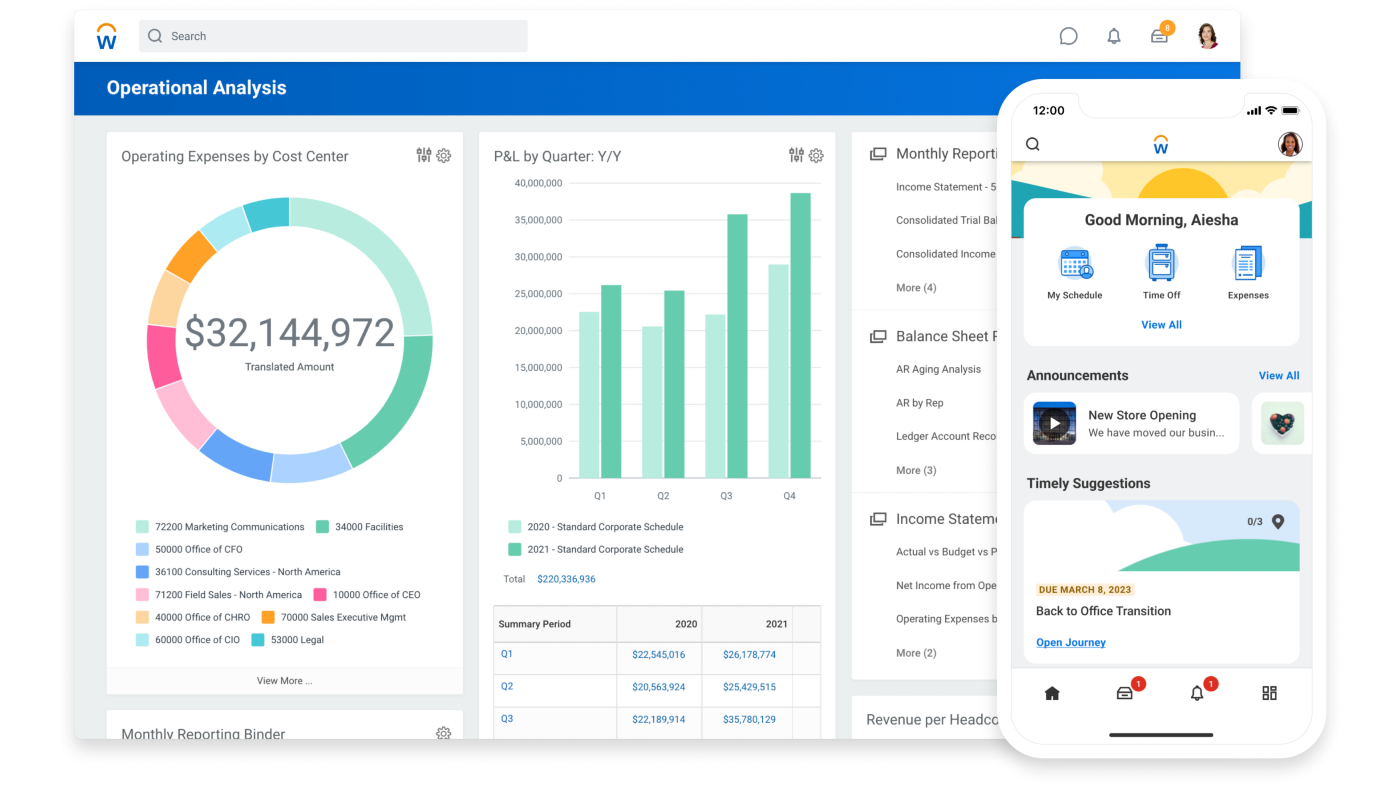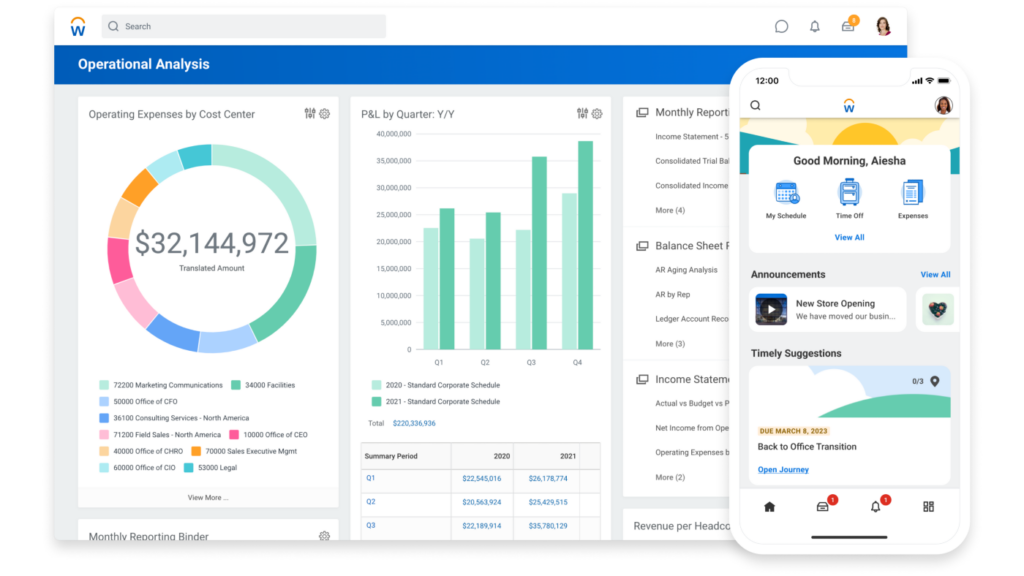 Improved Employee Engagement
Furthermore, Workday's talent management capabilities enable companies to nurture and retain top talent, fostering a positive work culture and increasing overall employee satisfaction. 
This, in turn, can also lead to improved employee engagement, higher productivity, and reduced turnover rates.
Reduced Costs
Using an HR system in general can save you hours of HR processes and operations. 
Several functions included in the Workday software save you technology costs (it's cloud-based, remember?) and the time of your staff.
In summary, implementing Workday software empowers companies with a comprehensive and efficient HR solution, leading to streamlined processes, data-driven decision-making, and a more engaged and productive workforce. 
It is an indispensable tool for organizations striving to stay ahead in the competitive landscape of modern human resources management.
What Is the Price for Implementing Workday or Its Competitors?
Learning about Workday pricing requires custom quotes, meaning the prices might differ, making the comparison a bit harder.
Nevertheless, we can say it's one of the most expensive solutions out there.
Costs are usually one of the main decision points, and even though Workday includes many features, you might not need them all. 
Some users are reporting monthly prices starting at $99 per user per month. 
According to OutSail, a research company focusing on HR tools, Workday is more of an Enterprise HRIS (Human Resource Information System). This means it's suitable for companies with more than 2,000 employees. 
 What Are the Key Features to Look For?
When evaluating HR software, it's essential to consider a range of key features that can help streamline HR processes, improve employee management, and enhance overall organizational efficiency.
So what should you look for when assessing the right HR tool for you and Workday competitors?
Records of Workers
The ability to securely store all essential details about your employees is definitely a good start. 
If your tool offers the option to create personal profiles with essential data, including all documents or salary history, you can definitely check this aspect off the list. Another bonus is if it includes organizational structure and easy team management. 
Attendance System
A reliable attendance system is a must for every HR software out there. 
You should be able to customize the attendance system according to your needs and have the capability to export supporting documents for payrolls and invoices. Comprehensive reports detailing attendance and working hours will assist in optimizing the efficiency of the entire team.
Absence Management
Absence requests and approval workflow are an important part of every HR manager's life. 
Look for a tool that lets you individually define working hours and gives you an overview of the hours worked and the working time pool. It's only a plus if the HR software allows you to integrate this feature with your calendars, has reporting options, and allows you to customize the settings. 
Integrations
Another key feature is the ability to intertwine your HR software with other tools used across your company. 
This, of course, depends on the tools you're using, whether it's Slack, Jira, Microsoft Active Directory, or Google Calendar. Such integrations minimize manual tasks and streamline your operations effectively. 
Mobile Applications
Last but not least is the availability and features of a well-developed mobile app. 
A mobile application can significantly simplify your HR processes, especially considering that nearly everyone carries a smartphone in their pocket — a tool that extends to their work life as well.
Best 5 Workday Competitors
Let's dive into the juiciest part of our blog and take a look at the most notable Workday competitors you might consider. 
We'll help you identify the most suitable HR software for your needs, delving into the full spectrum of pros and cons they provide. Discover the ideal match for your company, considering both your budget and requirements. 
1. Sloneek
First on our list is a modern solution that will reliably steadfastly accompany you throughout your entire HR management journey. Save time and costs while efficiently managing both your employees and freelancers to get the best results for your company.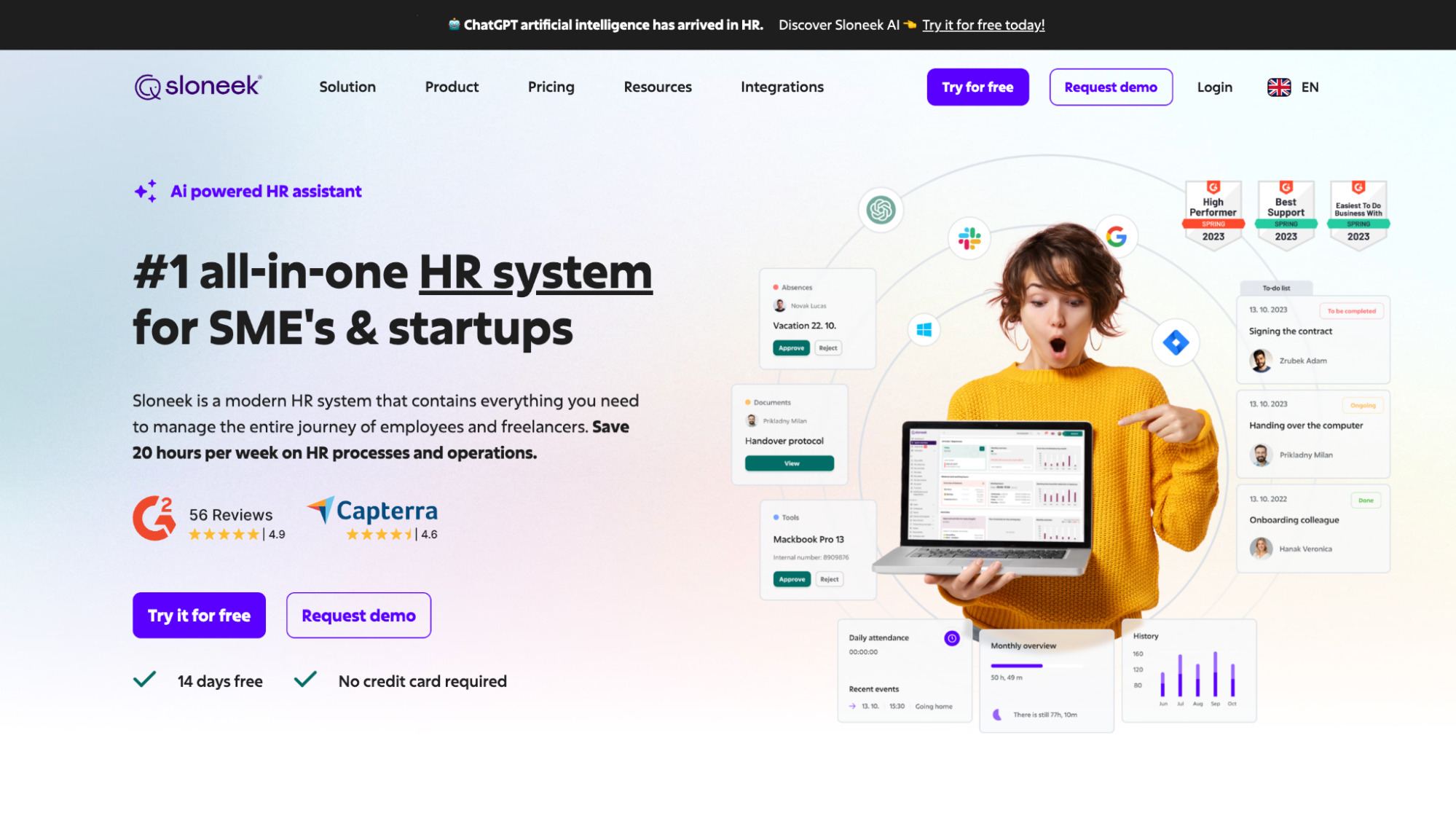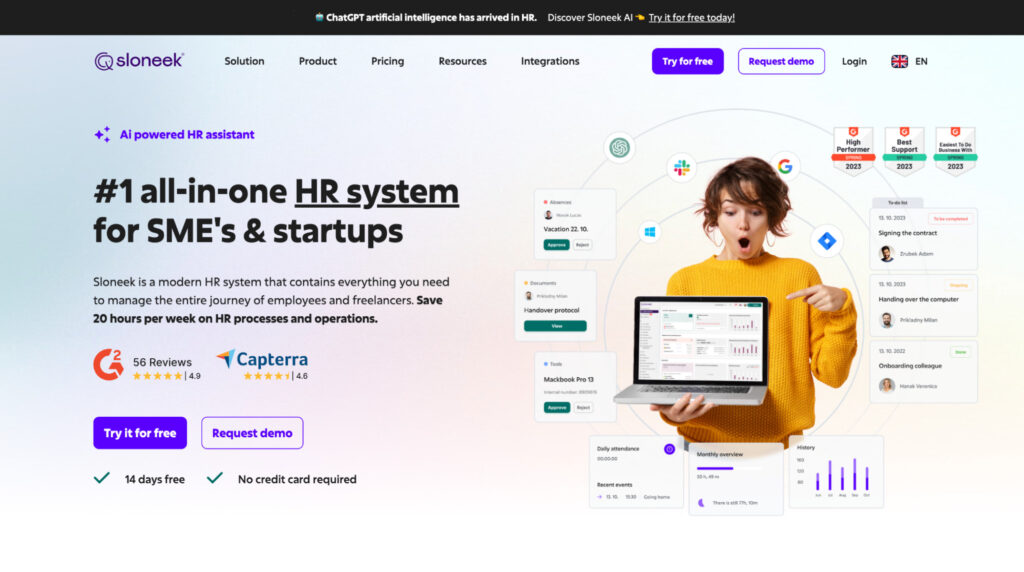 In summary, Sloneek offers simple solutions for advanced challenges. And, of course, AI is already included and ready to assist you with multiple tasks!
This tool definitely covers the key features most businesses would need. What are they?
Features
Sloneek boasts an extensive list of features, divided into Essential and Professional based on the plan you choose. 
Most of them are accompanied by detailed descriptions. These include vital functionalities such as fundamental employee management, as well as the ability to create personal folders housing everything necessary for their professional growth and employment.
All of the features can be divided into these main categories: 
Records of workers
Absence management
Activities
Integrations
Work assets
Skills and performance
Task lists
Engagement
Documents and signing
ATS
Mobile applications
Reporting
Attendance system
Each of them addresses a specific area with effective and user-friendly solutions, such as onboarding and offboarding, absence and working hour management, or the preparation of crucial documents.  
As an advanced SaaS business, they provide a complimentary demo tour led by their experts before you commit to anything. 
Pricing
Transparent and affordable pricing is one of the best perks of Sloneek. 
All of the features available under the Professional plan cost only $6 / per user / per month. This plan provides a complete digitization of your HR processes, but in case you don't need everything mentioned, you can get the Essential plan for $4 / per user / per month. 
Customer service
Have you ever encountered truly poor customer service when facing technical issues? You sure know how frustrating this can be. 
Based on positive feedback from satisfied customers and G2.com, Sloneek is renowned for providing exceptional and dependable support. And by the way, their G2 rating stands at an impressive 4.8 out of 5 stars – quite cool, isn't it?
Except for the great support, they also have a comprehensive knowledge base with useful insights on how to maximize the potential of this already user-friendly HR management software. 
| | |
| --- | --- |
| ✅PROS | ❌CONS |
| Affordable prices with live demo and 2-week trial | Solely HR-related features |
| Entire recruitment covered in one system | Room for improvement |
| Great support | |
| Fast deployment process | |
2. Oracle HCM
Second in place is a cutting-edge solution that remains steadfastly by your side throughout your entire HR management journey. 
Seamlessly connecting your workforce, Oracle Fusion Cloud HCM creates a cohesive environment where every individual is valued, heard, and nurtured. Unified under a singular user experience and data model, the incorporation of AI-powered infrastructure seamlessly optimizes processes, enabling you to redefine excellence in employee engagement according to your unique organizational vision.
That's a lot of fancy words, but what about the features? 
Features
Oracle HCM Cloud emerges as a transformative solution designed to elevate your HR practices.
Oracle HCM includes features like streamlined talent acquisition, performance management, and robust workforce analytics. These are part of the common list of basic features we can divide into different categories: 
Talent acquisition

Onboarding

Performance management

Compensation and benefits

Learning and development

Workforce analytics

Mobile access

Integrations and scalability
While Oracle HCM offers a wide variety of basic features useful for HR departments, these can be hard to navigate. 
Pricing
As you can see, Oracle HCM has been in existence for a considerable time, resulting in the development of sophisticated HR features and solutions. 
Consequently, this platform caters most effectively to larger companies with a workforce of over 1,000 employees, as this represents the minimum purchase threshold. 
In this case, the cost per user per month stands at $15. However, it's important to note that Oracle HCM is licensed per module, featuring distinct licensing metrics that may influence the overall pricing structure.
Customer service
As is often the case with larger enterprises, customer support isn't necessarily one of the standout strengths commonly associated with newer businesses. 
Given Oracle's widespread global presence and diverse tool offerings, getting in touch and receiving a prompt response might pose a challenge. However, based on our research, multiple contact numbers are available for those located in the US. 
Sadly, the G2.com rating for Oracle HCM is 3.5 out of 5 stars.
| | |
| --- | --- |
| ✅PROS | ❌CONS |
| Comprehensive feature set | Pricing |
| Scalability for large companies | Complexity |
| Integrations | Customer support |
BambooHR
BambooHR stands as a comprehensive tool streamlining HR operations through its intuitive interface. But does it offer everything you need?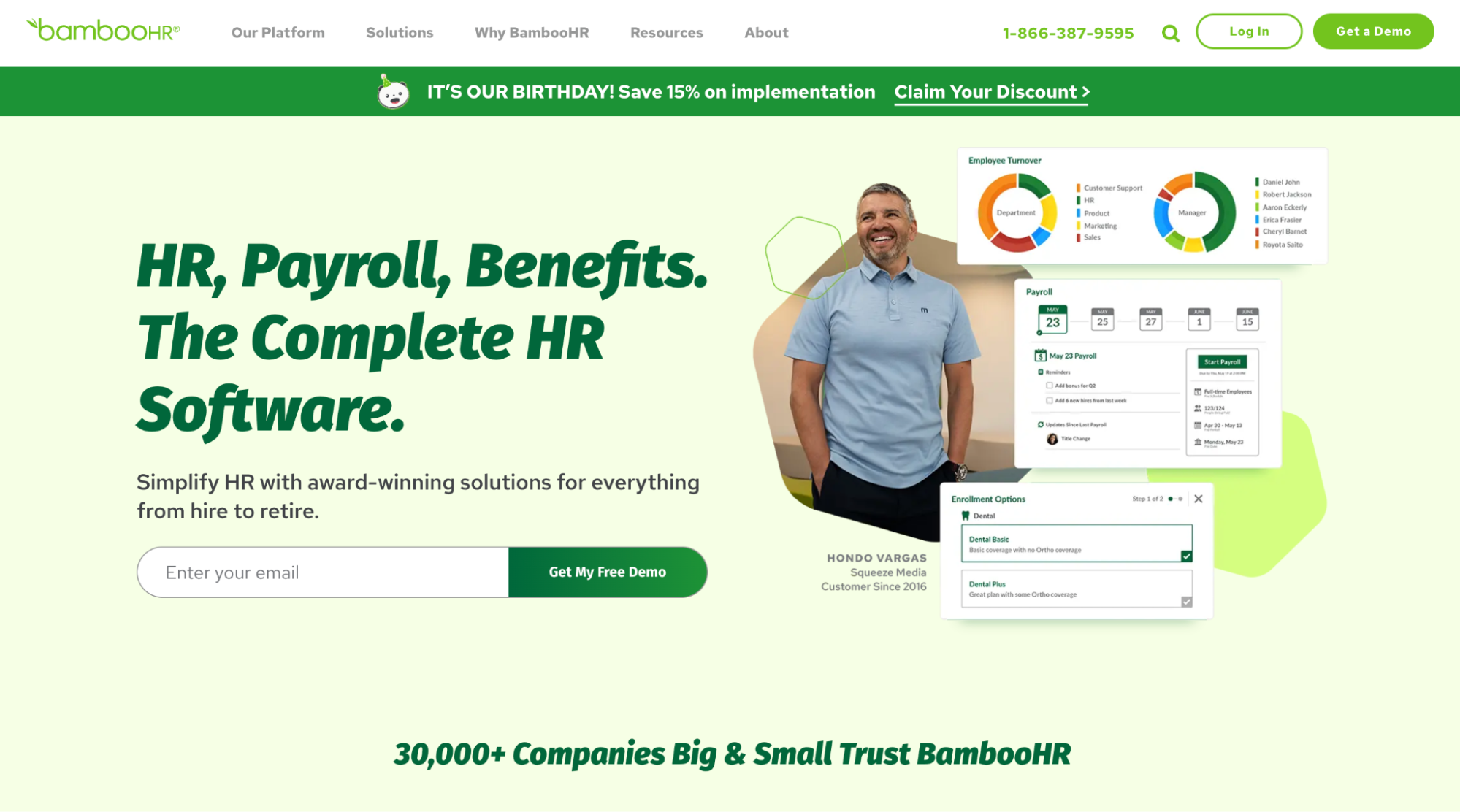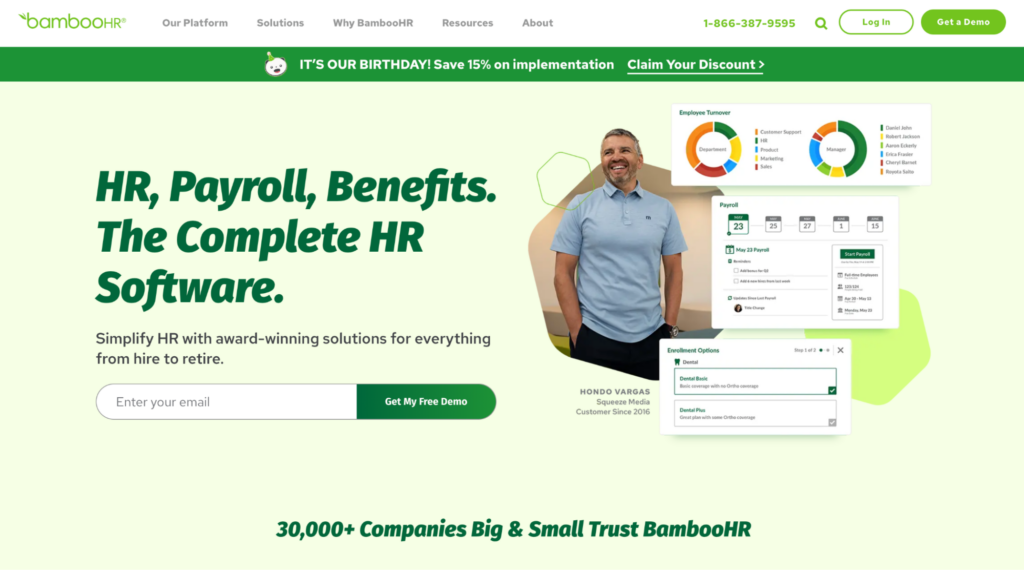 As one of the leading Workday competitors, BambooHR plays the card of combining basic features like seamless employee onboarding and performance tracking. But let's delve beyond the surface and explore the features that put BambooHR on this list.
Features
BambooHR steps onto the stage as a versatile solution primed to enhance your HR processes. 
Within the BambooHR arsenal, you'll find a range of fundamental features that seamlessly cater to various HR needs. These capabilities can be categorized into the following segments:
Employee data management

Onboarding

Payroll, time & benefits

Employee experience and performance
It's a straightforward solution that avoids unnecessary complexity, making it particularly well-suited for smaller companies. Features are separated into two paid plans and add-ons that could significantly affect the way you're using this tool – and the price.
Pricing
Nonetheless, BambooHR is one of the cheaper Workday competitors, but the starting price of $6 / per month / per user can escalate with the aforementioned four add-ons. 
Among these four add-ons, two, namely Payroll and Benefits Administration, are exclusively available in the US, which limits the potential use of this affordable HR tool even more.  
The pricing starts with a minimum of 20 employees and an annual contract is not required, even though in many cases this is a way to negotiate a discount. The true costs of the four add-ons are hidden, so the final price is based on negotiated quotes. 
Customer service
BambooHR offers fairly satisfactory customer support. They have on-call and live chat support during working hours from Monday to Friday in the GMT-6 time zone. 
However, it's worth noting that they exclusively employ an in-house team of customer agents and do not outsource, which means that the availability of support is primarily oriented toward the US.
| | |
| --- | --- |
| ✅PROS | ❌CONS |
| User-friendly experience | Lack of features |
| Pricing | Customer support oriented towards the US |
| | Hidden costs with ad-ons |
SAP SuccessFactors
SAP SuccessFactors is another worthy contender when it comes to comparing Workday competitors.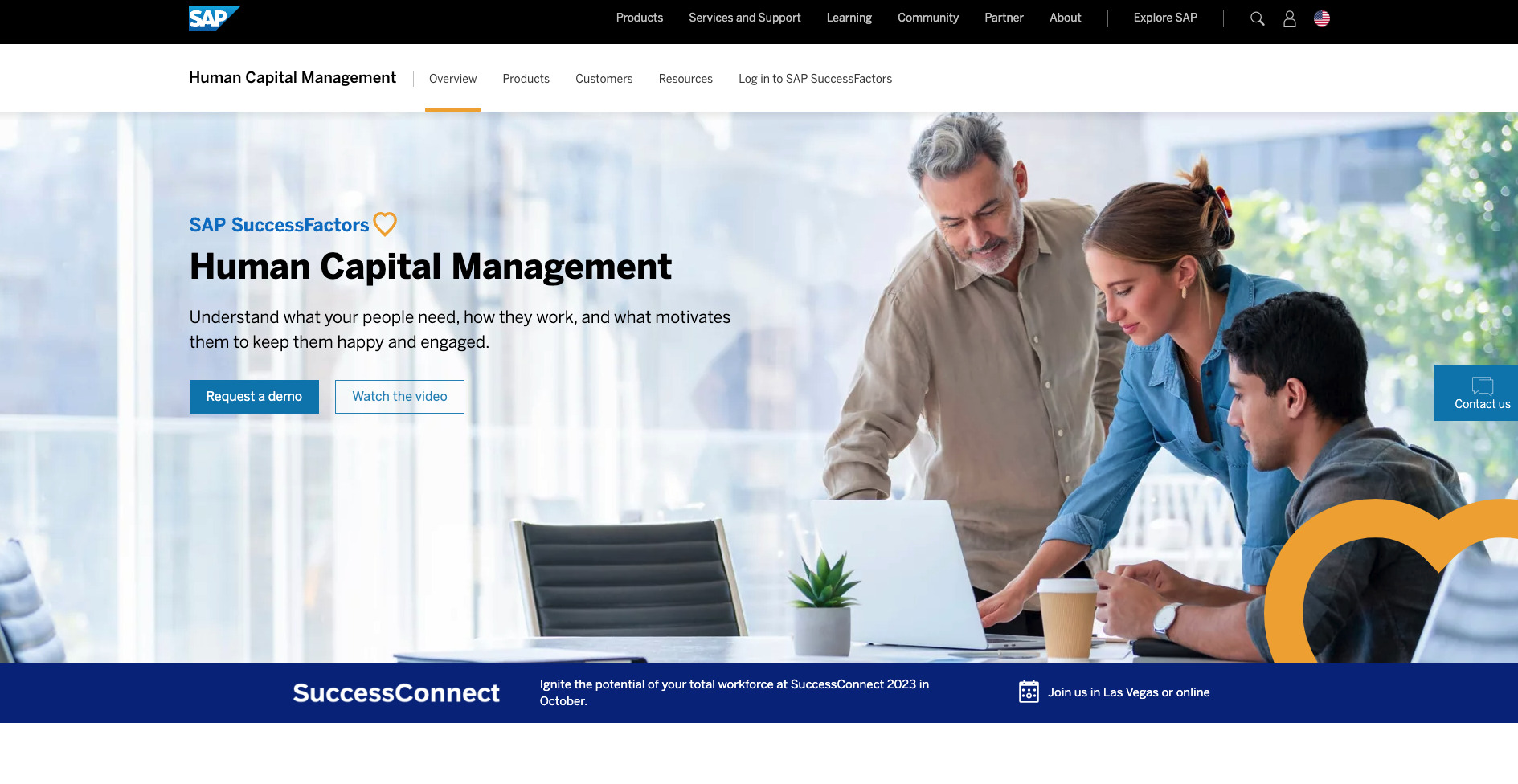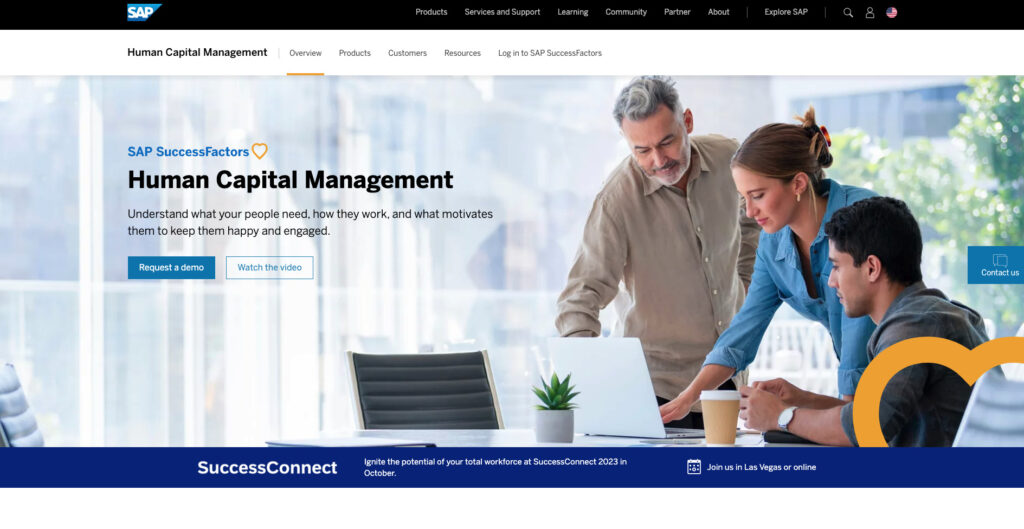 SAP SuccessFactors is, similar to Oracle HCM, built for global companies with multinational workforces and can support multiple languages, currencies, and tax systems. It provides robust human resources software capabilities for managing employee data.
Features
SAP SuccessFactors offers a cloud-based, modular HCM suite featuring HR solutions that can be divided into these categories: 
Employee experience management

Core HR and payroll

Talent management

HR analytics and workforce planning

Sales performance management
This solution claims to be designed to meet the individual needs of your employees through people-centered design. The list is long as SAP is around for a long time, which can make this tool a bit confusing, especially for smaller teams. 
Pricing
The pricing for SAP SuccessFactors varies depending on the specific modules and features you require. 
This platform offers a range of pricing packages tailored to different organizational sizes and needs. As with many enterprise-level solutions, SAP SuccessFactors customizes its pricing based on factors such as the number of users, features selected, and implementation requirements.
While the final price is to be negotiated via custom quotes, according to our research, some add-ons start at $6.3 per user / per month. 
Customer service
SAP SuccessFactors is a robust solution that comes along with robust customer support services. 
For such companies, response times are typically longer, but there's a huge help portal available with different online resources. These include documentation, training materials, and community conversations covering different issues. 
| | |
| --- | --- |
| ✅PROS | ❌CONS |
| Comprehensive suite of HR features | Complex pricing structure |
| Global support and resources | Time-consuming implementation |
| Integration capabilities | May require additional training |
Zenefits
Zenefits steps into the HR software landscape as a comprehensive solution designed to streamline your HR operations with a focus on administrative relief.
The design is centered around self-service, aiming to reduce the administrative responsibilities burdening your HR team. With its accessible array of fundamental HR features, Zenefits is a great solution for small- to medium-sized companies looking for a web-based system for their operations. 
Features
The main HR-related features of Zenefits are claimed to minimize HR headaches and assist employees every step of the way. 
Zenefits accompanies you and your employees from making an offer to exiting. It includes all the basic features, including:
Onboarding

Employee management

Time off requests

Business intelligence reports
The built-in compliance and mobile accessibility make this a nice HR tool, offering multiple integrations with business productivity and HR applications.
Pricing
Considering the number of features, Zenefits is great for smaller teams, but the pricing is more expensive than other similar Workday competitors.
They offer three base plans called Essentials, Growth, and Zen, starting at $10 / per user per month. You can also choose to subscribe annually and receive a slight discount.
Similar to BambooHR, the pricing can also increase with various add-ons such as Payroll, Services, Benefits, and Recruiting, with prices ranging from $6 per month per employee to $35 per month per employee.
Customer service
The quality of support is important when considering the adoption of a new HR tool.
Zenefits offers live chat and email support, along with a basic documentation page to help you get started. According to some websites, they should also offer phone support to their users, but we weren't able to confirm this.
According to reviews on G2.com, some users are not very satisfied with customer support. 
| | |
| --- | --- |
| ✅PROS | ❌CONS |
| User-friendly interface | Complex pricing |
| Mobile app | Customer support |
| | Limited customization |
Conclusion
Navigating the landscape of HR software solutions is vital for modern businesses seeking to enhance their human resources operations. Workday and its competitors provide a range of features that can greatly streamline HR processes and improve employee management. 
Throughout this article, we've delved into the features, pricing, and customer support offerings of notable Workday alternatives. 
From Sloneek's cost-effective simplicity to Oracle HCM's enterprise-grade capabilities, from BambooHR's user-friendly experience to SAP SuccessFactors' global support, and from Zenefits' comprehensive approach to workforce management – each solution presents a unique value proposition catering to diverse organizational needs.
So what are the best options?
The best cost-effective advanced HR tool for teams of 10+ employees – Sloneek
The best enterprise-level HR tool for 1,000+ employees – Oracle HCM
The best support for users from the US – BambooHR
The best global solution for large companies – SAP SuccessFactors
A good alternative to consider – Zenefits 
That's it! However, if you're still unsure, let's discuss it and determine what's best for you. Contact our sales team, and we'll get back to you. 
Frequently asked questions
Who is the Workday software?
Workday is a cloud-based enterprise software company that offers comprehensive HR features, including Human Capital Management (HCM), Human Resource Management (HRM), Employee Experience, Workforce Management, Analytics and Reporting, and Financial Management.

What are the benefits of using HR software?
Implementing HR software like Workday or its competitors offers increased productivity, deeper insights into company data, improved employee engagement, reduced costs, and streamlined HR processes.
Who are workday competitors?
Workday competitors include Sloneek, Oracle HCM, BambooHR, SAP SuccessFactors, and Zenefits, each providing a unique set of features and capabilities for HR management.
What is the best all-in-one Workday alternative?
The choice of the best all-in-one Workday alternative depends on your organization's needs. 
Oracle HCM and SAP SuccessFactors are notable contenders for enterprises, while Sloneek offers a cost-effective solution with a focus on employee and freelancer management.