Top 5 FactorialHR Competitors to Consider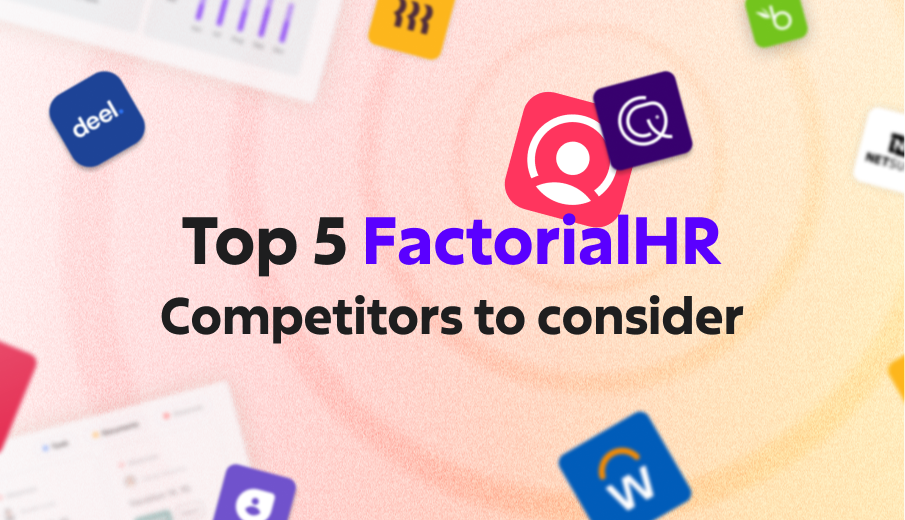 FactorialHR is a popular human resources software that helps companies streamline their HR processes. Let's take a look at the top five FactorialHR competitors. Whether you're a business owner, HR professional, or simply curious about the latest trends in HR software, this guide will provide valuable insights into the top players in the field.
What is FactorialHR?
FactorialHR is a cutting-edge human resources software solution that offers a comprehensive suite of tools and features to simplify and optimize HR management for businesses. It provides a centralized platform for various HR functions, including employee onboarding, attendance tracking, leave management, document storage, and performance evaluation.
What is FactorialHR used for?
FactorialHR is a versatile tool with a wide range of HR applications. It is primarily used for automating and optimizing HR processes. These include:
Employee Onboarding
FactorialHR simplifies the onboarding process, from document collection to training schedules, ensuring a smooth transition for new hires.
Attendance and Time Tracking
It allows for efficient tracking of employee work hours and attendance, helping in payroll management.
Leave Management
FactorialHR automates the leave request and approval process, reducing administrative overhead.
Document Storage
It provides a secure repository for storing and accessing employee documents, streamlining compliance and record-keeping.
Performance Evaluation
The platform assists in setting performance goals, tracking progress, and conducting evaluations.
Data-Driven Insights
The software provides valuable insights through data analytics, enabling businesses to make informed HR decisions.
Why do companies need FactorialHR software?
Companies need FactorialHR software for several compelling reasons. These include:
Efficiency and Productivity
FactorialHR streamlines and automates various HR tasks, reducing manual workloads and administrative overhead.
Accurate Data Management
FactorialHR ensures precise and up-to-date data management. It minimizes the risk of errors in tasks like payroll, attendance tracking, and leave management.
Scalability
Whether a business is a small startup or a large enterprise, FactorialHR can adapt to its size and needs.
Employee Engagement
With features for employee self-service and easy communication, FactorialHR enhances employee engagement.
Compliance and Reporting
FactorialHR helps businesses adhere to labour laws and regulations, reducing the risk of non-compliance.
Remote Work Support
FactorialHR's cloud-based nature makes it accessible from anywhere, ensuring HR operations can continue seamlessly, even when employees work remotely.
Cost Savings
By reducing the need for manual HR processes and paperwork, FactorialHR can result in cost savings over time.
Best FactorialHR Competitors
Here are the top 5 competitors challenging FactorialHR's position in the HR software market.
Sloneek
Features
Sloneek is an HR software designed with a focus on simplicity and user-friendliness. Its features include employee onboarding, leave management, and document storage. It also offers an employee directory and organizational chart, making it easy to manage and visualize the workforce.
Pricing
Sloneek offers transparent and straightforward pricing. It has a $4 per user, per month plan for small teams and a competitive pricing model for larger organizations.
Customer service
Sloneek is known for its responsive customer support. It offers email support and a knowledge base to help users navigate the platform.
Pros
User-friendly and easy to navigate.
Affordable pricing, especially for small businesses.
Efficient onboarding and leave management features.
Cons
May lack some advanced features offered by larger competitors.
Limited scalability for very large organizations.


BambooHR
Features
BambooHR offers a comprehensive suite of HR features, including employee data management, talent acquisition, employee benefits administration, performance management, and reporting.
Pricing
BambooHR's pricing is currently based on custom quotes. This tailored approach can potentially lead to higher costs, as add-ons may be needed to meet specific business requirements.
Customer service
BambooHR's customer support isn't a great option if you're not based in the US and the GMT-6 timezone.
Pros
Comprehensive HR feature set.
User-friendly interface.
Cons
May be relatively more expensive for very small businesses.
Advanced customization options may require technical expertise.
Zenefits
Features
Zenefits is an all-in-one HR platform that covers HR, payroll, benefits, time tracking, and compliance management. It offers a broad range of features for both HR and finance needs.
Pricing
Zenefits offers three base plans, starting at $10 per user, per month. It also offers add-ons, which make it a more expensive option.
Customer service
Many users struggle with Zenefits' customer support as it is not very responsive.
Pros
All-in-one solution for HR and payroll.
Extensive benefits administration.
Cons
Some users find the interface less intuitive compared to other platforms.
May have a steeper learning curve for new users.
Gusto
Features
Gusto focuses on HR and payroll services, including benefits administration, time tracking, and compliance management. It simplifies complex payroll processes and offers a user-friendly experience.
Pricing
Gusto offers three pricing tiers, starting at $40 per month plus an additional $6 per user, per month. For priority support and HR resources, you'll have to pay an additional $8 per user, per month.
Customer service
Gusto provides robust customer support through email and phone. However, they don't offer live chat support.
Pros
Streamlined payroll processing.
Transparent pricing.
Cons
Primarily focused on HR and payroll, lacking other HR features.
Limited scalability for larger organizations.
Workday
Features
Workday is an enterprise-level platform offering a wide array of HR and financial management solutions. It covers human capital management, financial management, and analytics.
Pricing
Workday's pricing tends to be higher and is often tailored to enterprise requirements. It offers advanced features for a premium cost.
Customer service
Workday provides comprehensive customer support, including email, phone, and community forums.
Pros
Enterprise-grade features and scalability.
Extensive analytics and reporting capabilities.
Cons
Higher pricing, less suitable for small businesses.
May be complex and require more significant training for users.
Conclusion
In this article, we've explored the top FactorialHR competitors. From the user-friendly Sloneek to the comprehensive BambooHR, Zenefits, Gusto, and the powerful Workday, each competitor has its strengths and areas where it shines.
Remember, the HR software market is competitive, and these top competitors are ready to support your HR management. Your best choice will depend on what aligns with your specific needs and goals.
Frequently asked questions
1. What is FactorialHR software?
FactorialHR software is a comprehensive HR software solution that encompasses various HR management functions. It offers essential tools for recruiting, simplifying the hiring process, and providing a comprehensive platform for managing human resources.
Whether you're looking to streamline recruiting, manage expenses, improve talent management, handle absence management, analyze recruitment data, or create an awesome employee experience, FactorialHR aims to support these critical HR functions.
2. Is there a better alternative than FactorialHR?
Yes, one noteworthy alternative to FactorialHR is Sloneek.
Sloneek offers a user-friendly approach to HR software, making it a strong competitor. It simplifies recruiting and hiring processes while also facilitating expense management, talent management, absence management, and enhancing the overall employee experience.
3. Who are the top FactorialHR competitors?
Some of the top competitors include Sloneek, BambooHR, Zenefits, Gusto, and Workday. These competitors bring their unique strengths to the table, catering to different organizational needs and preferences.
4. What are the pros & cons of FactorialHR?
The pros of FactorialHR include its efficiency in expense management, robust talent management capabilities, comprehensive absence management features, the ability to enhance employee retention rates, and its valuable recruitment analytics.
On the downside, some cons of FactorialHR may include its pricing structure, which may not align with the budget of all businesses, and the possible learning curve for new users as they explore its extensive feature set.