Exploring the Top 5 Sesame HR Competitors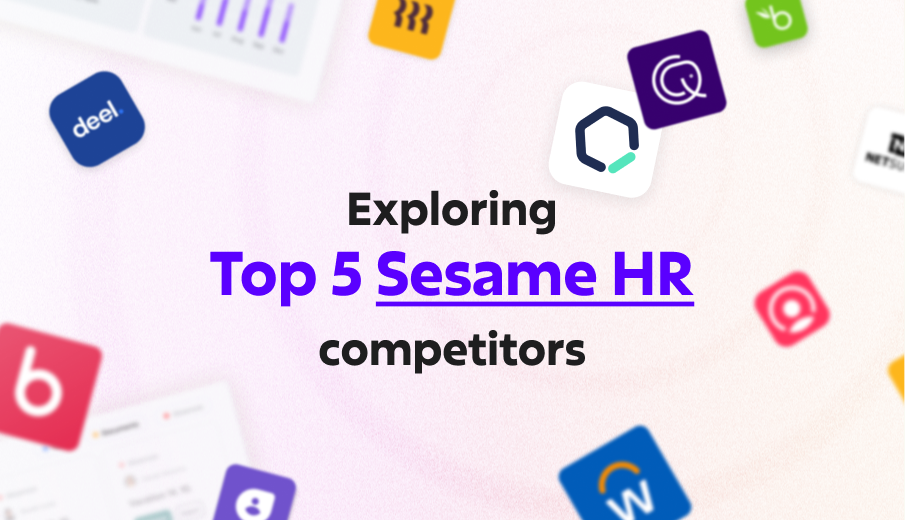 Sesame HR is a reliable human capital management solution for many businesses. However, competition is fierce, and for those seeking alternative HR software choices, there are plenty of promising contenders. In this article, we will explore Sesame HR and its benefits before introducing you to five other software choices.
What is Sesame HR?
Sesame HR is a cloud-based HR software solution designed to streamline and simplify human resources management for fast-growing businesses. It offers a range of tools for employee data management, payroll processing, benefits administration, time and attendance tracking, and compliance.
Sesame HR's user-friendly interface and feature-rich functionality empower HR professionals to efficiently handle tasks such as onboarding, offboarding, and performance management. It serves as a central hub for HR processes, helping businesses automate HR tasks, reduce administrative workload, and ensure a smooth, compliant, and employee-centric HR operation.
Why do companies need Sesame HR software?
Companies need Sesame HR to perform a range of core HR functions, such as:
Streamlined HR Management
Sesame HR software simplifies and centralizes HR tasks, offering tools for employee data management, payroll processing, applicant tracking, document management, employee life cycle management, benefits administration, and time tracking.
Efficiency and Error Reduction
Automation within Sesame HR reduces manual work, minimizing the potential for errors and allowing HR teams to focus on strategic initiatives.
Compliance Assurance
Sesame HR helps companies maintain compliance with labour laws and regulations, reducing the risk of non-compliance penalties.
Employee Self-Service
The software offers employee self-service features, empowering individuals to manage employee details, time-off requests, employee schedules, and benefits.
Enhanced Employee Experience
Sesame HR improves the overall employee satisfaction and experience by reducing administrative overhead and enhancing employee productivity.
Best Sesame HR Competitors
Sloneek
Features
Sloneek offers all-inclusive features for HR management, including onboarding, employee self-service, time-off management, and document storage. It also includes performance management tools, analytics, and integrations with various business software.
Pricing
Sloneek's pricing is transparent and budget-friendly, starting at $4 per user per month. The second plan, offering more features, costs $6 per user per month, with no hidden costs.
Customer service
Sloneek provides customer support through email and offers a knowledge base for user assistance.
Pros
Cost-effective pricing with no hidden charges
Customizable range of functionalities
Integration options for seamless workflow with other software
Cons
Onboarding process and HR-related features only


Gusto
Features
Gusto specializes in user-friendly payroll, built-in time tracking tools, and benefits administration features. It includes several human resource tasks like payroll processing, benefits management, time tracking, and employee self-service. Gusto also offers compliance support.
Pricing
Gusto's pricing varies based on your chosen plan. The base plan starts at $40 per month plus an additional $6 per user per month. Priority support and HR resources are available for an additional $8 per user per month.
Customer service
Gusto offers customer support through phone and email. However, it doesn't offer live chat support.
Pros
Friendly user interface
Transparent pricing with various plan options
Cons
Additional costs for priority support and HR resources
May not offer as extensive HR features as some competitors
Zenefits
Features
Zenefits offers a wide range of HR features, including employee self-service, benefits administration, time tracking, HR task management, employee scheduling, and compliance management. It also provides integrations with various business applications.
Pricing
Zenefits offers three base plans starting at $10 per user per month. Additional add-ons, like Payroll, Services, Benefits, and Recruiting, are available at various price points, providing flexibility but potentially higher costs.
Customer service
Zenefits offers customer support through phone, chat, and email, along with a knowledge base for self-help.
Pros
Comprehensive range of functionalities and intuitive interface
Flexible pricing options based on employee count
Cons
Some users may find the platform's complexity overwhelming
Pricing can vary depending on add-ons and requirements
Namely
Features
Namely provides HR solutions, including benefits administration, payroll processing, time tracking tool, HR task management, and employee self-service. It also includes performance management and reporting tools.
Pricing
Namely's pricing is tailored to specific needs, and costs can fluctuate significantly depending on the size and demands of the company.
Customer service
Namely offers customer support through email and phone, as well as a knowledge base to assist users.
Pros
Comprehensive HR solutions, including payroll and benefits administration
Customized pricing for different business sizes
Reporting and performance management tools
Cons
Limited transparency in pricing without requesting a quote
Support options may be limited compared to some competitors
Rippling
Features
Rippling offers an all-in-one HR and IT management platform, including onboarding, payroll, benefits administration, time tracking, and device management. It simplifies HR and IT tasks for organizations.
Pricing
Rippling employs a custom quote pricing model. This personalized approach ensures you pay for services your business requires, though it needs more time and consideration during the evaluation phase.
Customer service
Pros
All-in-one tool combining HR and IT management
Streamlined employee onboarding and payroll processing
Integrates with a wide range of popular software
Cons
Pricing can become costly for organizations with many employees
May offer more features than smaller businesses need
Conclusion
Sesame HR stands as a robust solution, offering streamlined HR management and compliance. Its competitors bring their unique strengths to the table, such as affordability, flexibility, or advanced functionality.
The choice among them ultimately depends on your organization's size, goals, and budget. By making an informed business decision, you can enhance your HR operations and ensure they align seamlessly with your goals.
Frequently asked questions
1. What does Sesame HR do?
Sesame HR is a single platform for comprehensive employee management. It handles employee scheduling, productivity tracking, and employee records management, making it a versatile core HR software solution. It also offers analytics to drive data-driven decisions.
2. Which features does Sesame HR offer?
Sesame HR provides key features to handle critical tasks like employee scheduling, employee productivity monitoring, employee management, employee records management, and employee time tracking. It serves as a comprehensive core HR software with integrated analytics platform.
3. Who are the top 5 Sesame HR competitors?
The top five Sesame HR competitors are Sloneek, Gusto, Zenefits, Namely, and Rippling, each offering unique strengths and features in the HR software landscape.
4. How to implement complete HR software in my business?
To implement complete HR software, evaluate your specific business needs, consider factors like size, budget, and functionality requirements, and choose an all-inclusive HR software that aligns with your objectives. Implement it by following the human resource platform's provided guidelines and support.