Exploring ADP Competitors: Finding the Best HR Software Match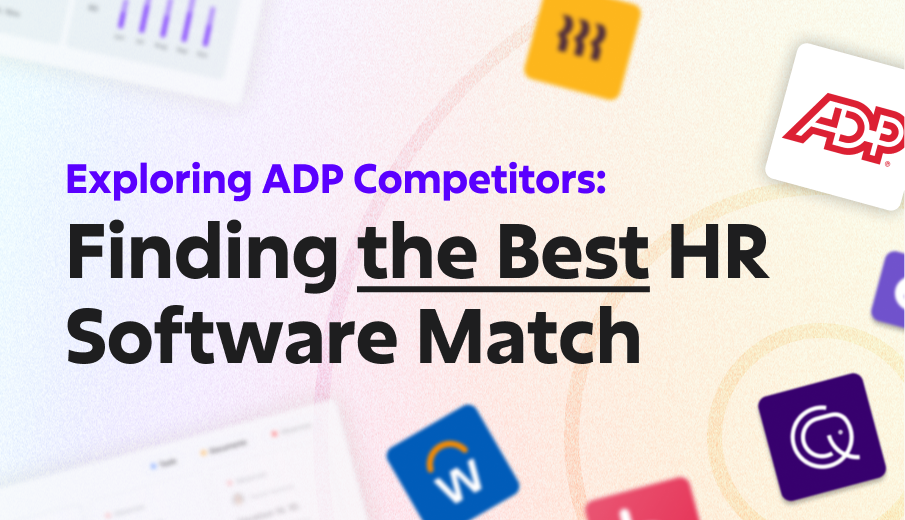 Are you on the quest for the perfect HR software to complement your business needs? Look no further as we have prepared a comprehensive overview of the best ADP competitors.
Our analysis goes beyond the surface, diving into essential details such as key features, pricing structures, and the unique advantages (or potential drawbacks) each contender brings to the table.
This guide also equips you with the insights needed to navigate the terrain of HR solutions to help you make an informed decision.
What Is ADP?
ADP has over 70 years of expertise in HR and payroll for businesses of all sizes. Currently offering 18 specific products under different names, there's certainly a lot to explore when looking at ADP HR solutions.
Researching such a range of tools reliably can be challenging, but that's why you're here, right?
As a global provider, ADP offers a range of tools that cater to various aspects of HR and workforce management, including payroll processing, time and attendance tracking, benefits administration, and more.
What Is ADP Used For?
ADP serves as a centralized hub designed to streamline and enhance various facets of workforce management for organizations.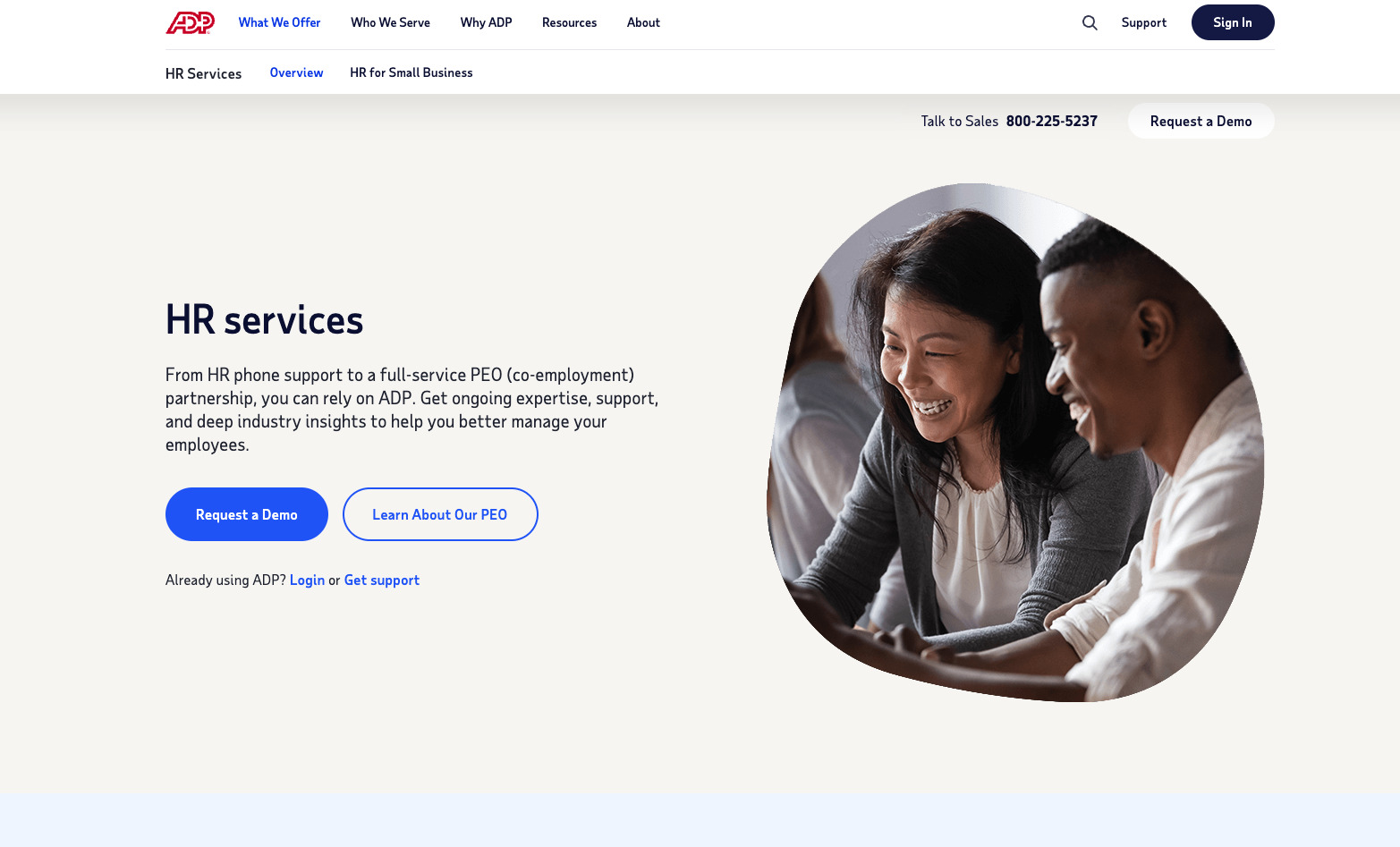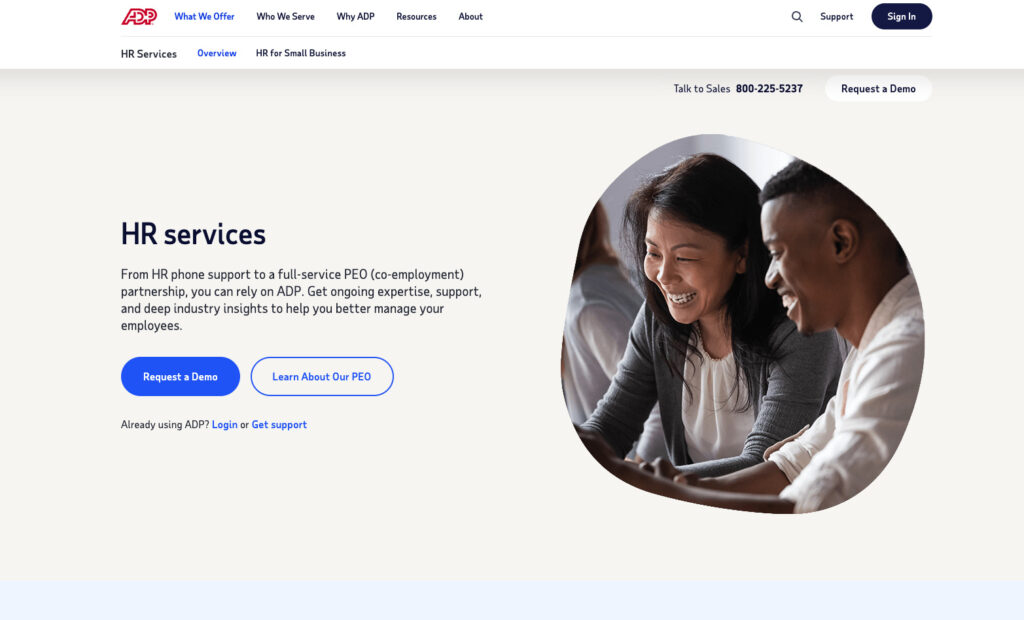 As a comprehensive HR solution, it empowers businesses to efficiently oversee their workforce, optimize HR processes, and elevate the overall employee experience throughout their tenure within the company.
The wide range of features they offer can be divided into these categories:
Payroll
Time & Attendance
Talent
Benefits & Insurance
HR Services & PEO
Compliance Services
Integrations
App Marketplace
ADP incorporates AI into its operations with a strong emphasis on privacy and security. They've established a robust set of principles and processes to guide the use of AI and machine learning.
This ensures unbiased insights into workforce dynamics while prioritizing ethical and secure practices.
With such a portfolio, there's a lot ADP has to offer, so the main question is "Is it the best price-value ratio for your company?"
How Does ADP Work?
As mentioned, the ADP solution is divided into multiple cloud-based tools that unite your HR and payroll processes.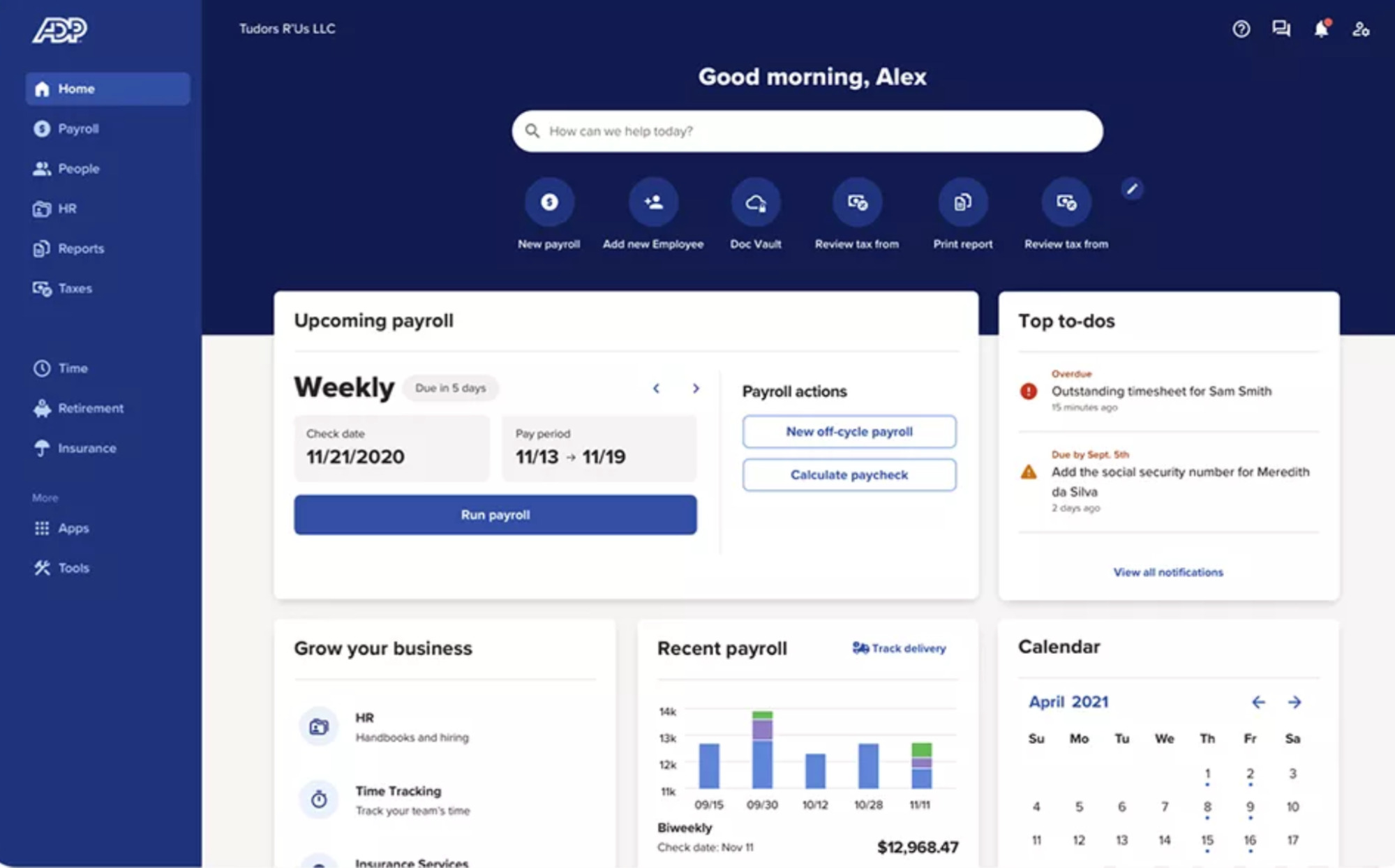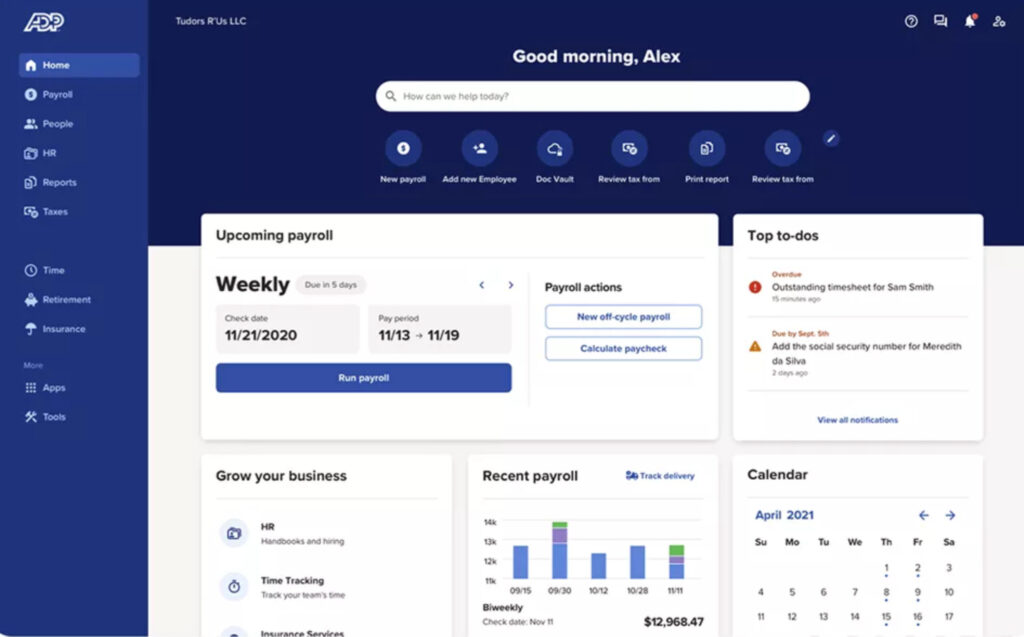 Unfortunately, there's no way to try their HR software by simply visiting the ADP website. While having a clear understanding of your needs can be beneficial, the sophistication of ADP's HR tools might not match that of its competitors.
As the cost-effectiveness ratio stands as a critical factor, it becomes challenging to ascertain the exact features offered. This often entails combining different ADP products to formulate a tailored solution that suits your requirements.
Why Do Companies Need ADP Software?
Embracing ADP software unlocks a host of benefits for both HR departments and the overall organization.
Efficiently managing payroll, time tracking, and benefits administration streamlines HR processes, allowing HR teams to focus on strategic initiatives that drive employee satisfaction and productivity.
Moreover, ADP's integrated approach enhances accuracy and compliance, reducing the risk of errors in essential HR functions.
By consolidating data and automating tasks, companies experience increased operational efficiency and reduced administrative burdens, freeing up resources for more impactful activities.
Additionally, ADP's commitment to privacy and security ensures the safe handling of sensitive employee data, fostering trust within the organization. Companies turn to ADP for its ability to enhance HR operations, elevate workforce experiences, and drive holistic organizational growth.
What Are the Benefits of Implementing ADP Software?
Implementing ADP software yields a multitude of advantages.
These encompass streamlined payroll processing, accurate time tracking, and efficient benefits administration. This, in turn, minimizes errors, enhances compliance, and strengthens operational efficiency. 
Errors Reduction
By implementing ADP software, the risk of errors in critical HR functions such as payroll processing, time tracking, and benefits administration is significantly reduced.
The automated processes and integrated data ensure accuracy, minimizing the potential for costly mistakes that could impact employee satisfaction and regulatory compliance.
Elevated Compliance
ADP's software solution goes beyond streamlining processes – it ensures that your HR operations align with regulatory and legal requirements.
The software's built-in compliance features and updated regulations keep your organization up-to-date, mitigating the risks associated with non-compliance and potential penalties.
Amplified Operation Efficiency
Implementing ADP software optimizes HR operations, leading to streamlined workflows, reduced manual tasks, and improved resource allocation.
This operational efficiency not only saves time but also allows HR teams to focus on strategic initiatives, enhancing overall productivity and contributing to the company's growth trajectory.
Integrating ADP software fosters data-driven decision-making, while the easy-to-navigate dashboard simplifies navigation and task execution.
When Do You Need to Implement ADP Software?
Implementing ADP software becomes essential when your HR processes demand enhanced efficiency, accuracy, and compliance.
If managing payroll, time tracking, and benefits administration is consuming excessive time and resources, ADP can provide a streamlined solution.
Furthermore, when data integration across HR and finance is paramount for informed decision-making, ADP's comprehensive tools become invaluable.
What Is the Price for Implementing ADP or ADP Competitors?
Pricing details for ADP and its various products are not available, and considering their extensive range of products – we get it.
You'll have to talk to sales from the beginning, as there are no insights into their software, or examples of how it works, available on their website.
The number of employees is another significant factor for HR software like ADP.
According to user reviews, each product has a specific price, with an additional cost associated with each employee. Altogether, this makes ADP one of the more expensive solutions with complicated pricing.
The price is also highly influenced by your company size. ADP categorizes its offerings into three tiers based on employee count
1 – 49 employees
50 – 999 employees
1,000+ employees
According to OutSail, the HR software evaluation website, ADP pricing should include an implementation fee.
Key HR Software Attributes to Keep In Mind
Every HR software should individually meet the needs of each company. They may differ in their benefits, but each of them should include several fundamental features
Enhance your employee management, optimize HR processes for efficiency, and improve the engagement of your employees.
Which features in HR software should you focus on?
Time and Attendance Tracking
The era of manual processes has passed.
Having the ability to track attendance, manage schedules, and effortlessly monitor leave requests is an excellent initial indicator of the right HR software for your needs.
Ensure precise payroll processing and effortless compliance with just a single click.
Talent Acquisition and Recruitment Management
Sourcing top talent has never been easier. Look for HR software that allows you to effortlessly manage every step of your recruitment process.
From posting job openings to applicant tracking, interview scheduling, and even onboarding, it should provide a seamless experience. Access a pool of candidates, streamline your hiring decisions, and welcome new team members with ease.
Efficiently nurture your organization's most valuable asset — your people.
Advanced Analytics and Reports
Unlock the power of data-driven HR management.
Seek an HR software that offers analytics and reporting capabilities. It should provide in-depth insights into your workforce, helping you make informed decisions.
Look for features like customizable report generation, trend tracking, and predictive analytics.
With these tools at your disposal, you can transform complex data into actionable strategies, optimizing your HR processes and elevating your organization's performance.
Integrations
Seamless connectivity to all your already implemented systems is the key.
The right HR software should offer various integrations with other essential tools your organization uses. Look for options to effortlessly link your HR system with payroll, accounting, and project management software.
This integration capability ensures data consistency across your organization, eliminating duplicate work and streamlining processes for maximum efficiency.
Mobile Apps
An HR software with mobile apps lets you access critical HR functions from your smartphone or tablet.
Whether it's approving leave requests, accessing employee data, or checking in on essential HR processes, mobile accessibility keeps you in the loop on the go.
It's the flexibility your modern workforce needs, ensuring HR support is always just a tap away.
Best 7 ADP Competitors
Let's dive into the world of ADP competitors for both small and larger companies.
We'll examine their most crucial features, pricing options, and other key components that can help you decide whether this is the right tool for you or not.
Acquire modern HR software with the best cost-effectiveness and all that you really need.
1. Sloneek
The top solution on our list is ideal for managing smaller teams of employees and freelancers. It's a valuable companion for both you and your employees, supporting them throughout their journey.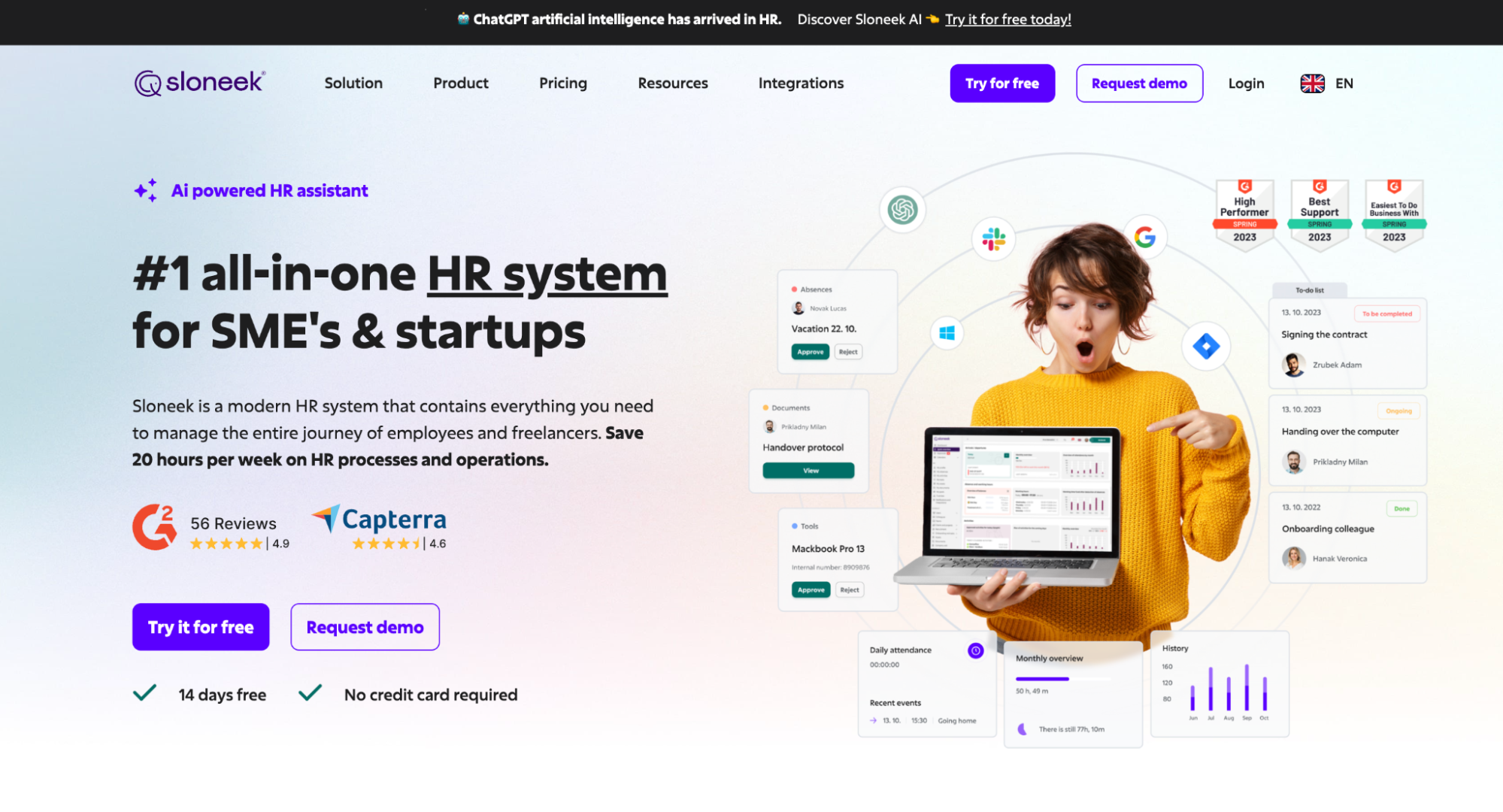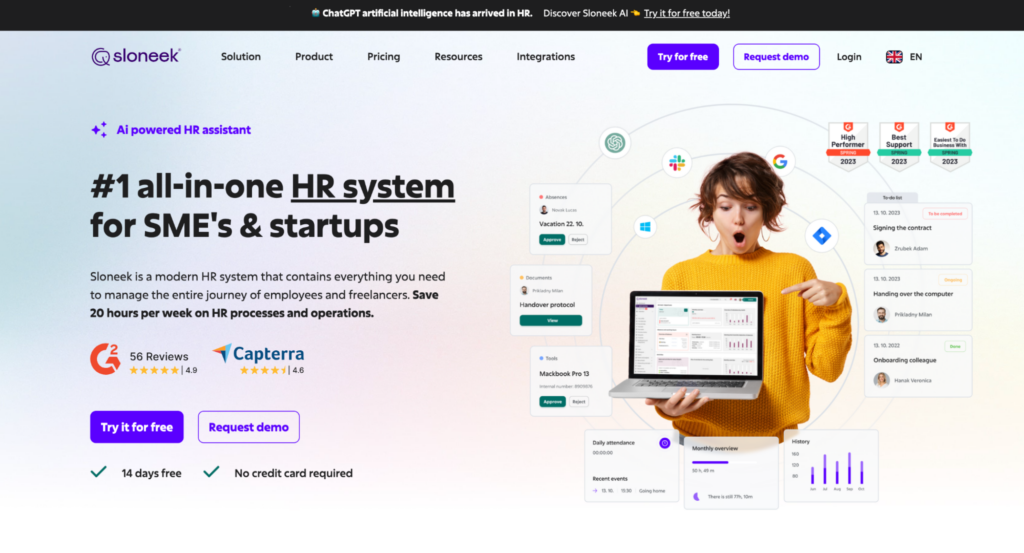 Sloneek has it all – from an available trial version and on-call demo, through various features, integrations, and the mobile app, to AI and great reviews on G2 and Capterra.
Let's take a look at all the key features a reliable all-in-one HR software should offer.
Features
Sloneek offers an extensive array of features, categorized as Essential or Professional depending on your chosen plan.
Each feature is accompanied by a detailed description. These functionalities encompass essential employee management tools, along with the capability to create personal folders for all the resources necessary for professional growth and employment.
These main categories encompass all of the features:
Records of workers
Absence management
Activities
Integrations
Work assets
Skills and performance
Task lists
Engagement
Documents and signing
ATS
Mobile applications
Reporting
Attendance system
Whether it's streamlining the onboarding and offboarding process, efficiently managing employee absences and working hours, or preparing essential documents, Sloneek is a valuable tool in the world of HR software.
As an advanced SaaS business, Sloneek goes the extra mile by offering a complimentary demo tour, guided by their experts.
Pricing
Sloneek stands out for its cost-effective and transparent pricing structure, offering a compelling advantage to users.
Under the Professional plan, you gain access to a comprehensive suite of features, all for $6 / per user / per month. This plan covers all the key features and the best thing about SLoneek
However, if you require a more streamlined solution and don't need all the features included in the Professional plan, you can opt for the Essential plan, priced at just $4 / per user / per month.
Customer Service
Efficiency and ease of use are paramount when it comes to HR software.
In the competitive environment of HR management solutions, Sloneek truly shines as a straightforward and efficient platform.
With Sloneek, you don't need to be a tech guru to make the most of its capabilities. The platform is designed to be accessible to HR professionals at all levels of expertise.
This means that whether you're an HR veteran or just starting in the field, Sloneek empowers you to harness the full potential of HR management software.
Extensive training and resources are available to ensure that you and your team are well-equipped to make the most of the software. From video tutorials to comprehensive documentation, they have you covered every step of the way.
| | |
| --- | --- |
| ✅PROS | ❌CONS |
| Affordable prices with live demo and 2-week trial | Solely HR-related features |
| Entire recruitment covered in one system | Room for improvement |
| Great support | |
| Fast deployment process | |
2. Paychex
When it comes to simplifying HR management for small businesses, Paychex takes the lead.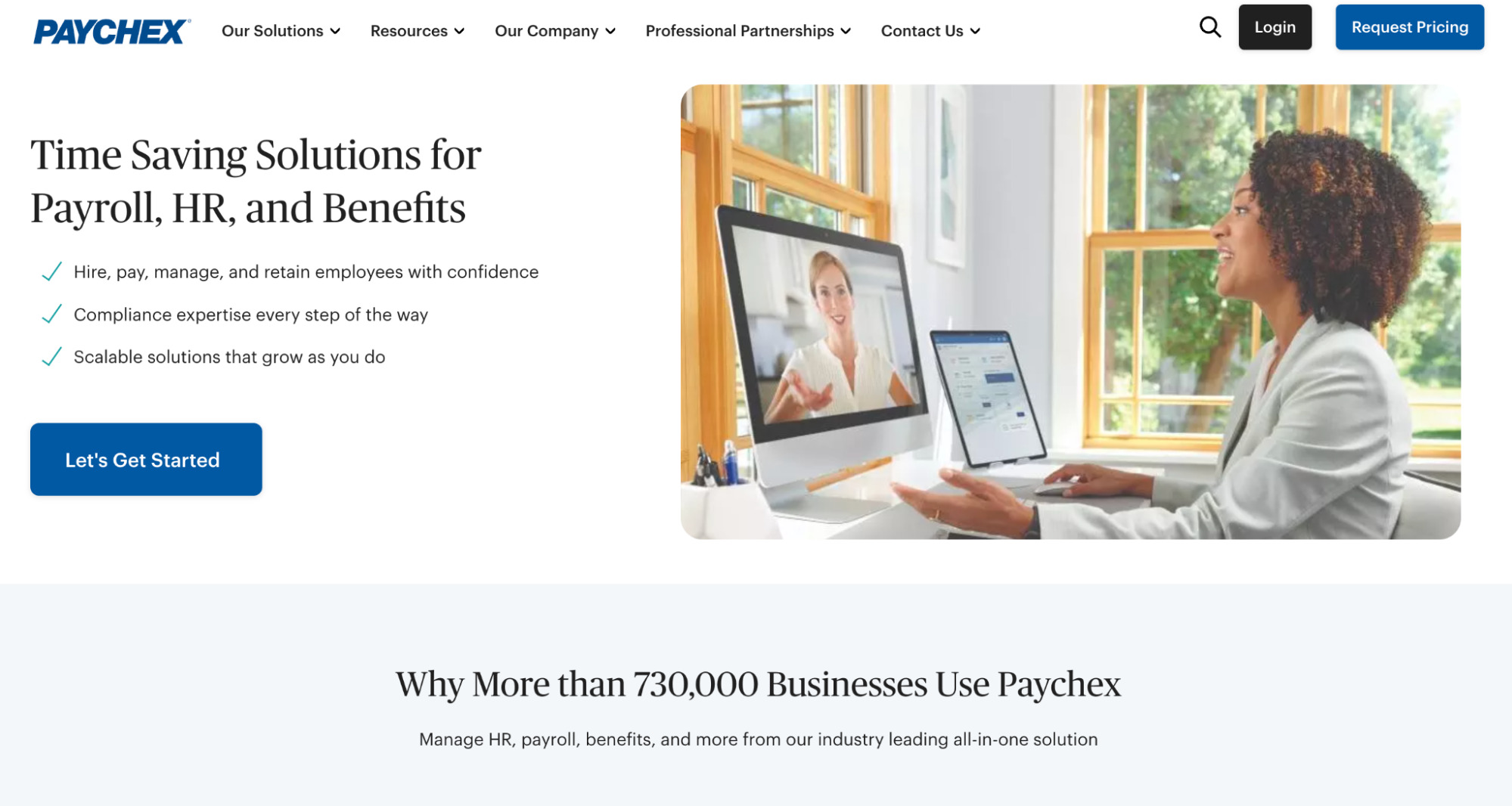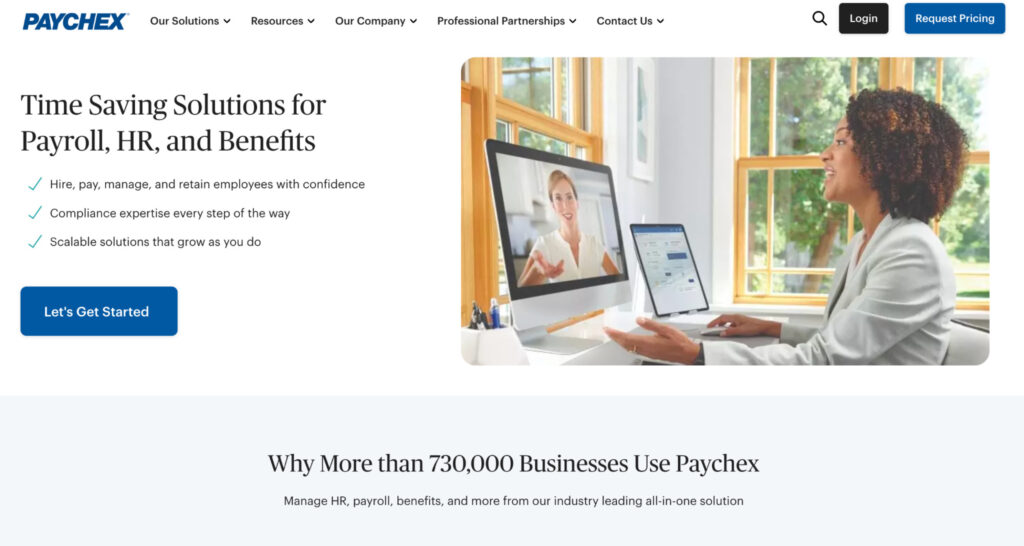 As the name suggests, Paychex is renowned for its payroll services, but it goes beyond that. Even though it offers plans for all sizes, according to our research it's ideal for smaller companies and growing businesses.
Paychex focuses on companies based in the US, which has its own pros and cons.
So if you're a US company, Paychex should be able to help you with your tax credit, for those around the globe there are probably more suitable solutions out there anyway.
Features
Paychex evolved into a more complex solution offering different categories that we can divide into:
Payroll services
HR services
Business Insurance
Employee benefits
Time & Attendance
By automating tax calculations, payments, and filings through Paychex, it not only saves you time but also reduces the risk of late or inaccurate tax payments.
Pricing
Instead of fixed prices, Paychex provides custom quotes, enabling you to create a tailored HR and payroll solution that aligns with your budget and demands. But this can get pricey.
When it comes to the pricing of Paychex Flex, their payroll bundle, they provide options tailored to accommodate different business sizes and requirements.
The starting price for the lowest plan called Essentials is priced at $39 / per month + an additional $5 for each employee / per month.
Customer Service
Efficient and responsive customer support is vital when dealing with HR management.
Paychex understands the importance of providing assistance when you need it most. They offer various support channels, including phone and online chat, to address your inquiries and concerns promptly.
While Paychex has established itself as a trusted HR solution, it's worth noting that customer experiences may vary, as is common in the industry.
To get a better sense of user satisfaction, consider exploring reviews and ratings from reliable sources like G2.com.
Paychex offers a robust HR management solution with a comprehensive feature set, flexible pricing options, and a commitment to customer support.
| | |
| --- | --- |
| ✅PROS | ❌CONS |
| Comprehensive Recruitment | Pricing |
| Scalability | Limited Customization |
| | |
3. Workday
Workday is a leading HR software company, specializing in cloud-based solutions that offer a wide range of comprehensive HR features.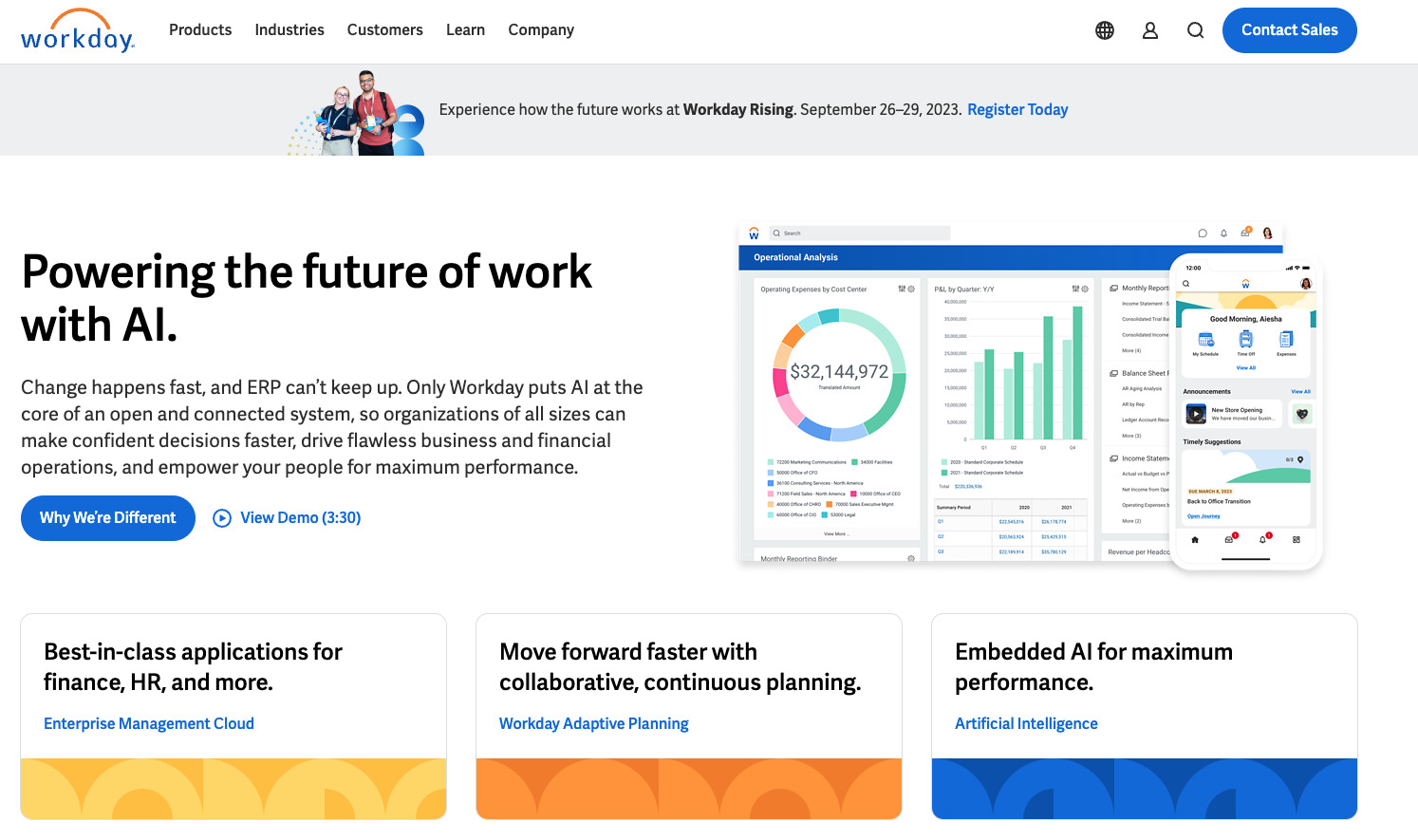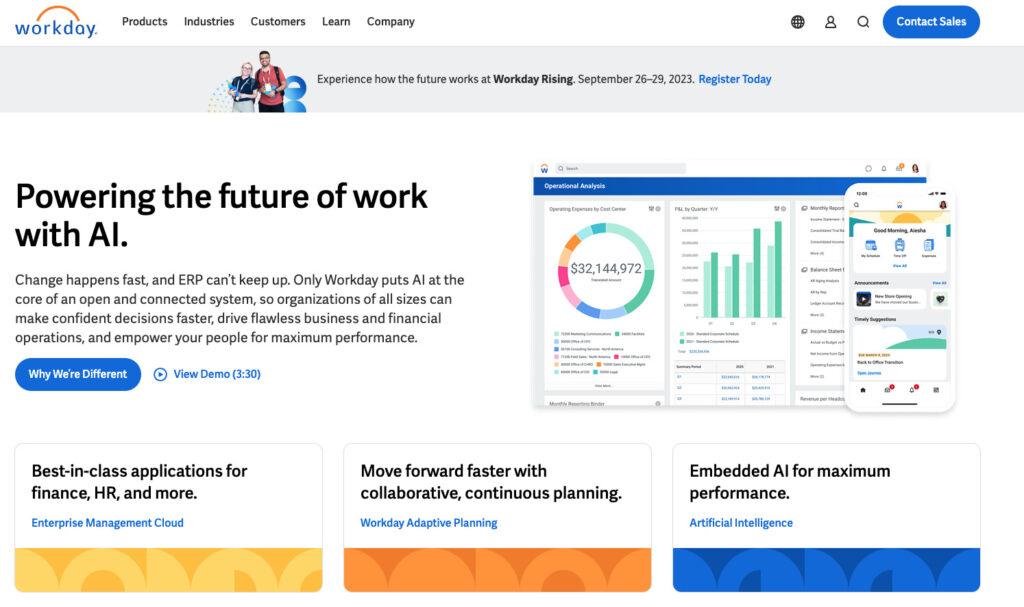 They are a popular choice due to their dummy-proof dashboard and integrated tools for workforce and HR management processes.
TIP: Explore Workday competitors in our dedicated comparison.
Workday employs AI and machine learning to identify talent and skill gaps, optimizing employee performance and engagement.
Additionally, it plays a crucial role in financial planning and management.
Workday operates on a cloud-based model, ensuring accessibility from anywhere and promoting flexibility for businesses of all sizes. Its modern, intuitive interface enhances user navigation and task efficiency.
Features
Workday offers a comprehensive list of HR features.
Human Capital Management (HCM)
Human Resource Management (HRM)
Employee Experience
Workforce Management
Analytics and Reporting
Planning solutions
Financial management
Tailored experiences guarantee ongoing engagement at every stage of an individual's career journey. Workday offers advanced analytics tools to facilitate smarter decision-making and streamline your HR processes.
Pricing
Workday's pricing model involves custom quotes, making direct comparisons challenging.
It's worth noting that Workday tends to be among the pricier options available.
While it offers a comprehensive range of features, your specific needs may not require them all. Some users have reported starting monthly prices at $99 / per user / per month.
According to HR tool research company OutSail, Workday primarily serves as an Enterprise HRIS, best suited for larger organizations with over 2,000 employees.
Customer Service
Effective customer service plays a pivotal role on the scene of HR management, and Workday is dedicated to delivering support when it matters most.
Workday distinguishes itself by providing an extensive 'Learn' page, complete with comprehensive documentation, educational videos, and informative demos.
These resources empower users to navigate the platform with ease and maximize its potential.
Workday provides a feature-rich HR management solution and emphasizes user education and support. This approach suits individuals who prefer self-study and may not require immediate chat support.
| | |
| --- | --- |
| ✅PROS | ❌CONS |
| Comprehensive solution | Complex implementation |
| | Cost |
4. Rippling
When it comes to ADP competitors, Rippling is a notable player offering a wide array of HR and payroll solutions.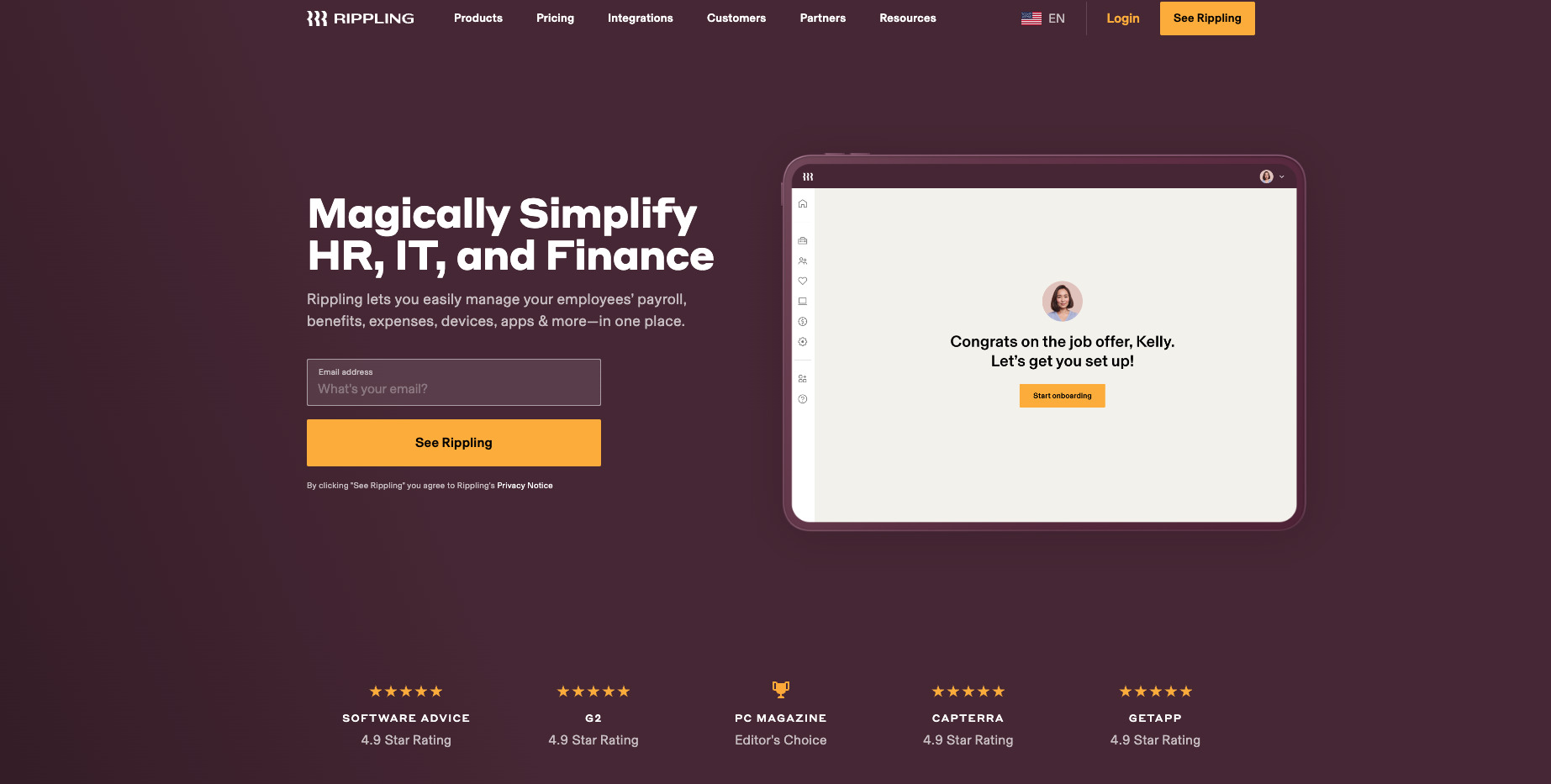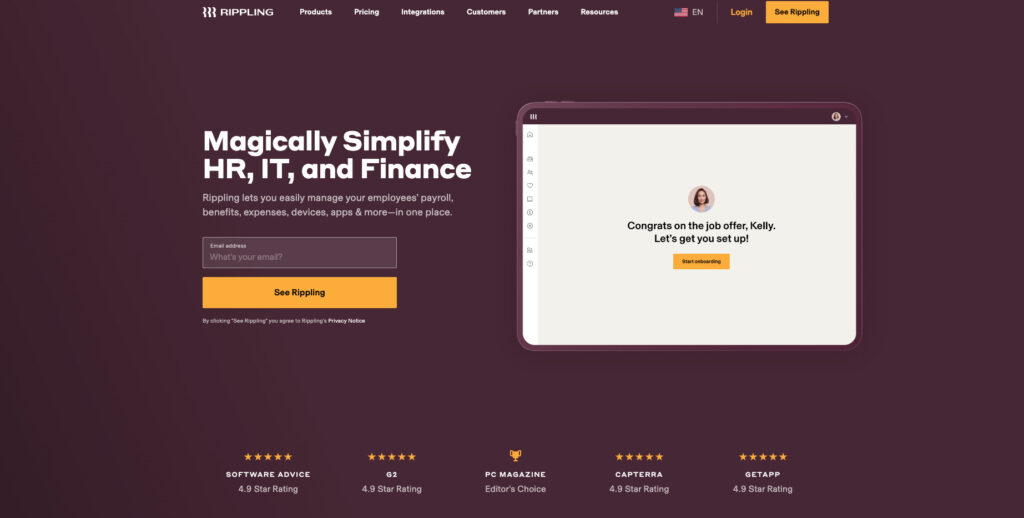 With a wide array of features and a focus on customization, Rippling is a serious adept to consider when choosing the right HR software for you.
Features
Rippling is your one-stop shop for a comprehensive suite of HR and payroll features.
Here's a glimpse of what it has to offer:
US Payroll
Recruiting
Global Payroll
Headcount Planning & Comp Bands
Time & Attendance
Learning Management
Benefits
Pulse
PEO Services
Pricing
Rippling's pricing is available only through custom quotes, and the cost can vary based on factors like the number of add-ons you require and the size of your organization.
This tailored approach allows you to build a solution that fits your budget and requirements.
Customer Service
Rippling takes customer support seriously, offering a range of resources to assist users.
Their extensive knowledge base, available on their website, serves as a valuable self-help resource.
Rippling also provides chat support to address your queries promptly.
| | |
| --- | --- |
| ✅PROS | ❌CONS |
| Customizable solution | US-centric Features |
| | Complexity |
5. Paycor
In the landscape of ADP competitors, Paycor emerges as a versatile HR and payroll solution designed to streamline HR operations with its uncomplicated design.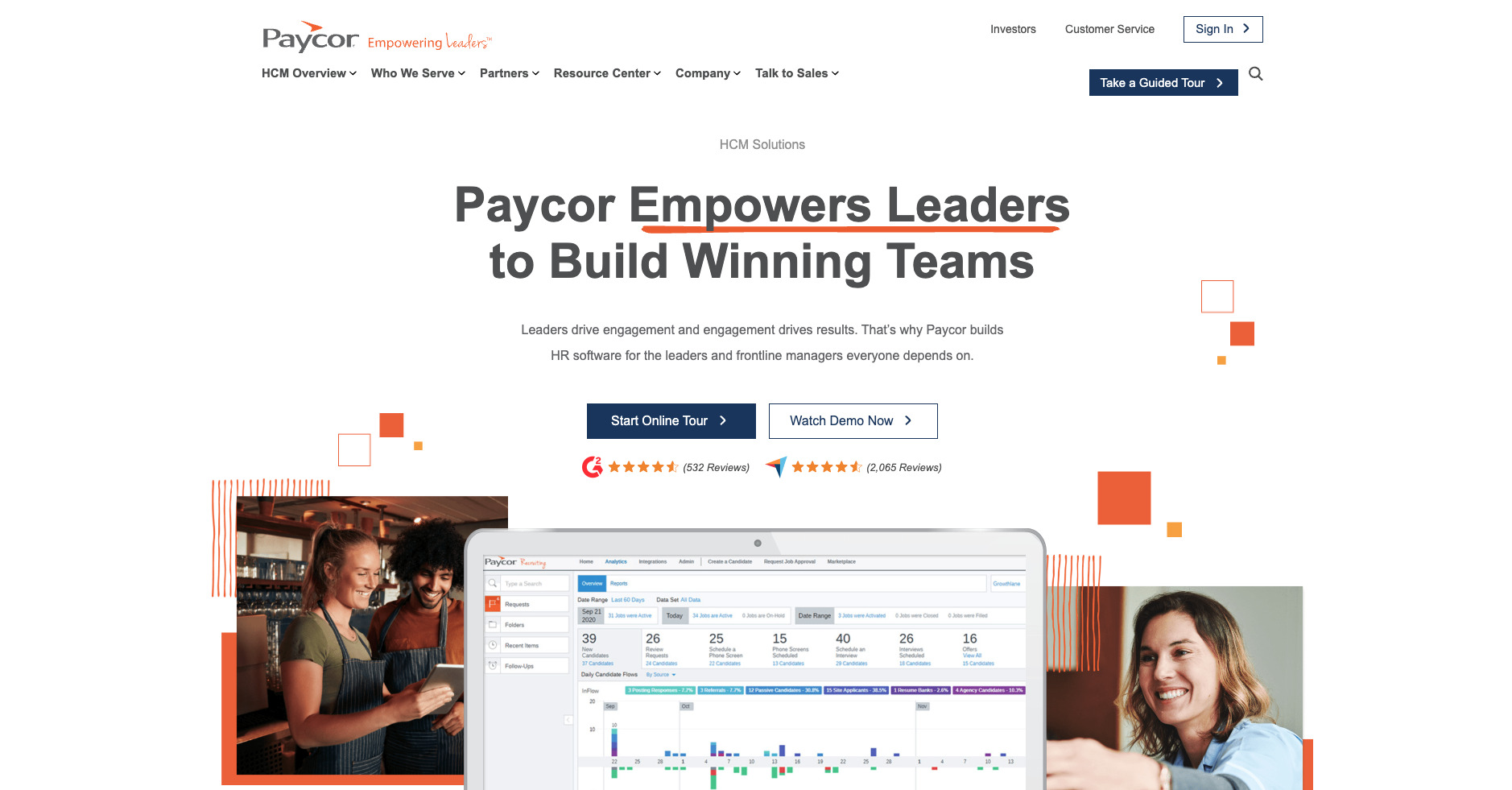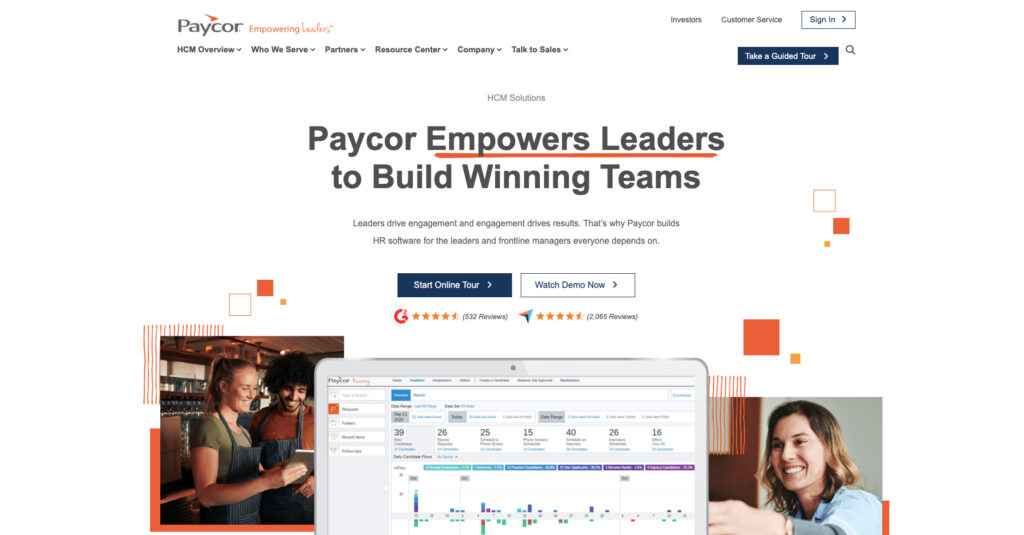 Paycor has to offer numerous advanced HR features.
Features
Paycor presents a comprehensive suite of HR and payroll features that can enhance your HR processes.
Here's an overview of the key segments:
HR & Payroll Software
Talent Management
Workforce Management
Employee Experience
Benefits Administration
More Customer Benefits
Pricing
Paycor's pricing is structured to accommodate businesses of different sizes. The offers are divided into two categories – companies with 50 employees and companies with up to 1,000 or more employees.
The pricing is not available on the website without entering contact details, but according to Capterra, the plans start at $99.
This makes Paycor one of the more expensive HR tools out there.
Customer Service
A guided tour of their platform is available to help users get familiar with its features.
Paycor provides an exhausting resource center that includes blogs and a glossary. This resource center serves as a valuable knowledge hub, offering insights and explanations to empower users.
| | |
| --- | --- |
| ✅PROS | ❌CONS |
| HR and payroll features | Limited international features |
| Educational resources | Hidden cost |
6. Namely
Namely enters the arena as a robust HR and payroll solution, but what does it bring to the table?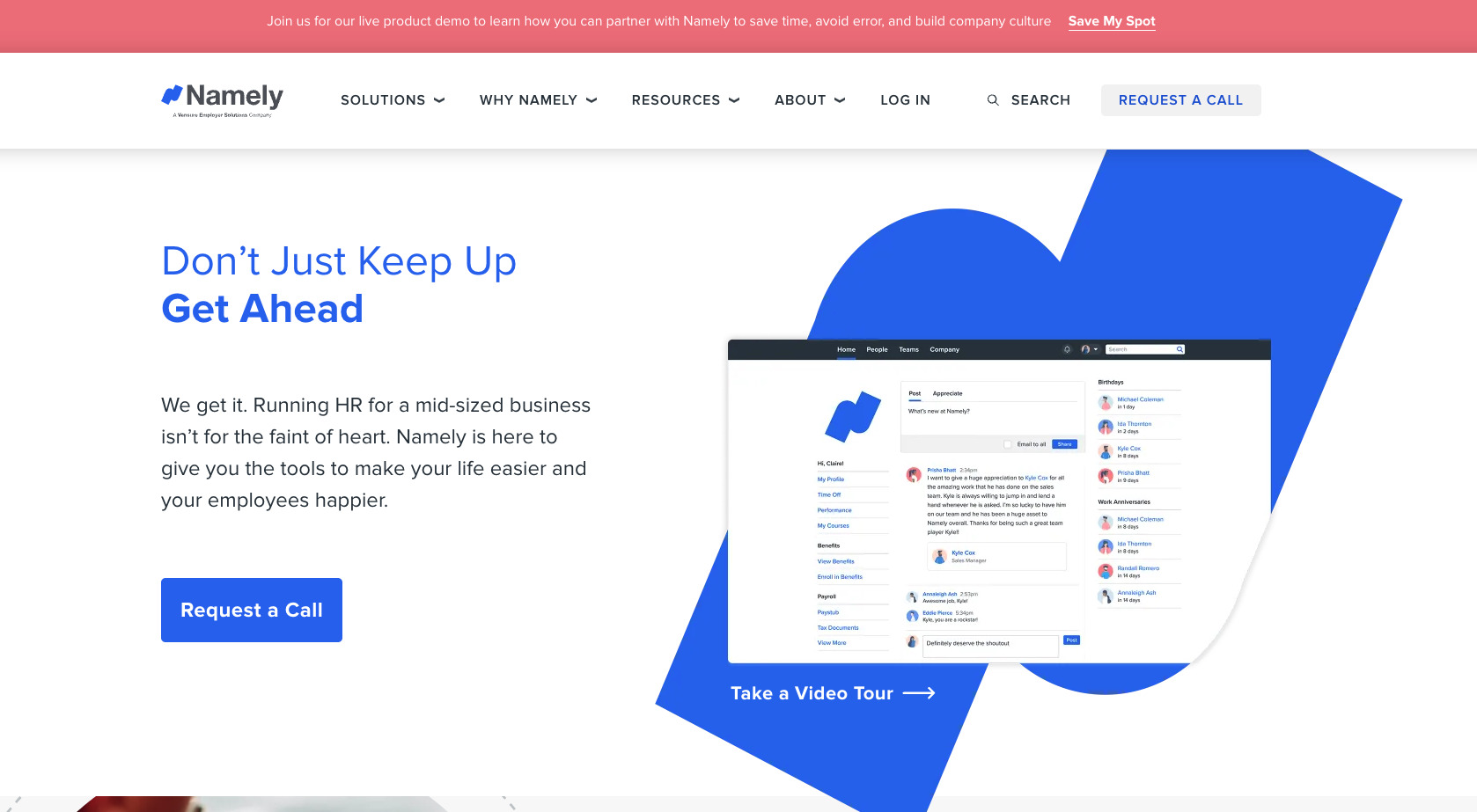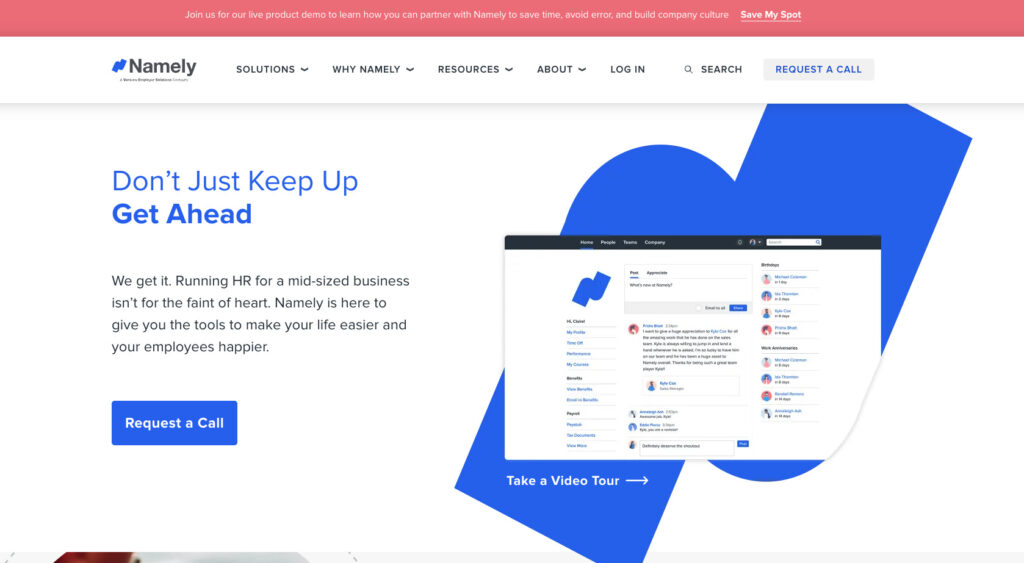 Namely as one of the ADP competitors offers a comprehensive suite of features that cover a broad spectrum of HR needs.
What's included in this comprehensive HR software?
Features
Namely prides itself on being a versatile HR solution capable of streamlining various HR processes.
Within Namely's feature set, you'll discover a range of core functionalities that cater to diverse HR requirements:
HR Management
Benefits Administration
Compliance
Talent Management
Payroll & Time
HR Analytics
Namely's comprehensive feature set positions it as a viable solution for businesses of varying sizes, from startups to enterprises.
Integrations are another important part included in the Namely software.
Pricing
Namely takes a personalized approach to pricing, with no fixed rates displayed on their website.
Instead, businesses interested in Namely must request a demo and custom quote.
This tailored pricing model allows for flexibility based on an organization's specific requirements and size.
Customer Service
Namely offers a frequently asked questions (FAQs) section on their website to assist users.
However, live chat, phone support, and email support options are not readily available, which might impact the accessibility of immediate assistance.
| | |
| --- | --- |
| ✅PROS | ❌CONS |
| Scalability | Limited support |
| Integrations | Complex implementation |
7. Gusto
The last, but certainly not least on our list is Gusto, a robust HR and payroll solution.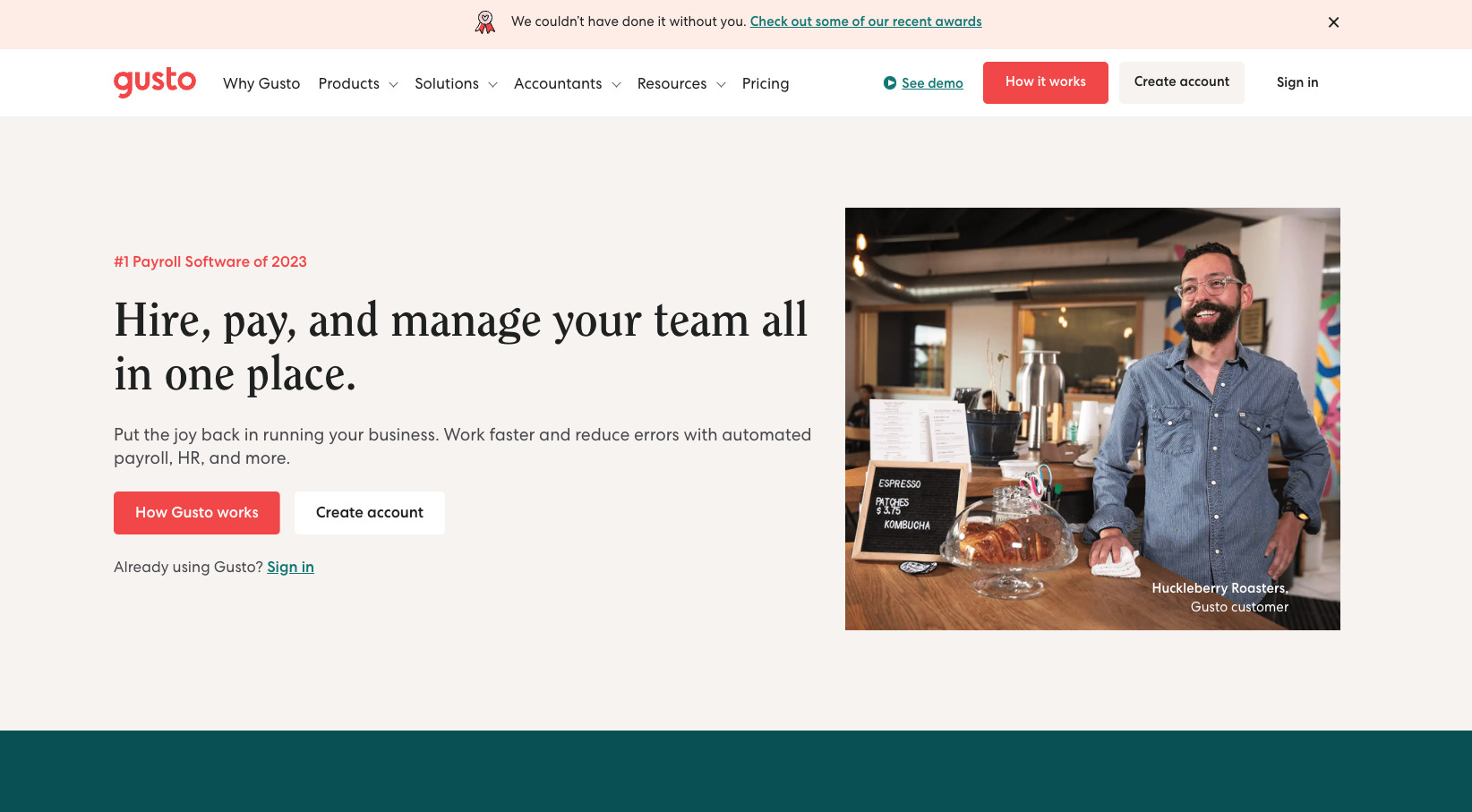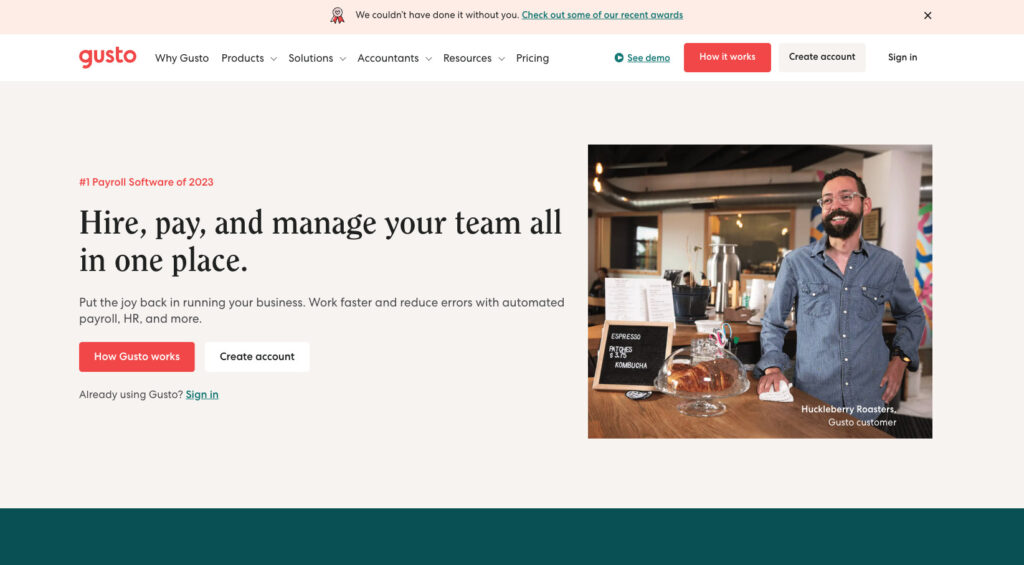 Gusto is particularly well-suited for individuals and smaller teams, making it an excellent choice for businesses with up to 10 employees or more.
This versatile platform offers a comprehensive suite of HR tools to simplify your business operations.
Features
Gusto attends to various HR needs.
Gusto is a modern, award-winning solution that caters to various HR needs with its comprehensive feature set.
Payroll
Employee Benefits
Hiring & Onboarding
Talent Management
Time & Attendance
Insights & Reporting
Gusto is easy to use and helps businesses make their HR processes more effective, allowing you to handle payrolls with just a few clicks.
Pricing
Gusto offers three pricing options, making it accessible to businesses of varying sizes.
Gusto's pricing structure is clear and transparent.
The lowest plan called Simple starts at $40 per month, plus $6 / per user / per month, this plan includes automatic payroll features, employee profiles, and basic insurance administration.
In case you need additional features like team management tools, PTO management and policies, workforce costing and reports, performance reviews, or employee surveys, the Plus plan starts at $80 / per month, plus $12 / per user / per month.
For the Plus plan add-ons are available in case you want priority support or Time Kios for $4 or $8 / per user / per month.
Customer Service
Gusto provides accessible customer support through a live demo, which requires registration with your company email.
Gusto is one of the ADP competitors that is focused on the users.
They offer a resourceful FAQ section and business guides to assist users in navigating their platform effectively.
| | |
| --- | --- |
| ✅PROS | ❌CONS |
| User experience | Scalability |
| Transparent pricing | No live chat |
| Integrations | |
Recap
On our journey to explore the ADP competitors, we provided you with valuable insights to help you make an informed decision. Choose the right tool for your organization.
As you've seen, ADP offers a robust suite of HR and payroll solutions.
However, it's essential to consider your specific needs, budget, and the size of your company when making a choice.
We've introduced you to a range of ADP competitors, each with its own strengths and weaknesses.
So, which options stand out?
The most budget-friendly and user-friendly HR solution – Sloneek
Good for smaller businesses, especially for payroll services – Paychex
Comprehensive features and a modern interface – Workday
Customizable HR and payroll solution – Rippling
Efficiency-focused HR tools – Paycor
Versatile, though with some support limitations – Namely
User-oriented experience with transparent pricing – Gusto
The best HR solution for your organization will depend on your unique requirements and priorities.
We hope this guide has provided you with the insights you need to navigate the complex world of HR and payroll software effectively.
Frequently Asked Questions
What is ADP software?
ADP offers a range of human resources (HR) and payroll software solutions. It's designed to help businesses manage various HR processes, including payroll processing, time and attendance tracking, benefits administration, and more.
What are the benefits of using ADP software?
Implementing ADP software brings numerous advantages. It streamlines HR processes like payroll, time tracking, and benefits administration, reducing errors and enhancing compliance. ADP's integrated approach boosts accuracy and efficiency, freeing up resources for strategic initiatives. Additionally, ADP prioritizes privacy and security, ensuring the safe handling of sensitive employee data.
Who are ADP's competitors?
ADP faces competition from several HR and payroll software providers. Some of its notable competitors include Gusto, Paychex, Workday, Rippling, Paycor, and Namely.
What is the best all-in-one ADP alternative?
The ideal all-in-one ADP alternative depends on your specific business needs. Among the competitors listed, each has its strengths. Sloneek offers a cost-effective and user-friendly solution. Workday impresses with comprehensive features and a modern interface. Rippling provides a highly customizable HR and payroll solution. Paycor focuses on efficiency across various HR needs. Namely offers versatility, although with some support limitations. Gusto provides a navigable experience with transparent pricing. Your choice should align with your company's unique requirements.